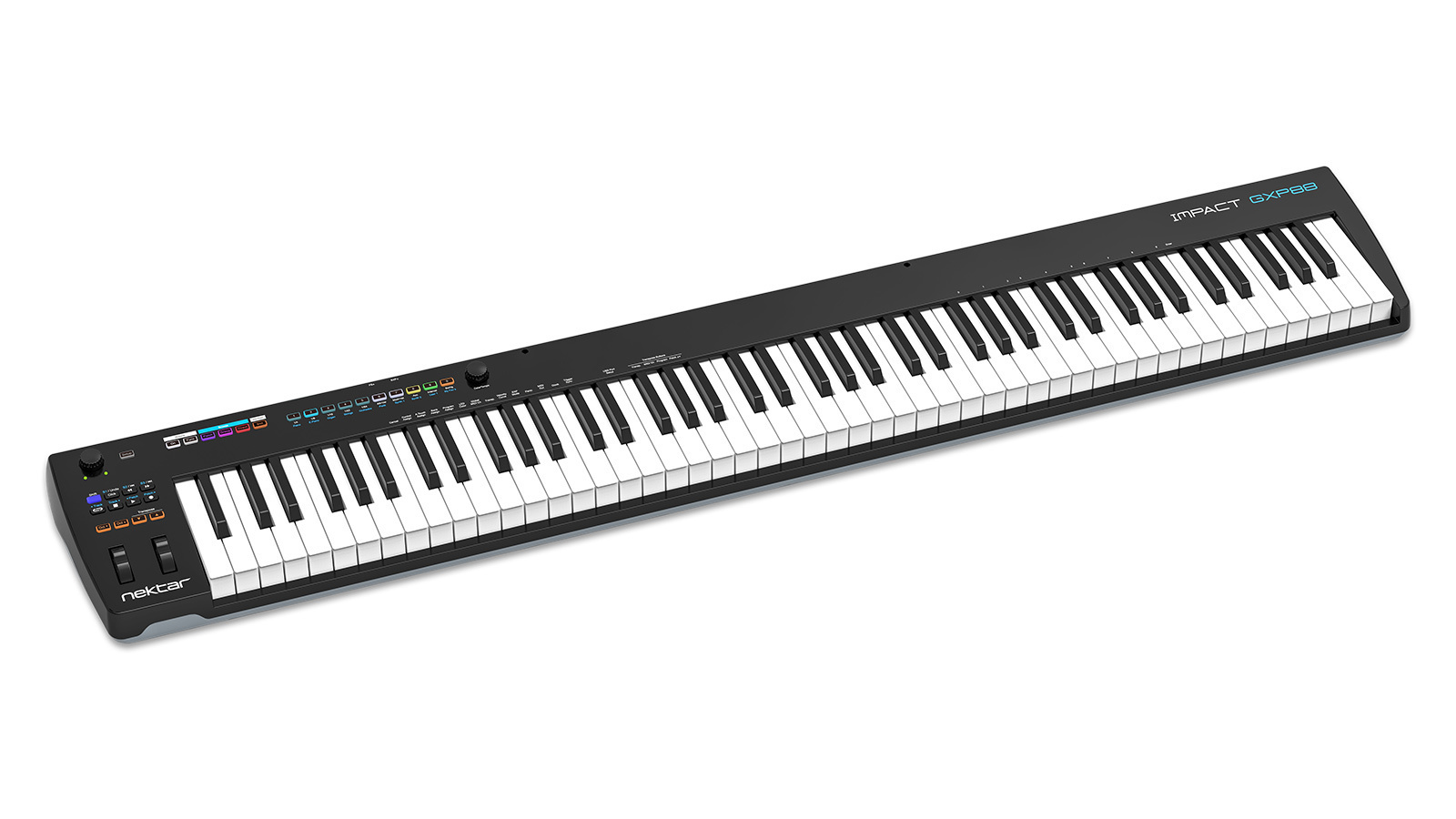 Features:
88-key Controller Keyboard
Reasonable Price Means 88-keys for Everyone
Full Features & Connectivity for the Price Range
New from Nektar Technology we have the 88-key MIDI controller Impact GXP88. Speaking of Nektar Technology, we here at musictrack have introduced the Impact and Panorama series previously. Nektar Technology is a company that makes many useful devices and controllers that work well with any DAW environment.
88-key Model Geared at Players
When it comes to recently released MIDI keyboards/controllers, the usual suspects have mini-keys, or 49- or 61-key full-sized keys. The number of 88-key models is on the rise though. Nektar's Impact series also included one, with the LX88+, but with this release of the GXP88 USB MIDI Controller Keyboard, as opposed to being a successor model, and especially with the LX in the name, this is a model geared at players.
From the get go, users who need 88 keys are mostly going to be piano players, or people who will be playing piano parts. So for those who felt 61-keys were just a little lacking, but wanted to avoid the size, weight, and price of 88-key workstation synthesizers, there hasn't been a model that suited their needs until now.
88-key Functionality
The Nektar Impact GXP88 USB MIDI Controller Keyboard has newly-designed semi-weighted full-size keys., which a superb touch response which is tailored to playability.
You can select from five different velocity curves to find one that suits your playing style, so getting just the right touch out of the keyboard is not a problem.
Also, for step entry, there are three levels of velocity that can be set and sent as MIDI data, for ease of use.
MIDI Controller Functionality
Left Side
First of all, the common controller input sources of pitch bend and modulation wheels are located at the left side of the keyboard itself. But on an 88-key keyboard, this makes the keyboard itself very wide, so there are many 88-key deals that put the wheels at the upper left to save space. However, this model puts them at the "standard" location, to the left of the keys, which may make for a more natural playing experience.
Transpose buttons are also located on the left side, which frees up your right hand.
Also, DAW Transport controls (PLAY, REC, STOP, etc.) are at the left side as well, so it's quite easy to use.
Transport controls
Track Selection
Volume Control
DAW Window Control & Navigation
This layout is extremely simple but logical, and having everything located right there at the left side makes everything easy.
Repeat Function
Keyboard Top Panel
On the top panel above the keys you will find various controls that assist performance or program selection.
Repeat
This function is unique to the GXP88. Whichever key you hold down will be repeated at a decided rhythm or musical phrase, and the corresponding MIDI data transmitted. You can select from five key triggers and styles which also include arpeggios, all automatically. Detailed settings can be made by using the function buttons, and you can set things up however you want.

Repeat Rate
Accent
Interval
Swing
Velocity Routing
Rear Panel
The GXP88 has all the connections you need to use it as a MIDI interface and controller.
Expression Pedal
Foot Switch (Sustain Pedal)
MIDI Out(It's nice to have a normal MIDI out!)
USB(PC Connection)
DC Plug・Power Switch
DAW Connectivity
Nektar's MIDI keyboards & controllers are very easy to use, and that's because their models come with the Nektar DAW Integration application. This app allows seamless integration with almost any DAW, taking care of all the settings automatically. So the user is almost freed from having to deal with a DAW and can focus on performing or using the unit as a controller. This is a fantastic system, we think.
Virtually every DAW is supported, and we think you'll have no problems at all setting up control commands or using the unit for production.
Nektarine : Virtual Keyboard Workstation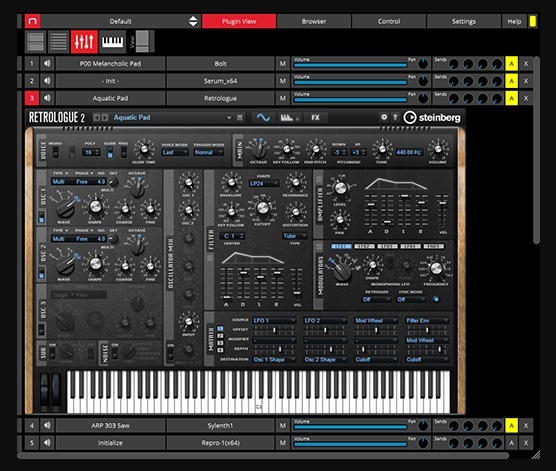 When you purchase a Nektar MIDI keyboard/controller, you can download Nektarine.
If you're wondering what it is, simply put it's a plug-in host environment which allows you to set up your currently installed plug-ins in your DAW for use with the GXP88.
For example, after you install Nektarine, you can define a patch library of plug-ins and patches so that they can be instantly recalled during live performance. So it's possible to use the unit as an instrument too, for all practical purposes. Patch control is entirely handled via the GXP88.
For a controller that doesn't have a sound engine of its own, this is a huge advantage of the GXP88. Further, Nektarine is very well thought out, and you can layer your plug-ins, and do other such things.
For example, you could layer a plug-in playing an acoustic piano patch with another plug-in playing an electric piano patch, for a layered sound. If you add a pad sound in another layer, it's quite easy to come up with very fat original sounds. For those of you who would use this as a stage piano, that could be a very useful feature for live performance.
Bundled Software(as of Dec. 2020)
Nektar Impact GXP88 comes with Steinberg CubaseLE, and Steinberg's virtual analog synth Retrologue 2. Also, CubaseLE includes Halion Sonic SE, Groove Agent SE, and a number of other VSTs and effects so it's easy to get paying right away.
Takl about cost performance? Amazing!
※Bundled software may change so please check before buying.

Demo & Review Video
Check our video to see the excellent cost-performance and ease of use the Nektar Impact GXP88 offers.
Sales Infro (Japan only)
by musictrack