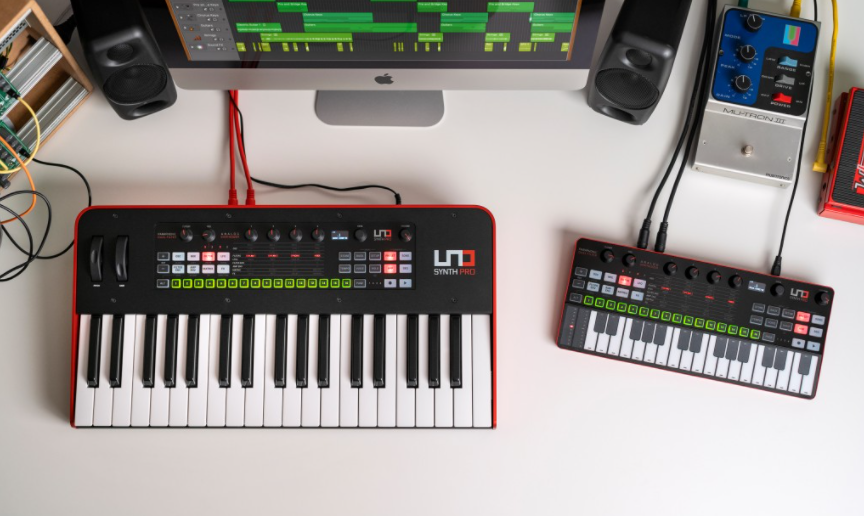 Features:
Full-blown analog synth
High-spec Fatar keyboard made with performance in mind
2 routable filters
Monophonic and paraphonic modes
IK Multimedia brings us the UNO Synth Pro and the UNO Synth Pro Desktop. You may be familiar with their previously released UNO Synth desktop analog synth, but with the release of the UNO Synth Pro we have a full-blown analog synth designed with performance in mind.
2 models designed with user needs in mind
The UNO Synth Pro comes in two models: the 37-key equipped UNO Synth Pro and the module version UNO Synth Pro Desktop designed with user needs in mind.
The previously released model was only available as a desktop type, so as opposed to performance, it was more an analog synth module. But the UNO Synth Pro is a full-blown analog synth with keys, so it's suited to being used on stage and for performing users.
The synthesizer specs of the UNO Synth Pro are nothing to laugh at either. For those who already have a master keyboard, the unit is available as a module in the UNO Synth Desktop version.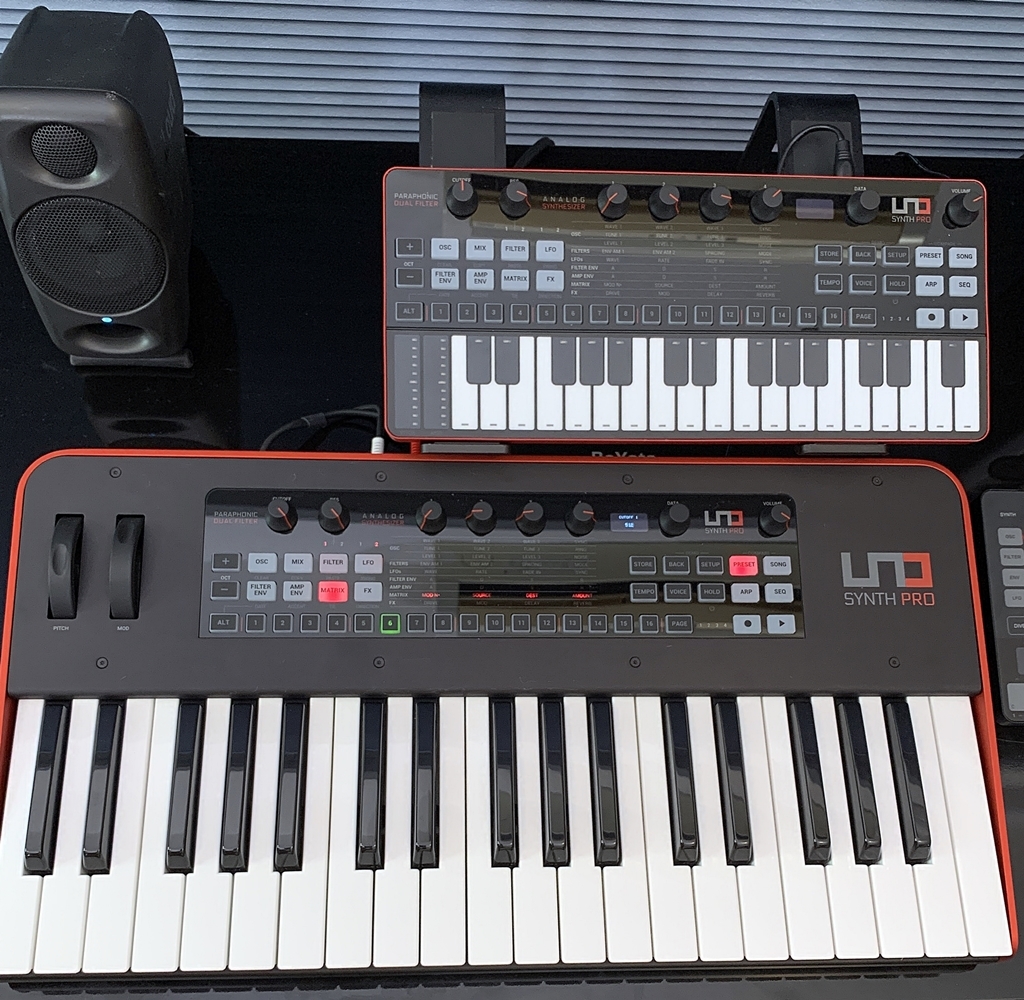 Serious analog synth
3 oscillators
The UNO Synth Pro has three analog oscillators which have a continuously variable wave shape. They call them Aware Morphing Oscillators.
Pulse width, sync, FM, ring modulation, noise generator, everything you'd expect in an oscillator section is there. From fat analog sounds to metallic ring mod and even FM sounds, all bases are covered.
Two analog filters
Usually on a synth this size—especially an analog synth—you'd get one single filter, but on the UNO Synth Pro you get two! They can be routed in series or parallel as well, which makes for a truly gorgeous dual mode filter.
OTA Multimode Filter
This is unique to the UNO Synth, a 2-pole OTA Multimode filter.
SSI Lowpass Filter
Lowpass filter made by SSI, as used in the recent Prophet-5 Rev4.
Envelope・LFO・Mod matrix
Envelope
A standard ADSR here, two of them actually.
LFO
2 LFOs.
Modulation Matrix
A 16 slot mod matrix in which source and destination are easily assignable.
Effects
a 3-slot effects processor is onboard, with 12 types of effects including analog overdrive, modulation, delay, reverb and more. Also, external signal can be routed through the effects processor.
Step sequencer and arpeggiator

Step Sequencer
A 64-step step sequencer is onboard. Each step can control any of the 84 synthesizer parameters, so sequences with motion can easily be programmed. Of course, you can tweak the knobs in realtime recording as well, so this is super easy to do.
Arpeggiator
An arpeggiator with 10 modes is onboard too.
Monophonic and paraphonic modes
The UNO Synth is a 2 oscillator monophonic analog desktop module, but the UNO Synth Pro is a 3 oscillator, 3 VCO fat monosynth, which can also be used as a 3-voice paraphonic synth.
Also, there is a chord mode for playing 3-voice chords.
No-compromise build
High Grade Made in Italy Fatar Keyboard
The difference between the UNO Synth Pro and the desktop version is the 37-key made in Italy, Fatar keyboard. It's super high-quality, and is a joy to play. The fact that they went with Fatar shows that they designed and built this synth with players and performers in mind. It truly is a no-compromise build.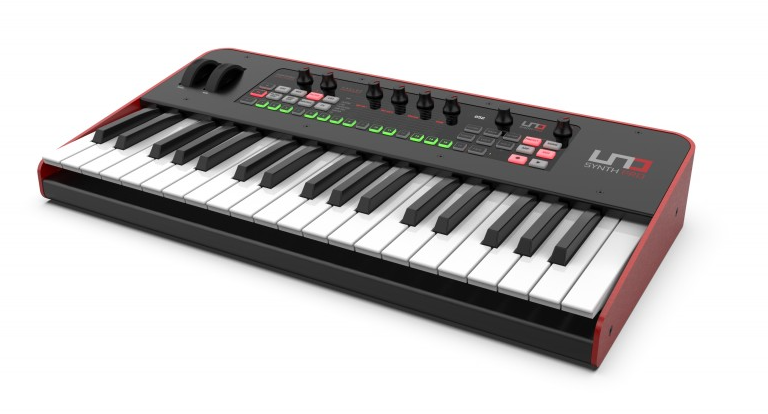 Stylish design, sturdy build
The body of the UNO Synth Pro is made of metal so it's sturdy and can stand being played heavily. It has a certain heft to it, so serious players and performers will not be disappointed at all with this keyboard. Also, the colorful buttons and the IK Multimedia red and black color scheme make for a colorful body, with a stylish design.
Easy to understand editing
Editing is the fundamental method of constructing sound on any synth, and on the UNO Synth Pro, parameters are grouped in sections, and edited in a matrix fashion.
You press the button at the left of each section, then tweak the four knobs which will have relevant parameters come up. There is also a small display which shows the parameters so you can check what you're doing.
Well-equipped rear panel
MICRO-USB
A given on any recent synth. Connect to a PC over USB to update the firmware.
CV/GATE
CV control via CV/GATE IN/OUT.
AUDIO IN
The UNO Synth Pro can process external audio through its filter and effects.
MIDI IN/OUT
On devices until now, such as the IRigKeys, the MIDI port required using an adapter cable. But the UNO Synth Pro has full-size MIDI jacks.
STEREO OUT
The effects are stereo, so the output reflects that.
Surprising cost-performance
As a synth, the UNO Synth Pro really has all the bases covered, we think you get the idea. But it's not just that, when you also consider the quality of the keyboard, the design, the size, and that it can be used in the studio or on the stage for live performance, AND it sounds really good... with all things considered, the cost-performance is simply jaw-dropping.
For a synth at this price range, with these features and sound, you definitely need to check out our Demo & Review video to see and hear for yourself.
Demo & Review video
Sales info (Japan only)
by musictrack