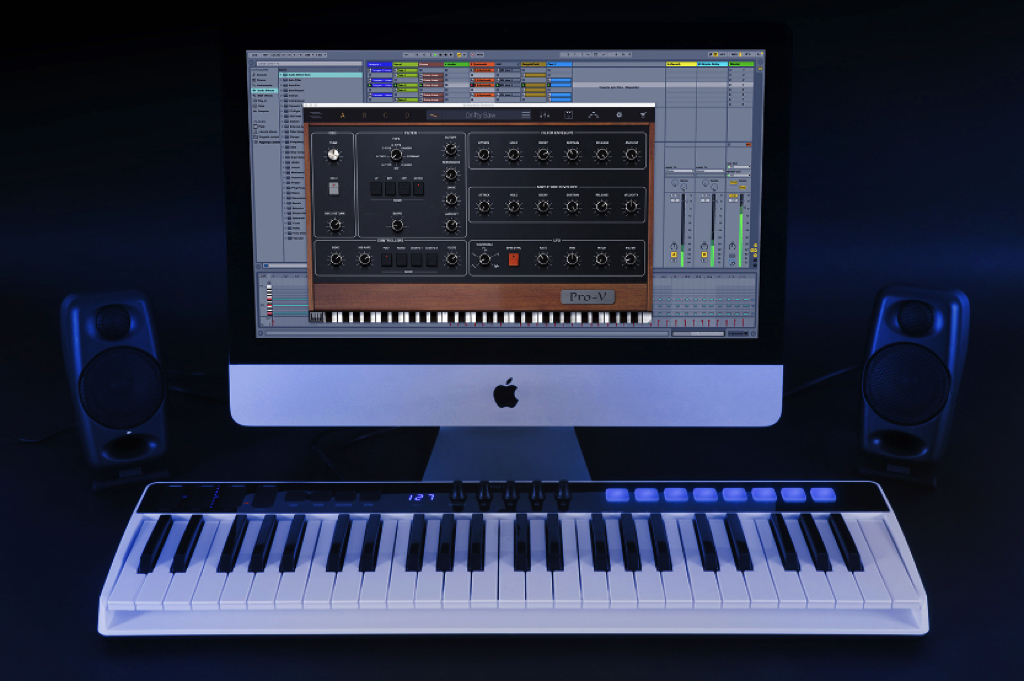 Features:
All-in-one, lightweight compact controller
Bundled software exceeds expectations
As long as you have this, you can produce music virtually anywhere
New Controller!
IK Multimedia has released a new controller, the iRig Keys I/O. Continuing where the iRig Keys Pro left off, the iRig Keys I/O is available in 25- and 49-key versions. From the name of the product itself, you can imagine what it's capable of, but we were blown away by just how far our expectations were exceeded!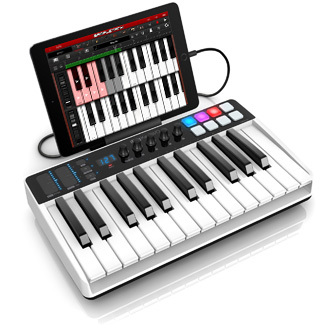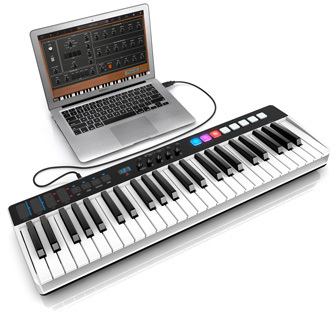 For our review, we used the 49-key model. For both performance, control, and even putting on your workspace, the unit is just the right size, with 49 full-sized keys. Connecting to your PC is as simple as just plugging in a USB cable. In this regard, like the iRigKey series, the unit shows its IK Multimedia DNA and is very, very user friendly.
Of course, you can connect to an iPhone or iPad over the supplied lightning cable. The unit is bus-powered, so you can use it to control synth apps and whatnot.

※In the event that bus power is insufficient, you can run off battery power (4xAA) or an optional PSU.
Be sure to check out our Demo & Review video to see the unit in action.
Demo & Review Video
Well? Even though we covered pretty much everything in the video, let's talk about what the unit has to offer.
All Necessary Controls Provided
As obvious from the photos below, the width of the two models differs thanks to a different number of keys, but as far as controls go, they're identical.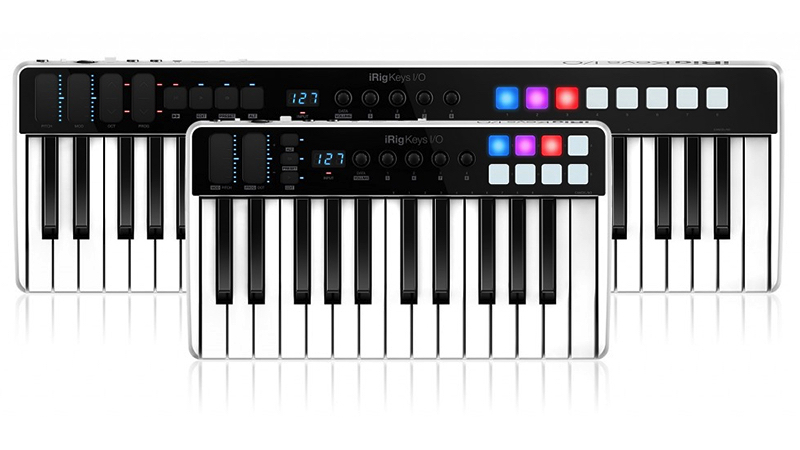 Controls, from the left
Touch sensitive programmable controller

PITCH for pitch bend
MOD modulation
OCT transpose(press【ALT】on the 25-key version)
PROG program change(as above)

※Factory assignments
Touch setting buttons
4 touch sensitive buttons, with selectable functions via【ALT】button
(25 Key only has 3, no locator controls)
3-digit LED
Push Knob
【ALT】switches between volume/data
Touch Setting Knob
Switch via 【ALT】
Velocity-sensitive multicolor pads
All controller assignments can be freely set by the user. What's more, both 25- and 49-key models are designed amazingly well, come with the same number of controls, are very lightweight, and thanks to being compact don't take up space.
On our Demo & Review video, we use the Touch Setting knob to control the cutoff, resonance and filter EG parameters.
iRig Keys I/O Standout Feature
The bottom line is that the iRig Keys I/O is, as the name implies, an audio interface in addition to being a full-featured controller keyboard. Let's take a look at the rear panel.

Left to right:
Power
USB power over a USB connection
BATTERY for battery power
OFF self-explanatory
DC IN power over optional adaptor
DEVICE
For connection to iOS devices via bundled lightning cable
Headphone Out
1/8" stereo headphone jack. Perfect for a mobile environment.
OUTーLEFTーRIGHT
Audio interface output
GAIN
Adjusts gain on the right input
INPUT
Multi-jack for anything from an XLR microphone to a keyboard or guitar.
+48V
Phantom power for when connecting a mic to the INPUT. Thanks to having an internal pre-amp you can also use condenser microphones.
Pedal
For sustain pedals and so on.
As you can see, the iRig Keys I/O has all the inputs and outputs you need to put it to use as a proper audio interface. With this many connections, no matter what kind of user, we doubt anyone will be left wanting.
Usage is Well Thought Out
The iRig Keys I/O is compatible with both personal computers and iOS devices, and it fulfills all the requirements for music production as far as spec and functionality go, making it a true all-in-one product.
A surprisingly useful feature we found, and one that is sort of taken for granted on any audio interface, is having a mini-jack for the headphone output. Having this means you can just plug in your everyday earphones right here and you're good. Newer iOS devices are no longer equipped with these jacks, having been switched to lightning connectors only. Without an adapter cable, you can't use ear/headphones with a standard mini-jack. But if you connect the iRig Keys I/O to an iOS device, you don't have to worry about that problem anymore. Maybe it's something we take for granted, but we thought this was VERY useful! Also, since it comes bundled with a stand just for iOS devices, it's almost like having a custom music stand that mates the instrument with the display.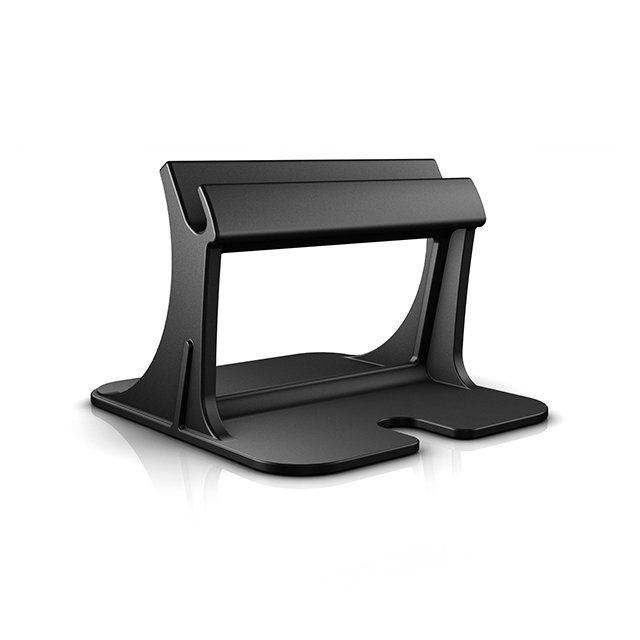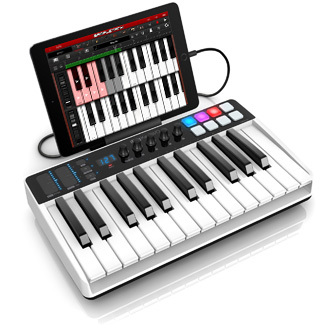 The iRig Keys I/O was designed so that it can be immediately put to use, simply by connecting one cable to whatever device you're using. Also, there's no need to go through a bothersome installation, or deal with a spaghetti mess of cabling, so this controller is especially nice for even beginners to use.
But not just for beginners! It's also great for people who want a change of equipment, or the who are looking for a controller/audio interface for use with iOS devices. At any rate, it's super light and compact, requires just one single USB cable to connect with your computer, so using it can simplify your DAW environment. And, for systems with iOS devices at their center, all it takes is a single lightning cable and you've got a music production environment you can use virtually anywhere.
Bundled Software
A large number of audio interfaces and/or controllers come bundled with demo or lite versions of software these days.
iRig Keys I/O comes bundled with a variety of software, but the bottom line is that they've been VERY generous here!

SampleTank 3 Full Version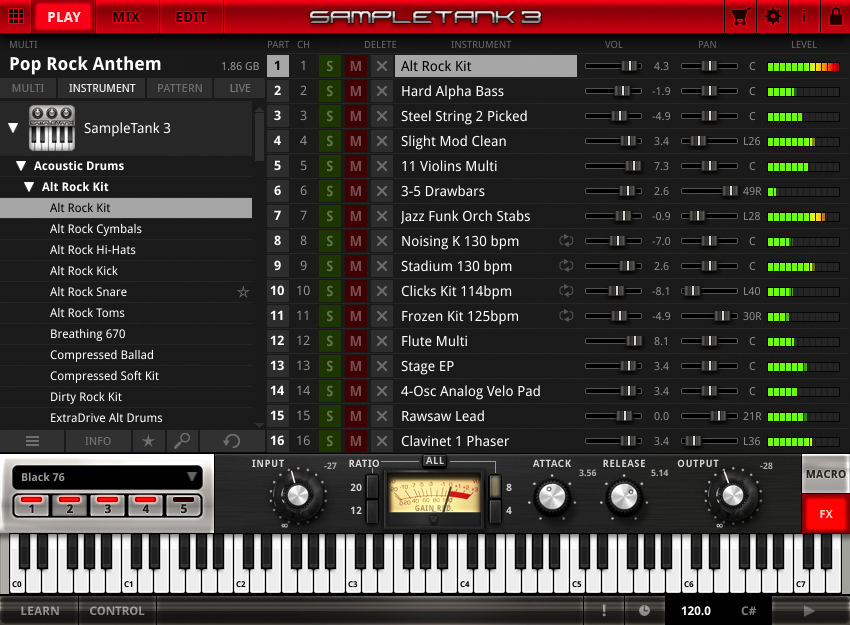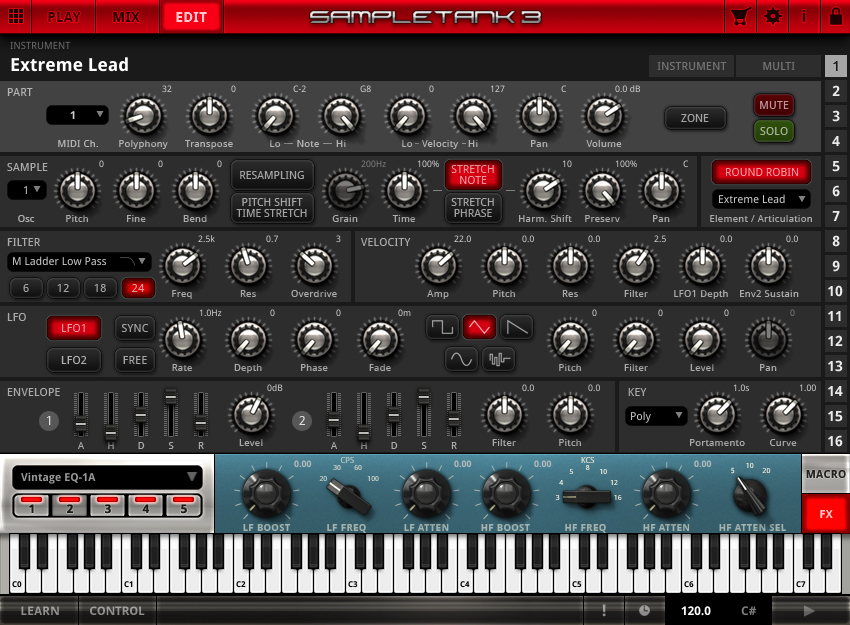 This is IK Multimedia's representative MAJOR software package. When bundled with other manufacturer's products, it's common to find a simplified SE or LE version, or even an older version of the software with the expectation that the consumer will pay to upgrade. But in this case, as the iRig Keys I/O is an IK Multimedia product, they've gone and bundled the FULL VERSION!!!
More than 33GB!
21 categories, 4,000+ instruments.
2,500+ kinds of drums, percussion, groove construction kits.
2,000+ MIDI patterns.
Miroslav Philharmonik 2 CE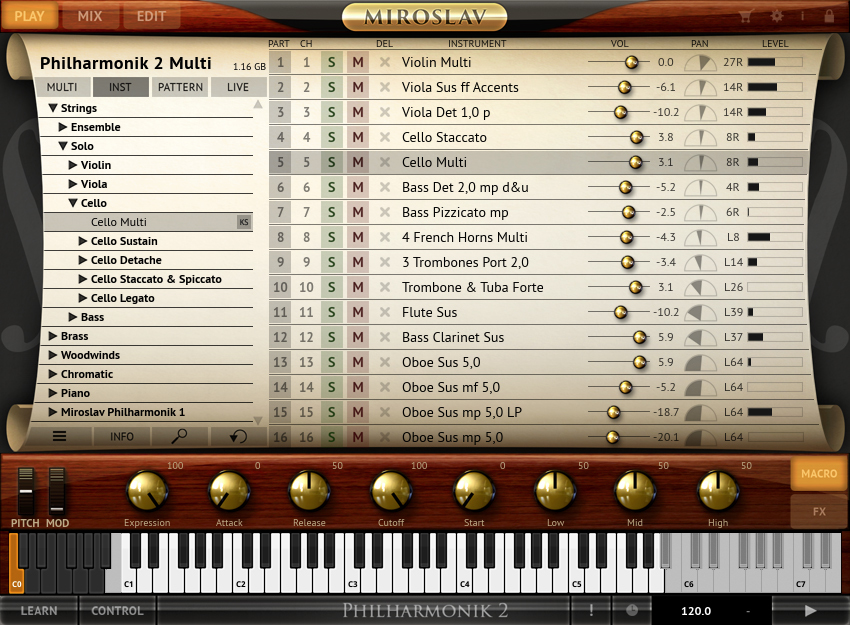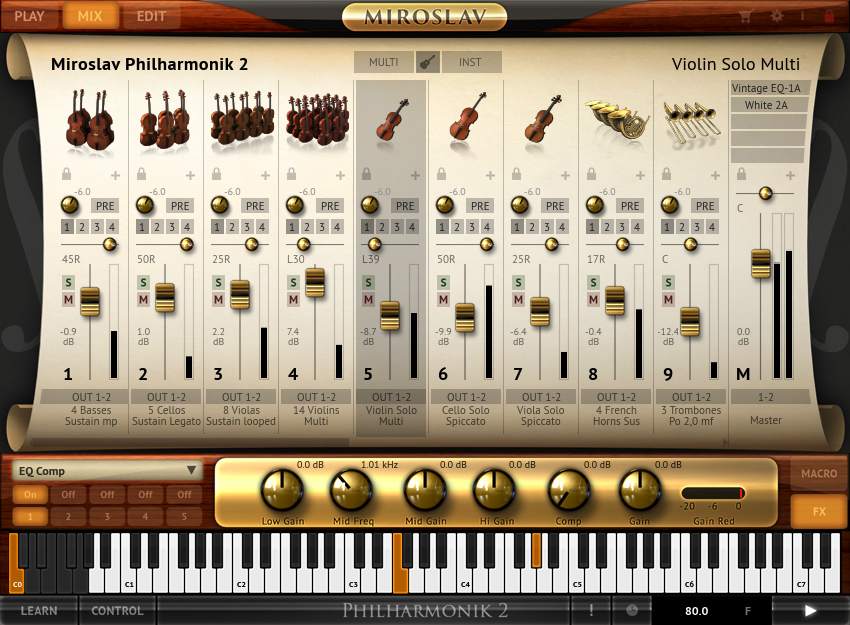 Another of IK Multimedia's popular products. An orchestra sound engine, with the library recorded and produced by the great jazz master Miroslav Vitous. The Miroslav Philharmonik 2 CE comes bundled with the iRig Keys I/O.
10 GB of 16-bit/44.1kHz samples.
700+ instruments selected from the Miroslav Philharmonik 2.
※ Full version details:
58 GB+ of hi-res samples (24-bit/96kHz)
Even though the version that's bundled is CE, you still get more high-quality orchestra sounds than you'll probably ever need.
※ Not included with the iRig Keys I/O 25Key version
Syntronik Pro-V
From the library of IK Multimedia's hot new product, Syntronik, comes the Pro-V, which includes a variety of sounds taken from the Prophet-5 and Prophet-10 library. For use either as a standalone Syntronik module, or as an expansion to the SampleTank 3, this is a fantastic addition!

There is a free version of Syntronik available as well, so it may be a good idea to get that to use together with the bundled software.
T-RackS 4 Deluxe
T-RackS 4 Deluxe includes 6 dynamics processors, and 3 EQs, a perfect set of plug-ins for high-end mixing and mastering. Currently at version 5, the package shows the previous version, but the actual content included is more than enough to cover your professional-level plug-in needs.

Vintage Tube Compressor/Limiter Model 670
Vintage Tube Program Equalizer
Opto Compressor
Brickwall Limiter with intelligent, multi-algorithm operation
Linear Phase Equalizer
Classic T-RackS Compressor
Classic T-RackS Multi-band Limiter
Classic T-RackS Clipper
Classic T-RackS Equalizer
If you're connecting a microphone to the audio interface and recording vocals or guitar or other external instruments, EQ and compressor plug-ins are a must-have, so this is a really useful and very nice bundle!
iOS Apps
Apps are included for iPhone and/or iPAD users, and these too are heavy hitters you can put to immediate use.
SampleTank Full
SampleTank App Full Version.
Miroslav Philharmonik 2 collection for iOS(Not included with iRig Keys I/O 25Key version)
Syntronik for iOS
As opposed to being bundled, it's free software so they've just included it. We use this in our Demo & Review video.
※ Bundled software accurate as of January 2018. Depending on model (25Key, 49Key) actual bundled software may differ. Please check the manufacturer's homepage for the most up to date information.
Amazing Packaging
The iRig Keys I/O. A lightweight, compact design controller plus audio interface. Excellent with just these features alone, an amazing package of bundled software is icing on the cake. And as far as the price goes, we really think they've outdone themselves as far as cost performance level goes here. The value of the bundled software alone is ¥97,000! (with the iRig Keys I/O 49Key version). Fantastic value!
What's more, we always use the compact but high-quality iLoud speakers for our Demo & Review videos. As a complete setup, together with the iRig Keys I/O this makes for a very compact, space-efficient desktop.
For beginners, upgrades, as a second controller/interface, whatever! We highly recommend this product for every kind of user, as it truly has the content and packaging to satisfy everyone!
iRig Keys I/O Sales Info (Japan)
製品情報
IK Multimedia iRig Keys I/O
価格
by musictrack