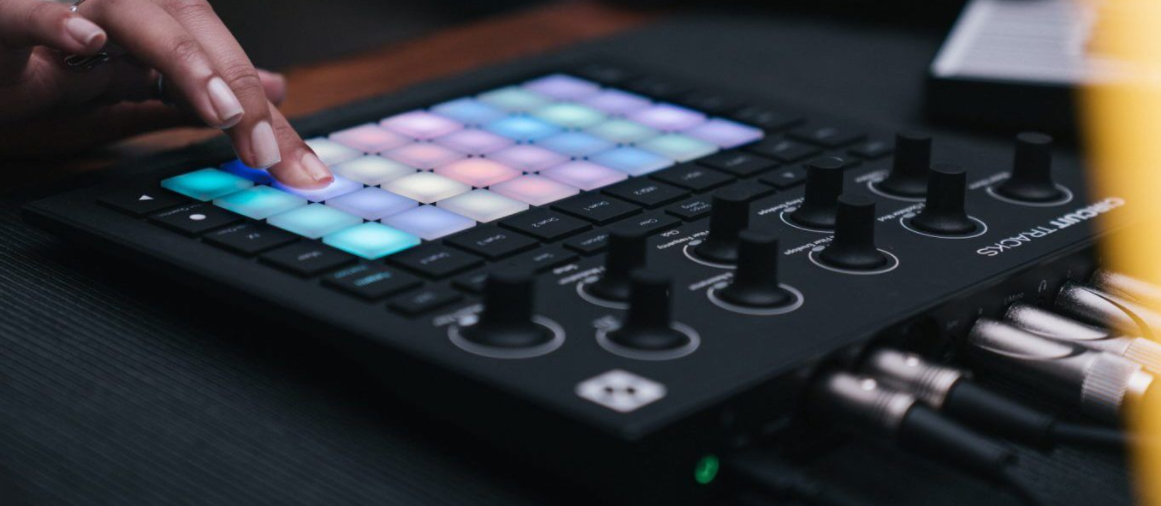 Features:
Build grooves through intuitive operation
Simple, cool design that makes you want to get busy
Small, lightweight, internal battery = high portability
From Novation we have a new groove box, the Circuit Tracks. We've made Demo & Review videos of the Circuit and Circuit Mono Station groove boxes, and this one carries on the lineage.
Compact, refined design
First off, the big difference with the Circuit is the design and size of the unit. This new model is very thin. The design of the pads has also been unified, and gives an overall impression of flatness to the unit, which we think is cool. Design plays an important role, and the design of this unit just makes you want to get busy producing.
All of the pads of the Circuit Tracks are square, which adds to the refinement of the design. The different colored LED lights under the pads also look really cool when using the unit in a dark place.

The Circuit can be run on batteries, but the Circuit Tacks has an internal rechargeable battery, which has allowed the unit to be slimmed down, and results in a very compact machine. It's also very light, so portability is not a problem whatsoever.
Easy to understand user interface
The top of the Circuit Tracks is where you find the machine controllers: Master Volume, knobs for functions 1~8, and a knob Master FX, for a total of 10 knobs, with one parameter for one knob, making for a user experience in which you won't feel lost at all.
The Circuit Tracks comes with a user manual, but there's almost no need to read it as the unit can be used very intuitively. Also, there are colored LEDs below the knobs, which can light up in 8 different colors. Different tracks are allocated different colors on the Circuit Tracks, so that's the meaning behind that.
In the image below, if you look at the lower half you'll see the unit in Mixer mode, with the volume for each track controllable via one of the appropriately closed knobs. This is one way that the operability is simple and intuitive.
Another example, if you push the pad for Synth 1, parameters for Synth 1 will be allocated across the eight knobs and the LEDs will change to pink, so it's easy to see which track's parameters you're adjusting at any time. This is a very well-thought out user interface.
Tracks
The Circuit Tracks has eight controllable tracks.
Synth 1 and Synth 2: 6-voice polyphonic digital synths, 1 track each

There are two internal 6-voice virtual analog synths. Novation has a long history with VA synths, and it shows. There's a huge variety of sounds and presets, and of course you can edit sounds to your liking.
MIDI 1 and 2: MIDI sequence tracks for controlling external gear, 1 track each
This is the special feature of the Circuit Tracks, you could say, being able to control/drive two separate pieces of external gear. You can also assign Control Change parameters and sequence those too.
Drum 1:Drum Track 1 ex)Kick
Drum 2:Drum Track 2 ex)Snare
Drum 3:Drum Track 3 ex)Hi-hat
Drum 4:Drum Track 4 ex)Percussion
There are four tracks for Drum Tracks. Normally you'd allocate one drum part to each track, but because you can have various samples on the percussion track, you are not limited to controlling only four sounds. They did their homework with this!
Projects and patterns
The Circuit Tracks is structured around Projects and Patterns. One Project can have 8 tracks with 8 different patterns. For example, Synth 1 can have 8 patterns, which you can chain together and make a song.
As you can tell by looking at it, the pads for tracks are arranged vertically, and you can change pages 1-4, and 5-8. Anyone who has used Ableton Live will see how this works in no time at all, but if you consider the pads arranged vertically as playback buttons, you're not far off the mark.
Making a pattern
Patterns are made mostly by directly using the pads. Of course it's possible to use an external MIDI controller too. As far as drum tracks go, the pads themselves display the steps, with lit up (active) pads indicating active steps where a sample will sound.
Synth tracks can follow user-defined Scales, and you can enter notes in realtime without deviating from the scale, or you can enter notes in step record mode too. Of course, since the synths are 6-voice polyphonic, the synth tracks are polyphonic too, so chords can be entered/recorded.
Detailed settings like velocity and gate time can be assigned to buttons as well, so once you get your head around the meaning of the colors of the LEDs, you'll have no trouble at all controlling the unit. What's more, you can use the Rec Overwrite button to do things like realtime recording of filter or effects tweaks in realtime, so it's easy to make patterns with lots of movement very quickly.
Novation Components software
Novation offers a software control package not just for managing the Circuit Tracks but for other Novation products too: Novation Components. It's downloadable by anyone with an eligible product.
Synth tracks on the Circuit Tracks can also be accessed using Components, and you can make detailed edits here. Furthermore, you can use macro controls and assign MIDI CC parameters to the MIDI 1 & MIDI 2 tracks within the software.
And that's not all. You can manage presets, download sound banks and samples as well as patterns, and back up your device through the software as well.
Superb functionality and cost-performance
Perhaps the best thing about the Circuit Tracks is that you don't really need a manual to make basic grooves right out of the box. The user interface is super easy to understand. It's lightweight and thin, and can be tossed in a backpack with no problem whatsoever. The internal rechargeable battery means you can take it anywhere and as long as you have headphones, make music on the go, which is a huge advantage.
There are a number of groove boxes of this genre, but with this user interface and hardware at this price range, there's no other device we recommend higher than this one. especially for beginners.
Samples can be stored on MicroSD and via Novation Components preset packs can be downloaded and set up, which makes for super expandability.
You can see and hear for yourself in our Demo & Review video, and we're sure you'll want one as soon as you see how reasonably it's priced. This is probably the most bang for buck of any groove box, period.
Demo & Review video
Sales info (Japan only)
by musictrack