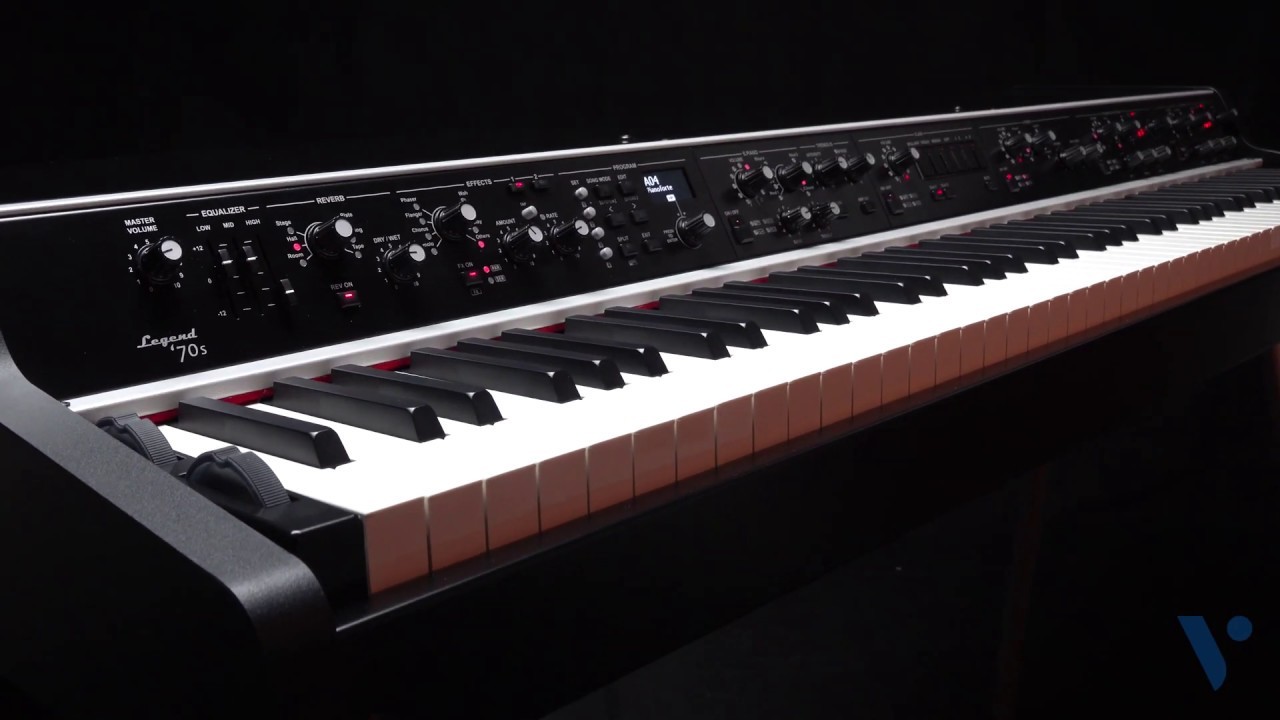 Features:
73- and 88-key stage pianos.
Customizable, unique modular sound engine.
Modern but somewhat retro design.
The famous Italian organ manufacturer VISCOUNT brings us a unique but serious stage piano series. (As of April 2021 it has yet to be released in Japan) VISCOUNT sells pipe and electric organs, and in the past revived the Oberheim name with the Oberheim OB-12 synthesizer.
Serious stage piano
The VISCOUNT Legend '70s stage piano has a cool, all-black design. It may be a latecomer to the stage piano scene, but this design is somehow nostalgic and retro, and doesn't really give the aura of a brand-new stage piano. The overall feel of the unit is quite low-key and rather subdued.
Most likely the black body and silver panel frame brings the Rhods to mind, and the vintage-styled knobs remind one of a Prophet, adding to the retro feeling. But as the name implies, the image is that of the Legends of '70s vintage electric pianos. It's even cooler in real life than in pictures.
3 models
The VISCOUNT Legend '70s comes in three models:
Legend Artist Compact
This is the one we use in our Demo & Review video, the 73-key version. The keyboard is velocity-sensitive hammer action and weighs in at a hefty 16.2Kg which is rather light for a stage piano or electric piano.
Legend Artist
The 88-key model. It has the same keyboard action as the Compact.
Legend Artist-W
Another 88-key model, but with wood grand hammer action keys. This one means business!
Basically the models differ in material and number of keys, with all of them having customizable modules. The 88-key model is wider, so that means more modules can be added.
From the factory modules sound engines
The VISCOUNT Legend '70s makes sound by using sound modules, and there are a variety at your disposal. From the factory, you get the Main Modulewhich controls Effects, Reverb, EQ,and Volume, as well as the Electric Piano Module, and the SOUND COLLECTION Module.
Each module has an on/off switch, so you can layer and split sounds however you like.
E. Piano Module
This is the electric piano sound engine. There are eight to choose from, each of which is incredibly well-matched to the action and feel of the keyboard. They use physical modeling to produce sound, and are very realistic.
Rhodes X 5
Wurlitzer X 2
E.Grand(CP)X 1
Collection Module
This module uses PCM (High Definition Sampling (HDS)) and has Pad, Strings, Choir, Brass, Keyboard, Organ, Bass, Guitar, Bells, Marimba and so on, for a total of about 100 kinds of sounds.

Main module
The main section allows the handling of each module's on/off status as well as the effects settings, in a single program. It controls and manages all of the installed modules.
There are two insert effects processors plus reverb and an EQ, which affects the master sound and has adjustable Hi, Mid and Low via three sliders.
INSERT EFFECTS
Tremolo, Vibrato, Chorus, Flanger, Phaser, Wah-wah, Amp, Rotary, Delay, Equalizer, Compressor
REVERB
Small/Large Room, Small/Medium/Large Hall, Stage1/2, Medium/Large Plate, Spring1/2, Tape1/2
Optional modules
A unique feature of the VISCOUNT Legend '70s is that you can add sound and function modules however you want. More new modules are being developed and are on the way, in addition to some modules that are already available.
Acoustic Piano Module
Includes 8 types of sampled pianos. The samples are high-resolution, and include damper resonance and pedal noise. The sounds in this module are one step above what is included with the Collection Module.
CLAVI Module
Includes 2 Clavinet Piano sounds, produced by physical modeling. Detailed settings are possible, including parameters for Mute, Brilliant, Treble, Medium, Soft, C D, A B and so on.
external (master keyboard)
When using the Legend '70s as a master keyboard, this module Hanbe used to control MIDI outboard gear.
SYNTH-8 Module
This is a 2 oscillator, 8 voice virtual analog synthesizer module. It's set up in a matrix so you can control various synth parameters.

Thorough interface and outputs
On the rear panel we find an AUDIO IN mini jack, the L/R MAIN OUTPUT and L/R AUX OUTPUT as well as a slew of pedal controllers, MIDI IN/OUT, and a USB port.
Because it comes with a USB interface, you can connect it to a computer to get system updates, editors, and thus control the Legend '70s in a variety of ways. Features like this set the unit at the forefront of stage pianos.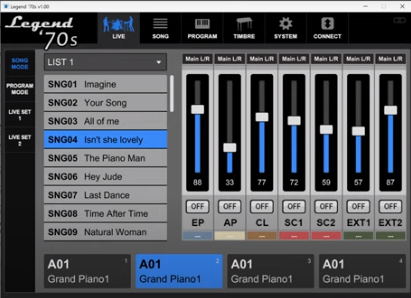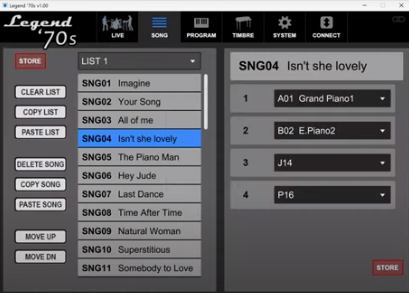 Demo & Review Video
The VISCOUNT Legend '70s is a new type of stage piano, which utilizes modules, and is unique in that it is freely customizable. You can do layers and splits, control external devices, and we're sure that we'll see this cutting edge idea taken further in the future.
We delve deeper into the high-quality sound and the functionality of unique modules in our Demo & Review video so be sure to check it out.
by musictrack