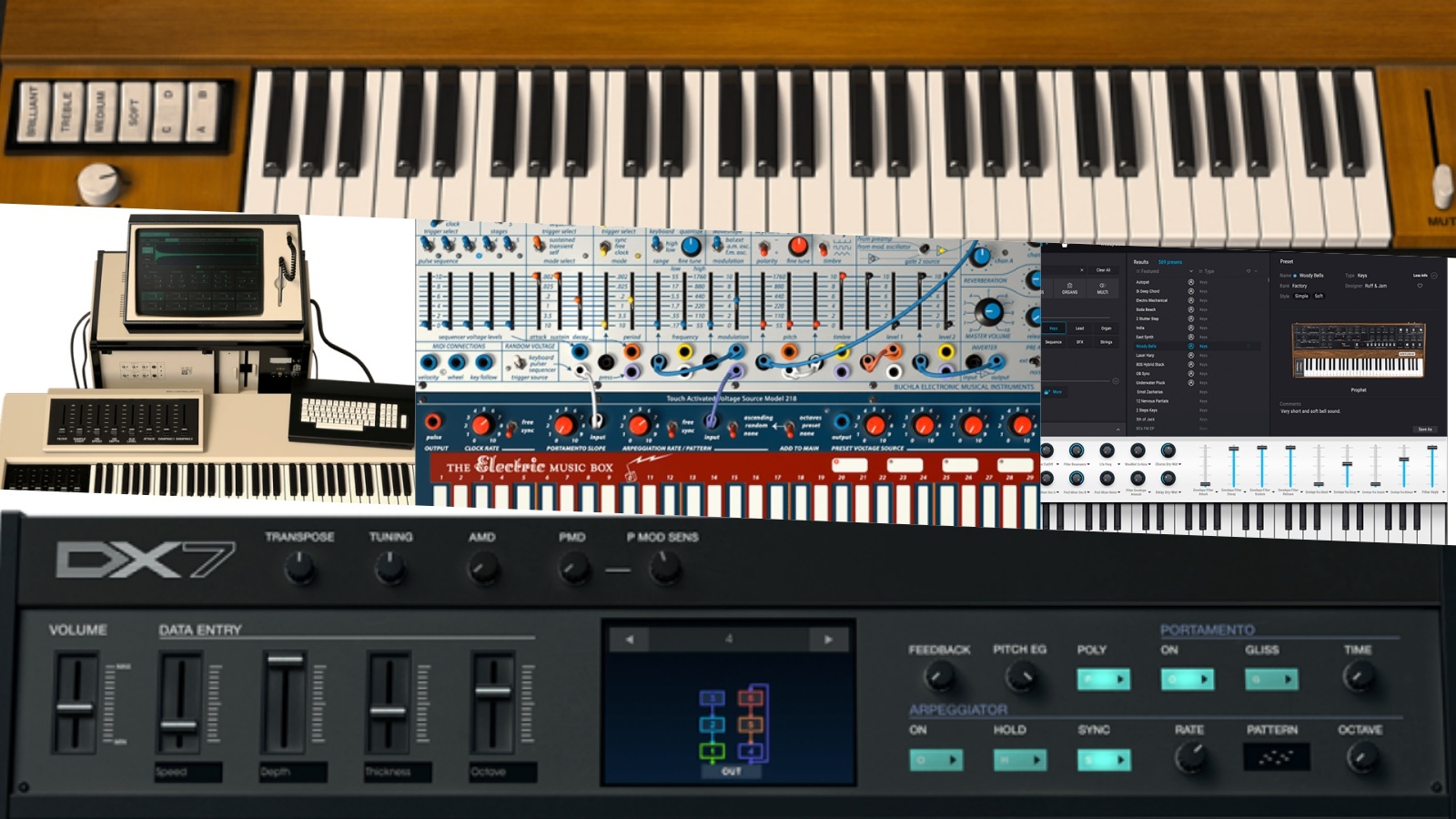 Features:
Four New Instruments
A Roundup of Famous Analog & Digital Classics
Don't Know What to Buy? Start Here!
An Exciting Lineup of Famous Machines!
The V Collection, Arturia's standard software package, has been updated to version six! New additions to the suite are the DX7 V, Buchla Easel V, Clavinet V, and CMI V, bringing the total number of vintage synths, pianos and organs to twenty-one.
Four New Instruments
The Four New Instruments Are:
DX7 V : YAMAHA DX-7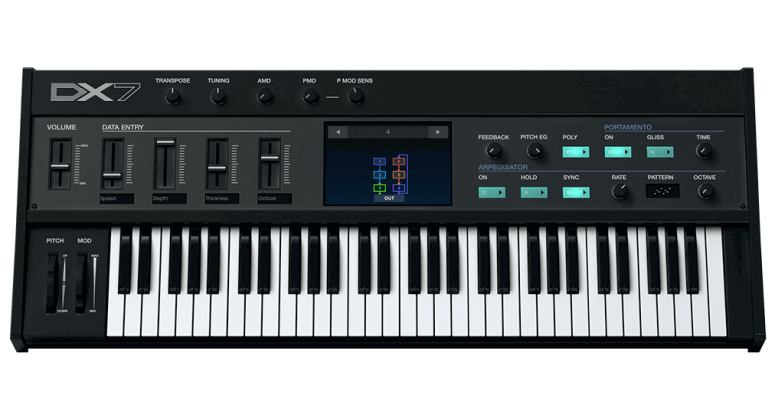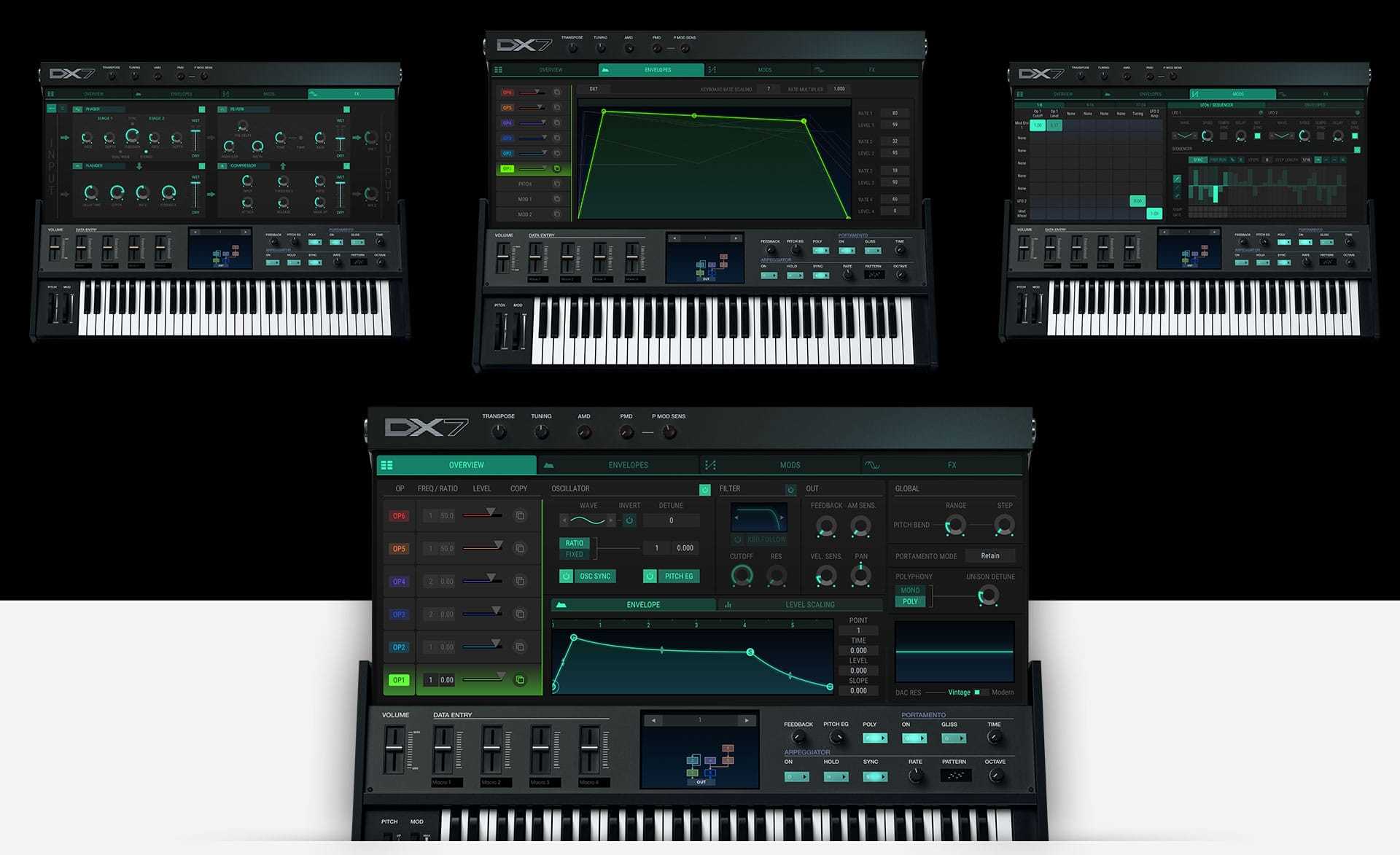 Yamaha's FM-synth, the DX7 has arrived. At any rate, this digital synth sold like hotcakes during the 80s, and has a sound that is still loved today. The FM digital piano sound is almost a given to be included in the presets of any PCM synth.
The model here is based not on architecture of the DX7II or SY series synths, but on that of the original DX7. Even so, the operators can use waveforms other than sine, the sound can be fattened through unison detune, and finishing touches can be added through the use of effects. To be more accurate, perhaps you could say that the design, image and fundamental internal architecture of the original DX7 have been modeled, though there is full compatibility with sysex data from the DX7. All in all this is a very good instrument which does provide a faithful re-creation of the original.
CMI V : Fairlight CMI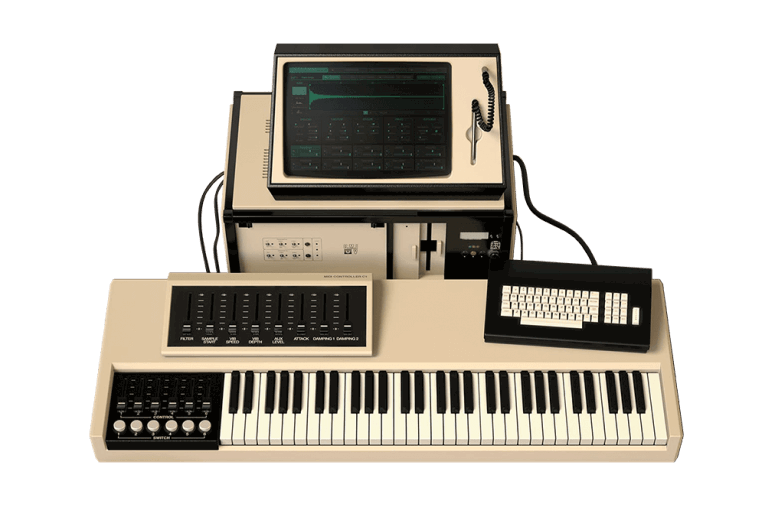 This is a synth that remained out of reach of amateur musicians. Maybe it's better referred to as a computer/machine system than a synth? In any case, its innovative sound had such an impact that the machine was used by just about every famous musician at the time. And after all has been said, we owe the explosion of the Orchestra Hit, as well as the name of that sound itself, to the Fairlight.
Anyhow, as most of us have never touched a real one, the line between what has been faithfully re-created and what has been added as far as features go, is a blurry one at best. Because it is also possible to check out a huge library of Fairlight sounds with the Fairlight V, that alone is worth the price.
Buchla Easel V : Buchla Easel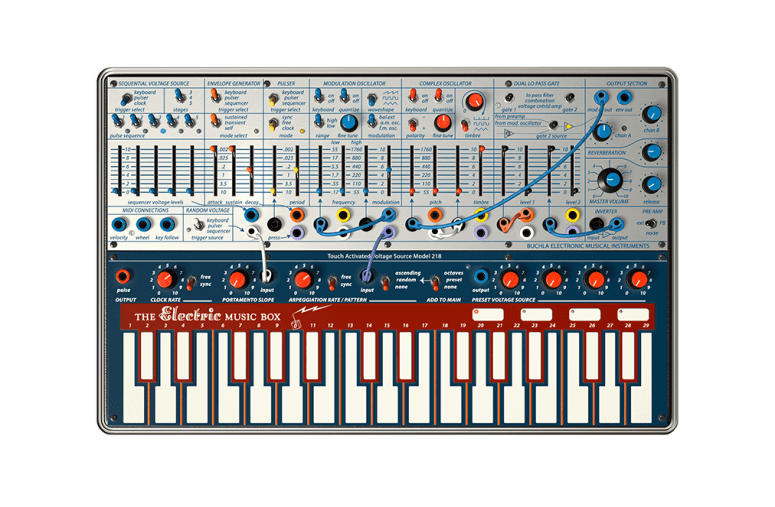 A machine for maniacs. It's hard enough to find people who have even touched one much less actually own one, but nonetheless they've gone ahead an emulated this super-rare synth!
And what lengths they've gone to! Given, in today's world you can just jump on the net and find info about anything at all, but back in the day who knows how this synth was actually used and what kind of sounds it made? It's a machine that defies the imagination. As with the Modular V and ARP2600 V, you can do patching, and build sequences and patterns, so this is a synth that's good for percussive as well as synthy sounds. BUT! That's just our first impression. In any case, this is a DEEP synth, with a very unique architecture, so it goes without saying that this is one you'll have to experiment with and learn as you go. Ans what a fun journey that looks to be!
Clavinet V : Hohner Clavinet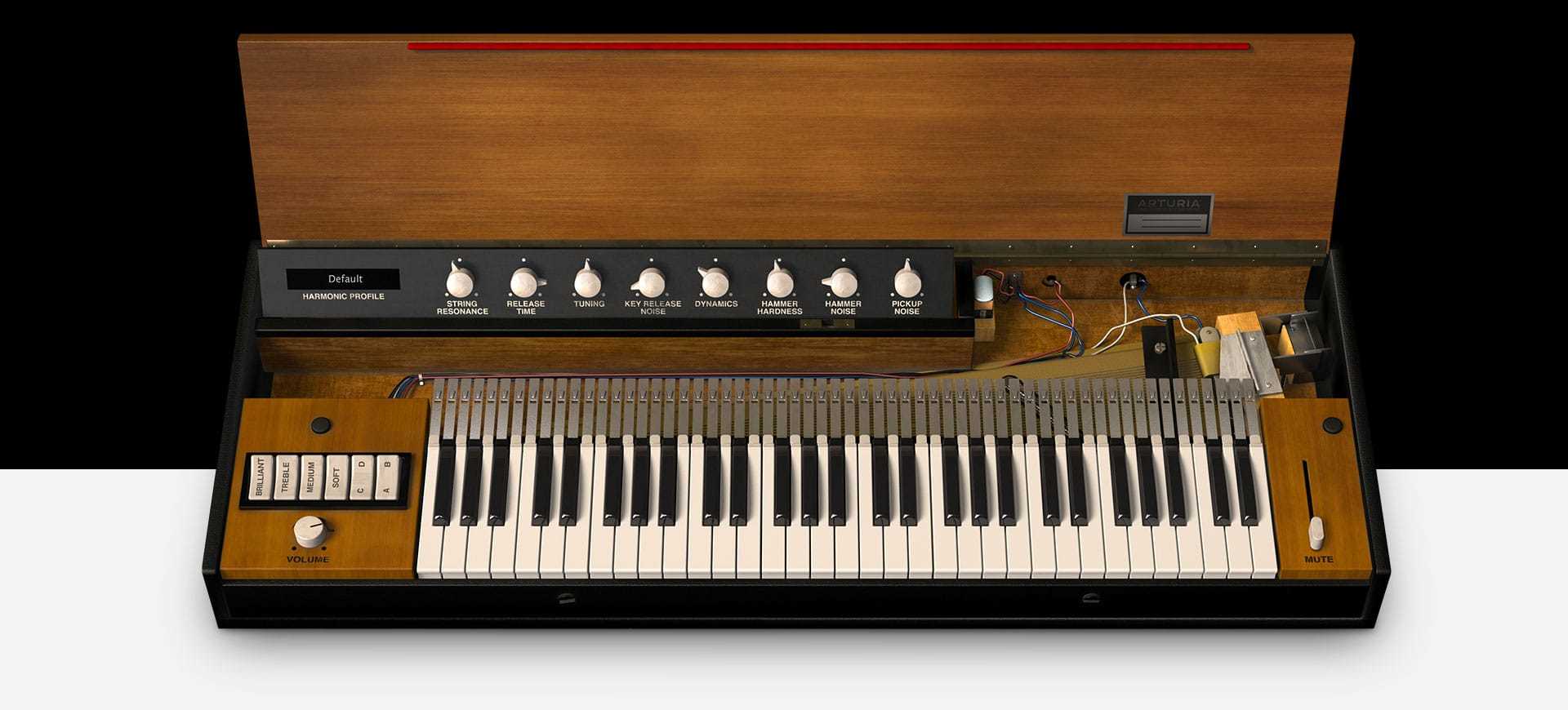 Since they've got their bases covered as far as acoustic and electric piano sounds go, next on the agenda for keyboard-based instruments has got to be the Clavinet. Arturia's piano series uses physical modeling engines, which is the route taken with the Clavinet as well. As you'd expect, the merit of that route is that the sound is SO realistic. And through manipulation of various modeling parameters, you can impart just about any kind of change to the timbre and motion of the sound, meaning that it is totally possible to create sounds that don't actually exist in the real world. What's more is that as opposed to PCM sound engines, this engine doesn't require a huge amount of storage space on your hard drive. One great feature about the software is how easy it is to cook up realistic sounds.
So far, Arturia has produced many software emulations that accurately portray the synths both in image and style. However, with each new package release, we are blown away at the quality of sound and design, as well as the innovative ideas and additional new functions. This truly is an excellent software series!

Demo & Review Video
First of all, have a look at our Demo & Review video, which focuses on the four new instruments.
What do you think?
We were impressed with the level of perfection, and the realistic visuals and sounds of these classic synths that live again as software.
V Collection 6 Packaging
The new V-Collection adds four instruments, but comes with all of the content of its previous versions. Here's a list of what's included:
Instruments Added to V Collection 6
Clavinet V
CMI V
DX7 V
Buchla Easel V
Instruments Added to V Collection 5
Synclavier V
Piano V
Stage-73 V
Farfisa V
B-3 V
Instruments Added up to V Collection 4
VOX Continental V
Solina V
Matrix-12 V
SEM V
Wurli V
Jup-8 V
ARP 2600 V
CS-80 V
Prophet V
Modular V
Mini V
When you add Analog LAB3 to the equation, the total is 21 instruments. One thing not included in this collection is Spark2, which has been removed from the series.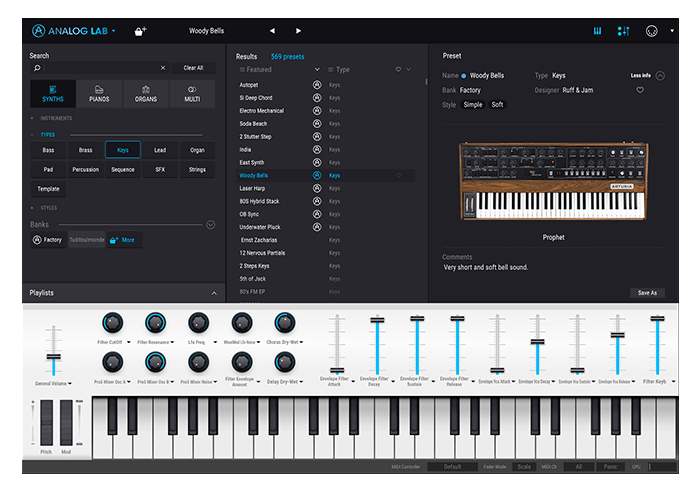 Other Instruments
Besides the four new instruments, version 6 of the collection includes a number of updates. We touch on these in another Demo & Review video, where we also dive into the sound and design of the legacy instruments in the collection, and give the interface a thorough check-out.

We think you get the idea of just how broad the area covered by the V Collection 6 is. From vintage synths to string machines, samplers to organs, pianos and electric pianos to the clavinet... literally everything you could ever need is all here in one package.
We plan on reviewing each instrument individually at a later date.
In any case, if you have this collection, you're good to go and it doesn't matter what genre of music you're producing. We also recommend users of previous versions to update to version 6 ASAP! And for those of you who don't own this (or previous versions), sure there are loads of companies making loads of soft synths out there nowadays, but why not start with this?
It truly is THAT good. A new standard for soft synth collections!
V Collection 6 Sales Info (Japan)
製品情報
販売情報
ダウンロード販売

Arturia DX7 V


Arturia CMI V


Arturia Buchla Easel V


Arturia Clavinet V


Arturia Analog Lab3
by musictrack