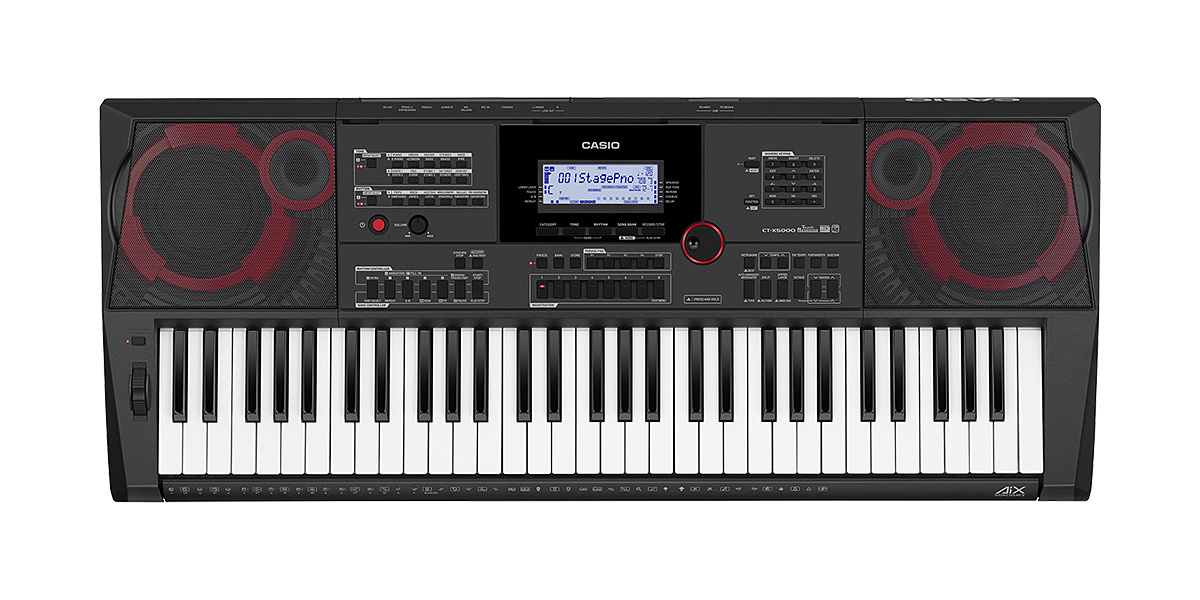 Features:
Ultra high-quality, next-generation AIX sound engine!
Wide variety of sounds, plus auto-accompaniment that truly lets you take advantage of those sounds.
Tons of features & functions, but very reasonably priced—AMAZING!
CASIO is well-known for its PRIVIA line of high-quality digital pianos, and for its portable keyboards with light-up keys. This time, we reviewed their new CT-X5000 model, which would fall into the high-grade keyboard category.
The CT-X Series of High-grade Keyboards
The CT-X series consists of two models, the top of the line CT-X5000, and the lower CT-X3000. The 'High-grade' naming refers to CT-X series sound and performance & accompaniment functions, which lie at the very top of Casio's entire lineup of keyboards.
Along with the newly included high-performance, high-speed LSI, they've added a new, DSP-based sound engine, high-quality sounds, effects, and performance functionality which includes auto-accompaniment. This is a keyboard which arrives on the scene with truly high-grade specs all around.
Demo & Review Video
First of all, why don't you have a look and listen for yourself. You can see and hear just what we're talking about by watching our Demo & Review video.
CT-X5000 Sound Engine
The sound engine in the CT-X5000 parts ways with what Casio have employed in previous keyboards, and introduces what they're calling the AiX Sound Engine, made possible by using a new, high-performance LSI.
By using a high-performance, high-speed LSI, they've improved the atmosphere and breadth of preset acoustic sounds, and have managed to better express sounds that change over time, which all adds up to a huge step in the evolution of keyboards in this series.

The reason Casio has been rather quiet regarding the specifics is most likely because there's probably a huge amount of PCM waveforms, as well as considerable compression going on, which in the end means improved playback technology allows the creation of super high-quality sounds.
Maximum simultaneous polyphony is listed at 64 voices (some sounds are 32-voice), which should be more than enough for virtually any situation.
As far as preset sounds are concerned, the number is an impressive 800! Then there are also 100 slots for user sounds. There are 235 types of preset rhythms, with 100 slots again for user rhythms.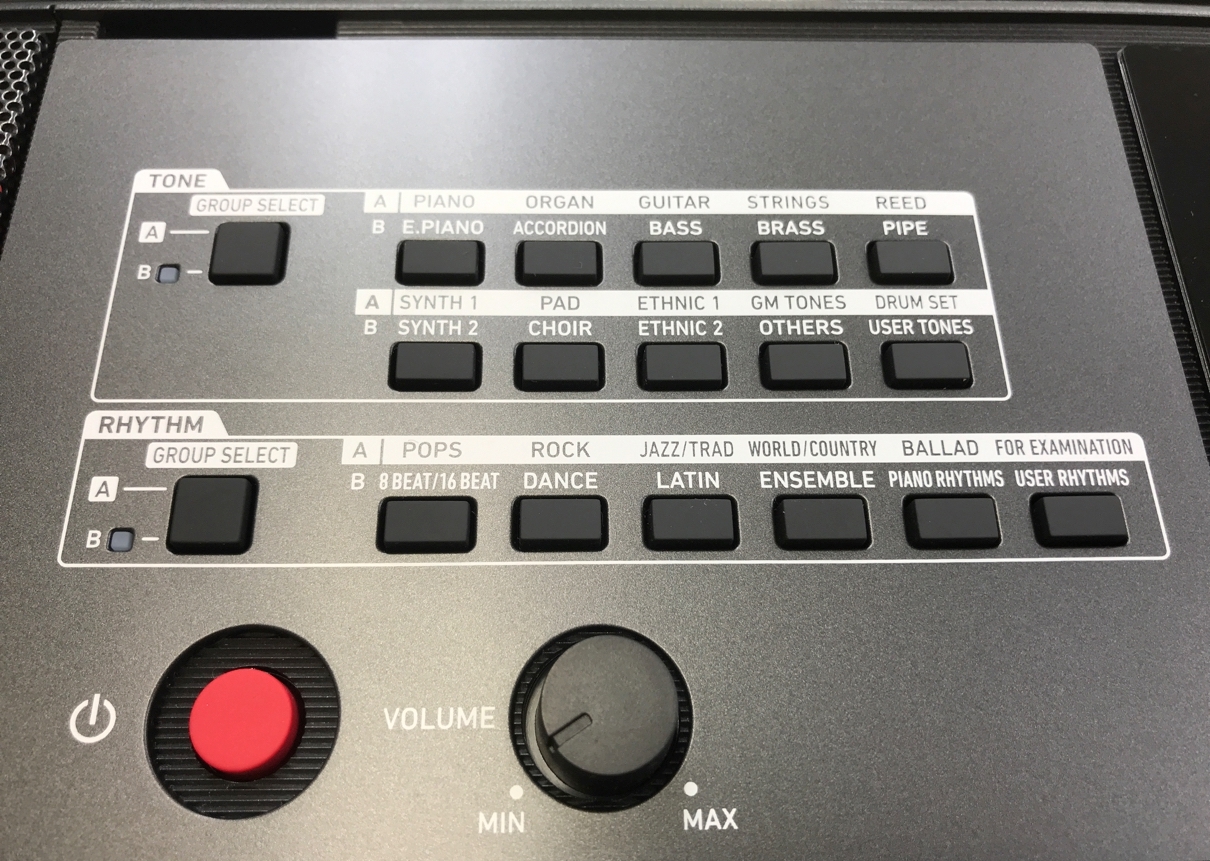 To recall a preset, for either tone or rhythm, all you do is press the corresponding genre-categorized button, and away you go.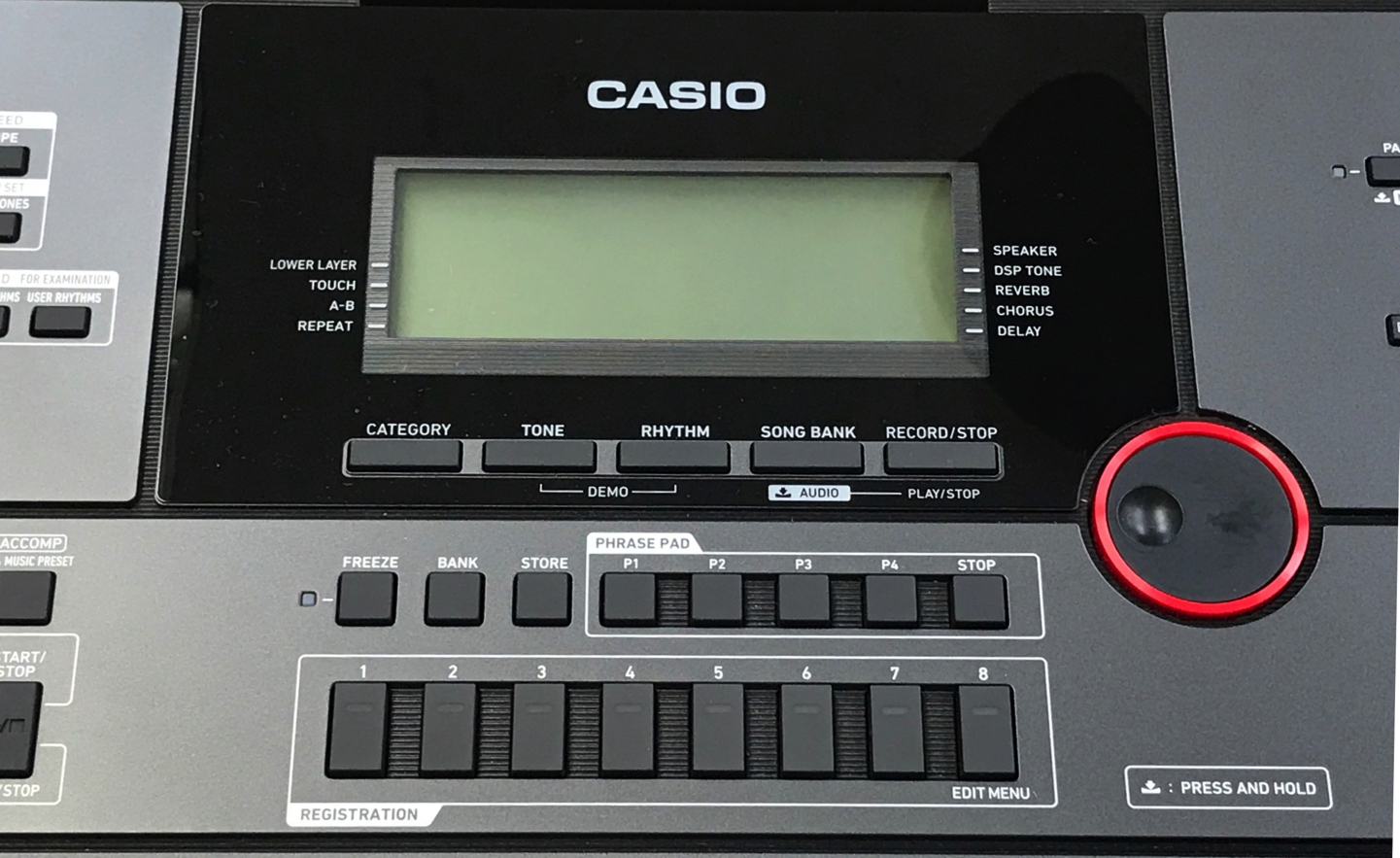 Below the display you find a registration section, into which you can freely assign any of the sounds, which allows the recall of registered sounds in an instant. Any of the sounds, rhythms, tempos, and 128 types of performance data can be registered here, which would be quite useful for using in live performance situations.
Powerful Built-in Effects
The performance parts of the CT-X5000 have individual DSP processors, which takes them to level far beyond comparison to previous synths of this type. Each part's sound is high-quality, which really shows off the work of the DSP. We were particularly impressed by the clarity of acoustic sounds, and the width of spatial effects.
There are 100 DSP effect presets, and there are also sounds which are handled by the DSP.
There are two effects, System and Master. System has 32 types of reverb, 16 Choruses, and 20 delays. Master adds 10 EQs, plus a 4-band user EQ, which makes it possible to carefully tailor the master sound to one's own tastes.
Abundant Performance Functions
The CT-X5000's Auto-accompaniment function analyses the keys held down by a player's left hand, and instantly produces accompaniment. This is VERY useful, and allows one-man performance. Along with the abundant presets and rhythm sounds, the range of different musical genres one can authentically cover is very wide.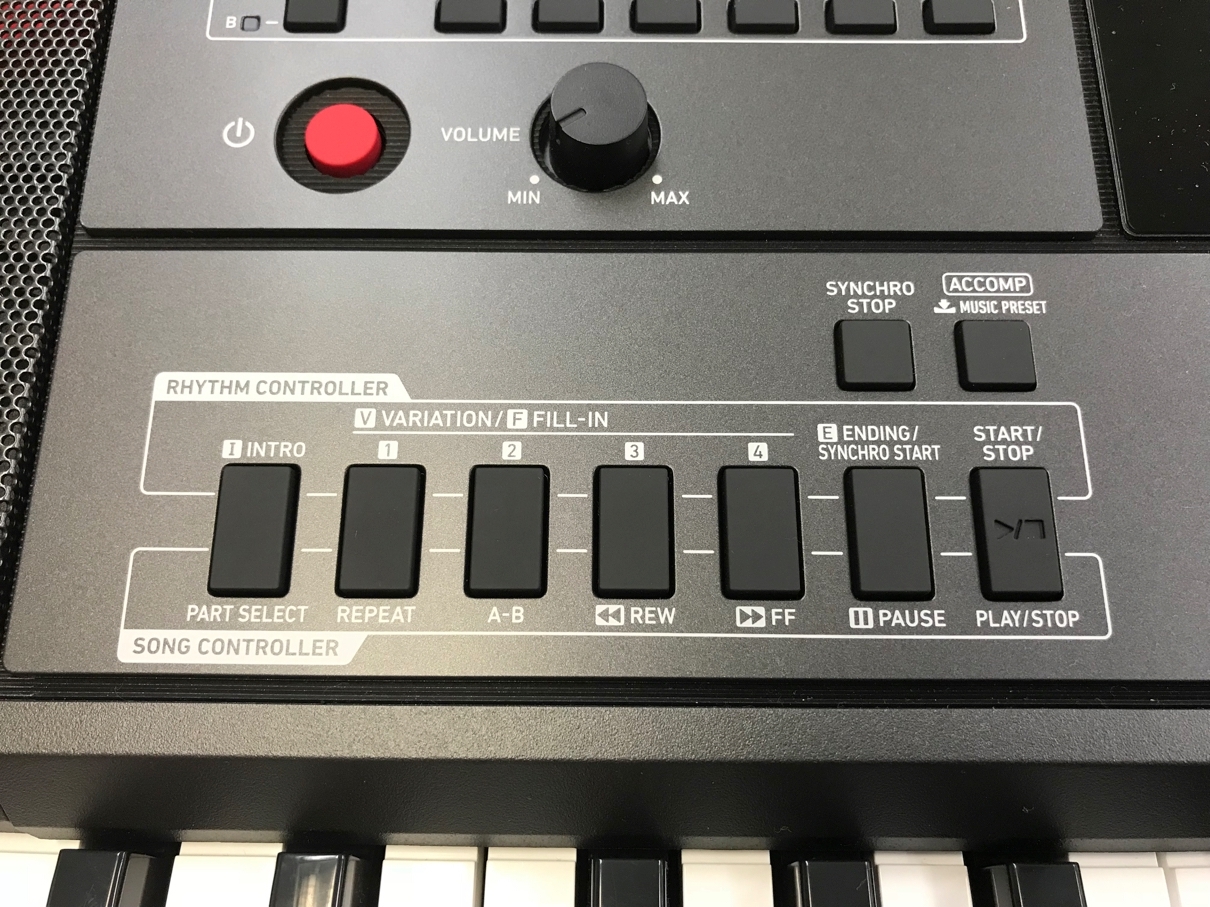 As you saw in the Demo video, the Song Controller allows control over Intro, 4 Variations, and the Ending accompaniment of whatever preset you call up. This means you have access to and control over a variety of different patterns all playable automatically.

Auto-accompaniment via Rhythm Controller
Select a rhythm you like, and playback will start based around which keys are being held down by the player's left hand. The neat thing about this is that the patterns and arrangements are all VERY like recent hit songs, which gives the feeling that you've heard the phrases or arrangements somewhere before, even though you're making your own song with your own chord progressions on the fly.
We show two such patterns in our Demo video. According to Casio, they have equipped the keyboard with accompaniment programs that fit the newest music scene.
There are 235 preset rhythms, along with user rhythms, and a further 235 kinds of one-touch presets.
Auto-accompaniment with Music Presets
This style of auto-accompaniment lets you get busy even without holding down chords with your left hand. Chord progressions are automatically generated, which allow you to play along however you like. The progressions themselves are all sort of common and somehow familiar-sounding, which free you up to develop your own original melodies and songs. We think this is particularly useful even for beginners, and a very helpful feature for arranging original songs. There are 310 styles of music presets with the aforementioned chord progressions.
The easiest way to see what we're talking about is to watch the Demo video.
Phrase Pads
Above the registration keys you will find a row of four programmable pads, called Phrase Pads. These pads can be programmed to play phrases you program, for example difficult phrases or phrases you can't play, or one-shot rhythms and so on, so they're actually quite useful. Up to 100 user phrases can be set.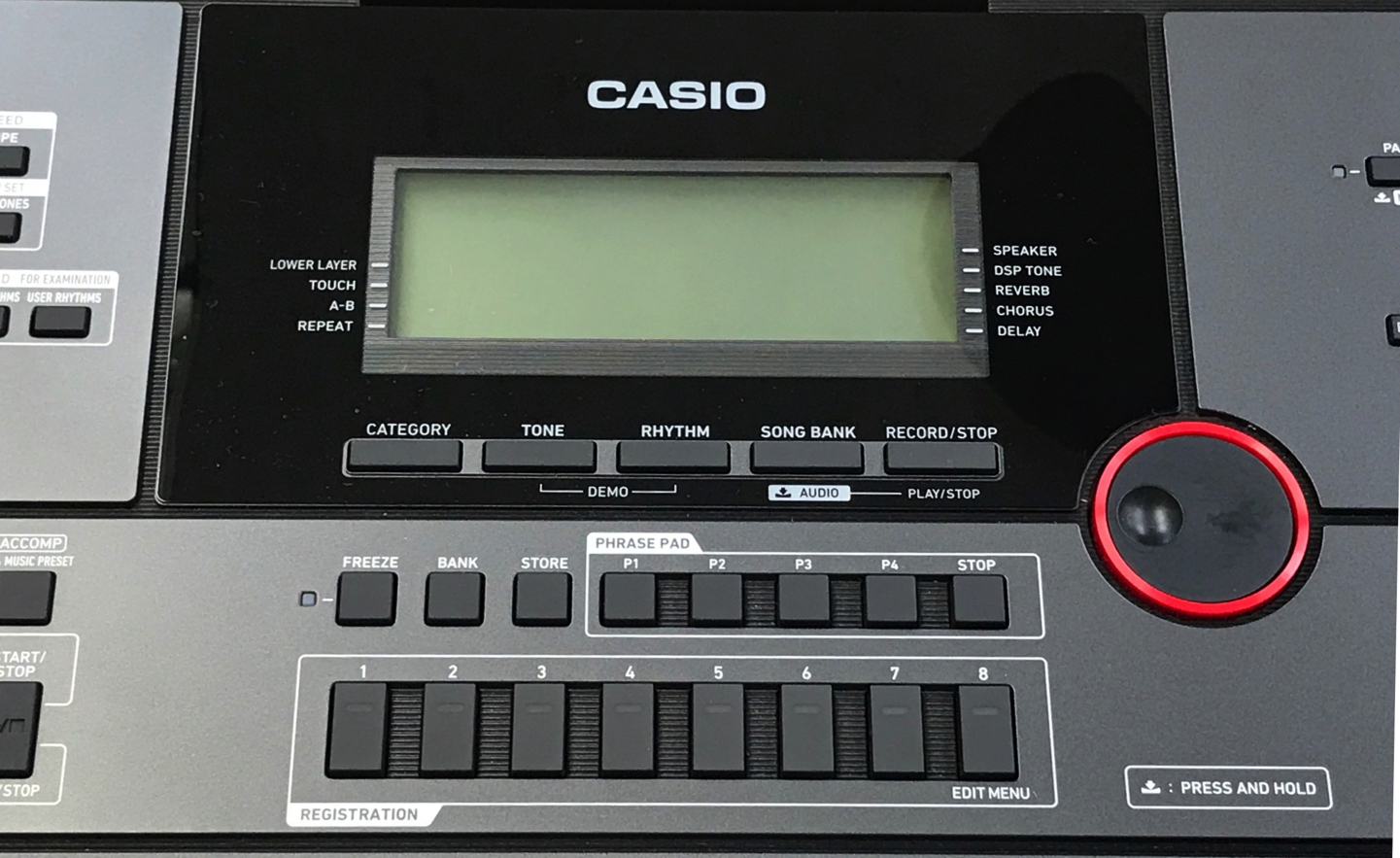 Powerful Bass Reflex Speakers
At the far sides of the keyboard itself are two sets of high-performance speakers, which push 15 watts each. These are really great for getting practical mileage out of the sounds of the CT-X5000. What's more, the speakers themselves are in bass reflex enclosures, newly designed to give better low frequency response. It is our opinion that this spec alone is enough to ensure you can use nothing more than the keyboard itself and still deliver a great performance. Also, the red frame/speaker surrounds reminded us of Casio's G-Shock line of watches.
The CT-X5000 is great for going out and performing with, if for no other reason than that it has high-powered speakers built in so there's no need to lug an amp or anything else around. You are free to play just about wherever you may want to. And that's not all! It's a very light keyboard, so portability is no problem at all.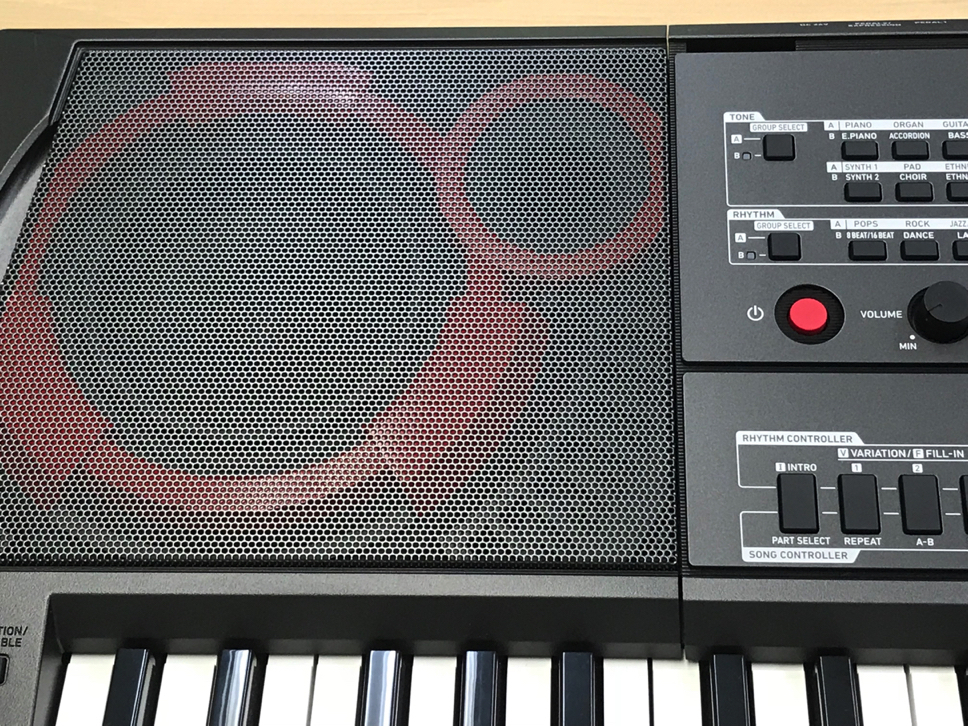 Other Controllers & Functions
To the right of the display, you will find a 10-key pad which is useful for editing and making settings. Under the 10-key you have controls for Temp, Key, Split, Layer, Auto Performance, Portamento and so on, all of which are useful in performance situations.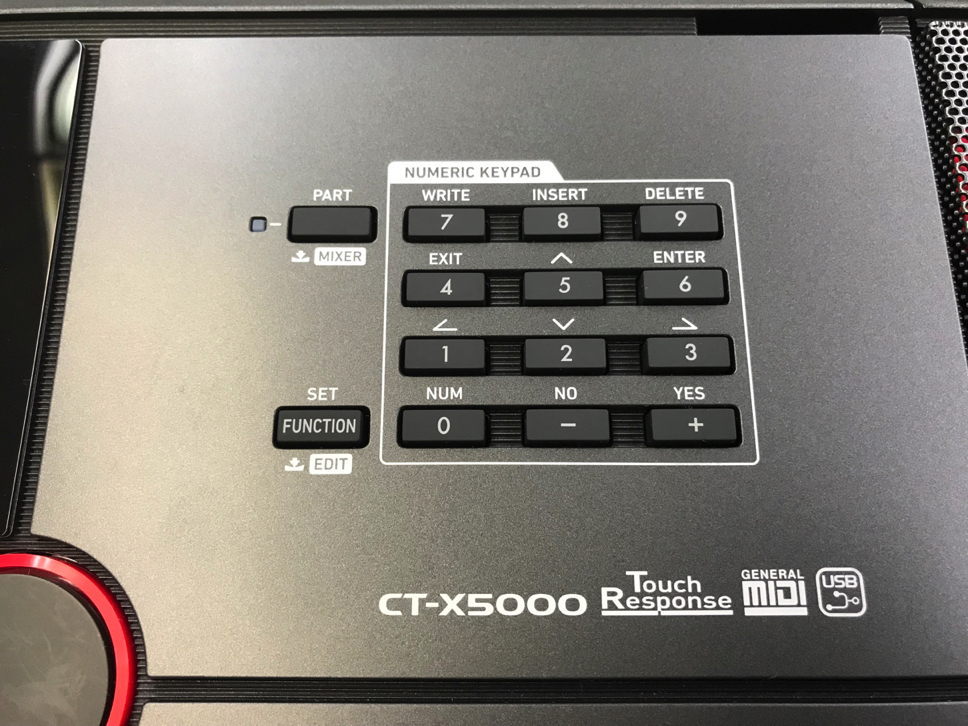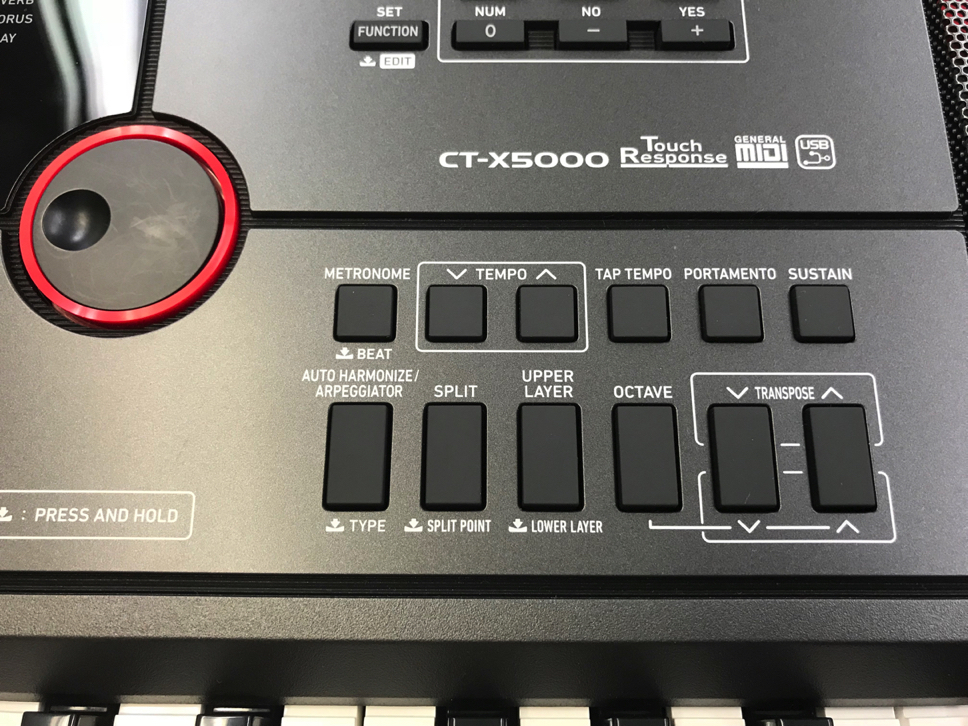 Additional features include a 17-track MIDI recorder, a 42-channel mixer you can use while mixing down, original user rhythm creation functionality, WAV audio data playback capability, connectivity with computer and device applications, etc etc. Seriously, the list of additional features is almost ridiculous, and exceeds the scope we have here. Suffice it to say that they've crammed just about every feature imaginable into the thing, and that's not far from the truth.
The CT-X3000 is also equipped with built-in speakers, but with a bit less powerful total of 6w+6w, but as far as other features go, not only is it identical to its big brother, but it will also run on batteries!
These might just be the perfect keyboards for buskers. And when you consider the number of features both of the keyboards are packed with, the cost is actually very reasonable. Cost performance is a huge plus of CASIO's CT-X series!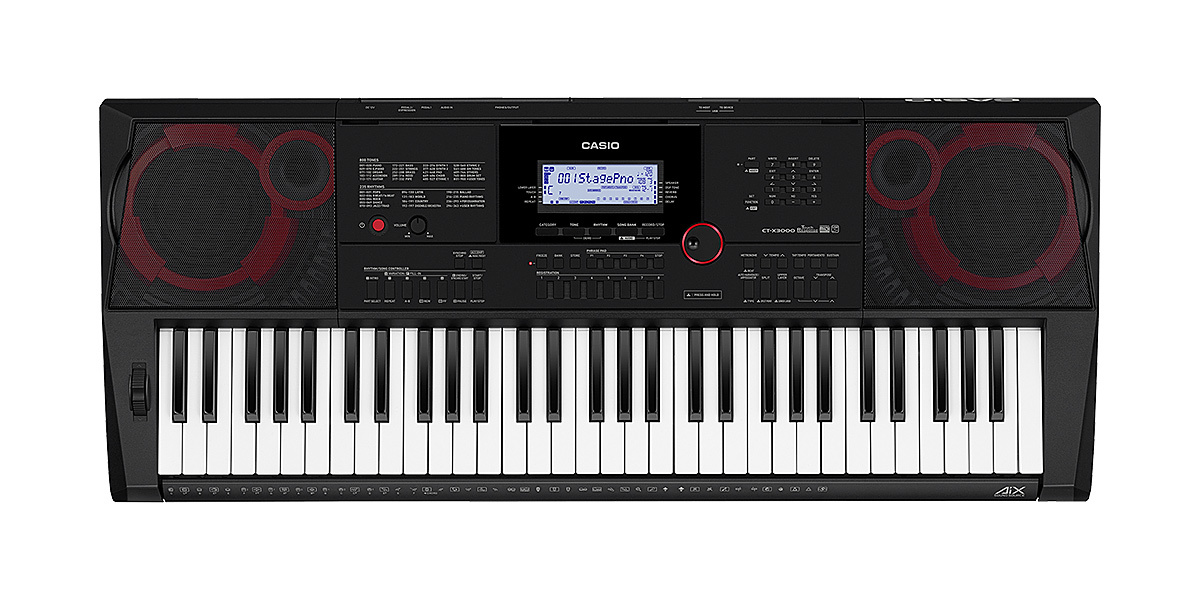 Sales Info (Japan only)