Features:
12 voice true analog polyphonic synthesizer
Panel layout and sliders facilitate editing
Full-blown effects processors from high-end manufacturer
Can be edited via tablets/devices thanks to built-in wifi
High-performance, high-power, low cost
Behringer, known for its huge line of low-cost products, brings us their first synthesizer, and it's a full-analog, polyphonic synth at that!
We're currently experiencing a sort of analog-synth boom at the moment, so let's take a look at sound and features of this 12-voice polyphonic machine.
12-voice polyphony
Thanks to the recent popularity of analog synths, a variety of different types are on the market, which can be categorized briefly as follows:
Eurorack and modular synths: Eurorack、Doepfer、AnalogueSystems・・・
Gadgets/Grooveboxes: KORG monotoron & volca series, DSI mopho・・・
Re-releases, Clones: Moog、ARP、MS20mini・・・
New devices: Korg Monologue、Novation PEAK・・・
This new synth is Behringer's first foray into synthesizer manufacturing, and obviously falls into the "New devices" category above. And even though they're off to a late start, the specs surpass those of many other synths that have come before, and even though it does have some very high specs, they have managed to keep the price low. Also, even though the trend has been to offer single-, dual- or four-voice polyphony under a certain price point, the DeepMind12 suddenly arrives on the scene sporting a startling 12-voice polyphony, and at an equally startling MSRP.
12-voice polyphony may be overkill for normal play/performance, but it really packs a punch when it comes to rich splits and live performance, and also with fat, layered sounds. Some of the merits of the synth are as follows:
No cut-off notes when playing piano or keyboard sounds
Assigning various sounds, thus broadening ones range when performing with splits (assigning a different sound for each hand, for example)
Layering sounds on top of each other, for truly fat layered sounds (layering piano sounds with pad sounds for example)
Assigning the 12 voices to Polyphonic Unison, making fatter sounds than ever before (powerful, wicked bass and sync sounds with multiple, unison detuned voices)
With a voice count this high, you've got lots of leeway and pluses, so you can make sounds like you've never made before, on top of having a much broader range of possible sounds you can make. In our video demo & review, we introduce a number of presets, so make sure you have a look at that.
Demo & Review Video
Panel Layout
The panel of the DeepMind12 is very similar to the classic Juno-106, and very easy to understand, with lots of sliders, and a signal flow that goes from left to right.
Furthermore, each section has an Edit button, which when pressed prompts the display to change to show detailed parameters for the relevant section. Having this kind of quick access to parameters reminds us of the Virus, and means that you can edit a large number of parameters from the unit itself. We have to say that they did a very good job with this.
Arpeggiator/Sequencer Section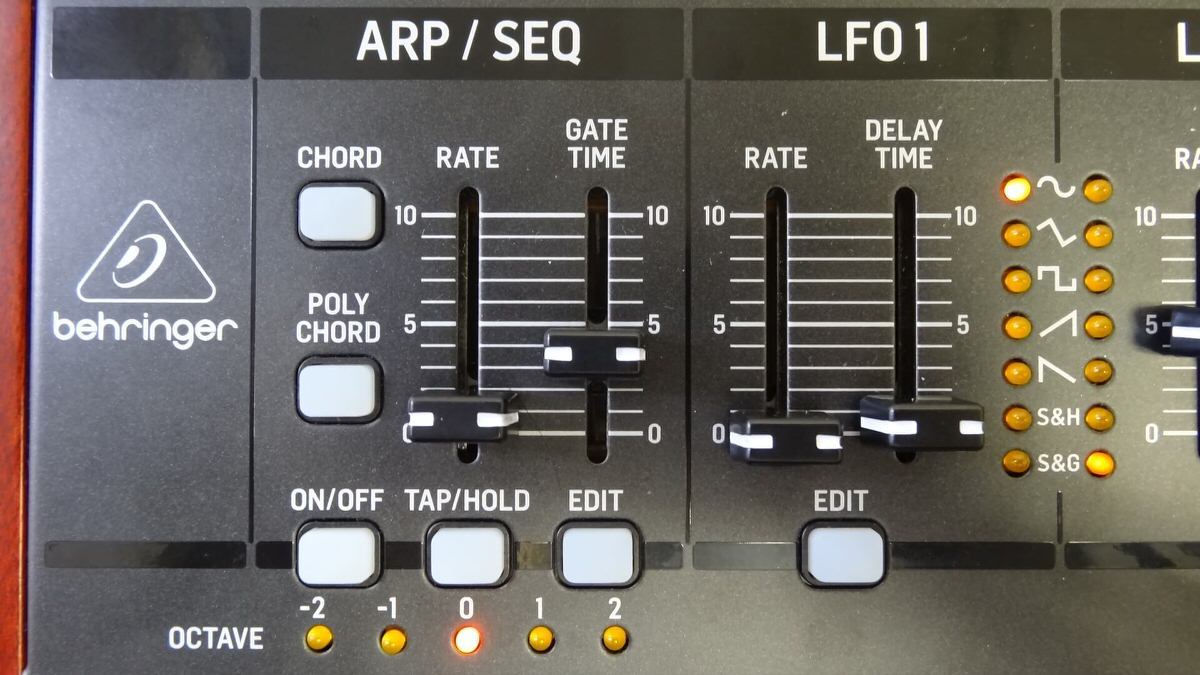 An arpeggiator, which once again has become a sort of standard feature, is of course included. There are more than ten modes to choose from, and it can sync to MIDI clock. The tempo and gate time can also be controlled easily by the sliders.
The sequencer is a 32-step controllable affair, which can obviously be used as a standard step sequencer and be set to control pitch, but it can also function as a 32-step "control" sequencer. You can assign it as a source in the modulation matrix, so if you assign filter cutoff to destination, you can make sounds where the cutoff is controlled by a sequence. Things like this make for a wide variety of possible sounds.
Furthermore,
CHORD for chord memory
POLY CHORD for assigning a number of different chords to different keys
TAP/HOLD for realtime input of tempo, or holding the sound
EDIT for detailed section settings via the LCD
LFO Section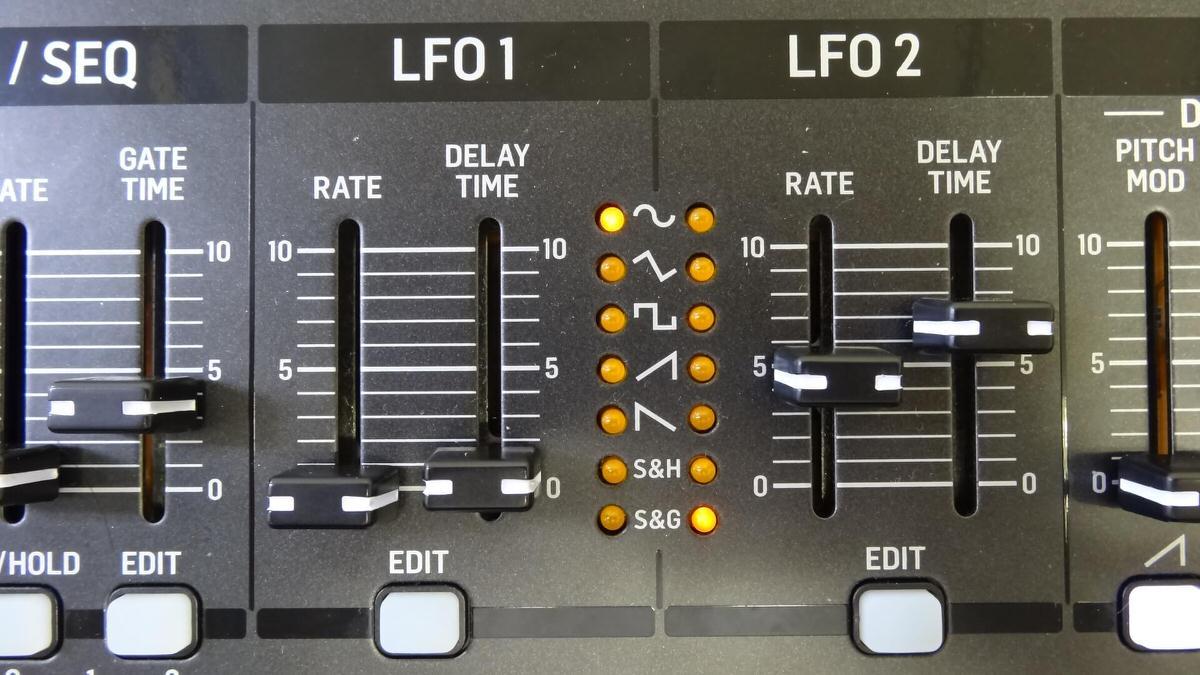 The synth has two independent LFOs, which come with the usual LFO waveforms as well as sample & hold, sample & glide, for a total of seven waveforms each. The LFOs can be synced, of course, and as there are a number of complex parameters that can be edited, these are some truly high-performance LFOs we have here.
DCO1 & DCO2 Section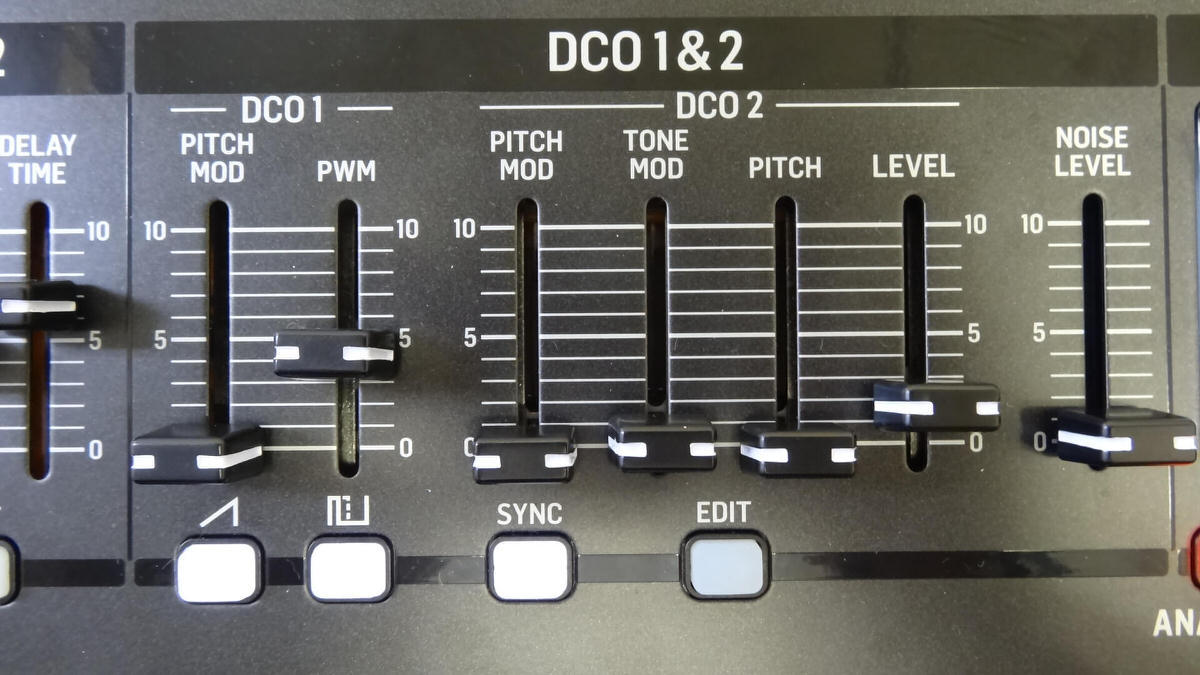 With oscillator stability a priority, the DeepMind12 uses DCOs (Digitally Controlled Oscillators). Oscillator stability is an especially demanded feature of modern analog polysynths, and as such using DCOs has become the norm.

When considering pitch stability on synths that can play chords, the obvious choice would be to use DCOs, as we see with Dave Smith Instruments Prophet 08 and Oberheim OB-6. And since each voice uses two oscillators, there are a total of twenty-four oscillators on the twelve voice DeepMind12.
Waveforms
OSC1:Sawtooth, Square(Pulse width)
OSC2:Square
NOISE:PINK NOISE
The selection of waveforms may seem a bit small at first glance, a number of complex waveforms can be produced because of features like pulse width adjustment (and modulation), using multiple waveforms simultaneously on each oscillator, creating harmonics by individually adjusting oscillator pitch, and controlling harmonics on DCO2 via the TONE MOD parameter.
Center Display and Control Section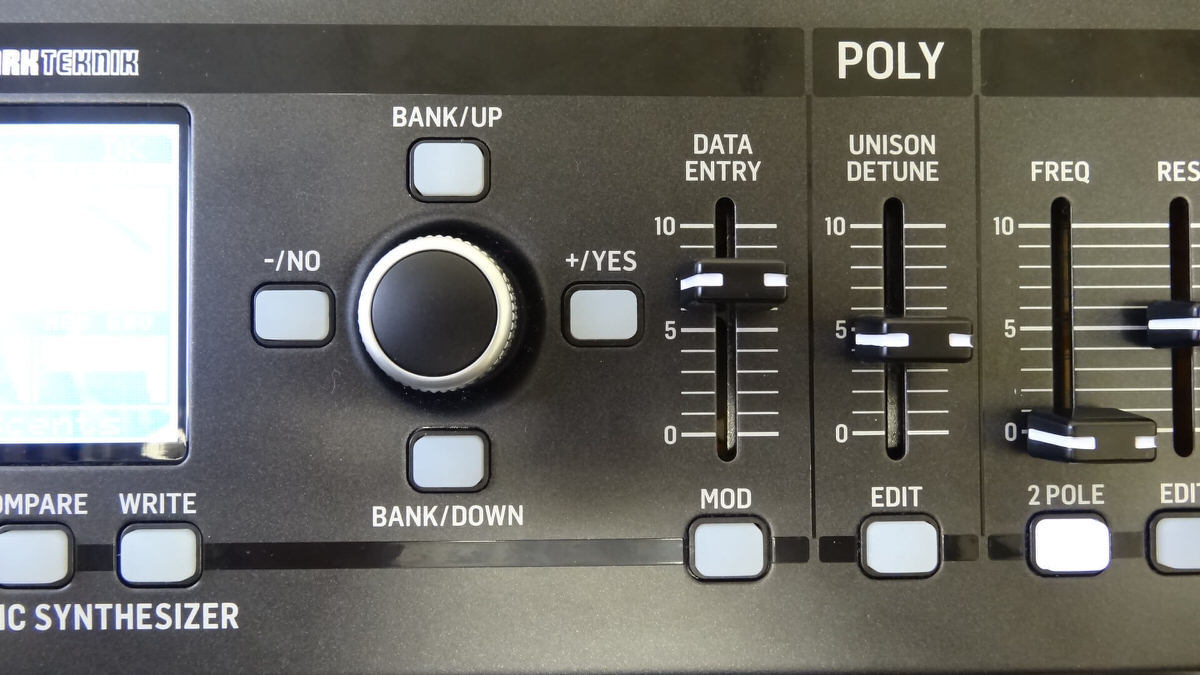 Display and Knobs
The display is large, has very high legibility and graphically displays parameters and values. The knobs double as push buttons and are very easy to use. Sliders have detents. Features like these, along with having access to a large number of parameters, make editing via the front panel not only possible but a breeze to do.
POLY【UNISON DETUNE】
Unison modes (1,2,3,4,6,12 voice)

In order for you to make the most out of twelve voices, there is a diverse selection of Unison modes to choose from. When in Unison mode, you have control over the detuning via the Detune slider, so you can easily make Super Saw-like fat sawtooth waveforms. We're sure you can imagine just how incredibly fat a 12-voice Unison sound is just from our describing it.
FILTER Section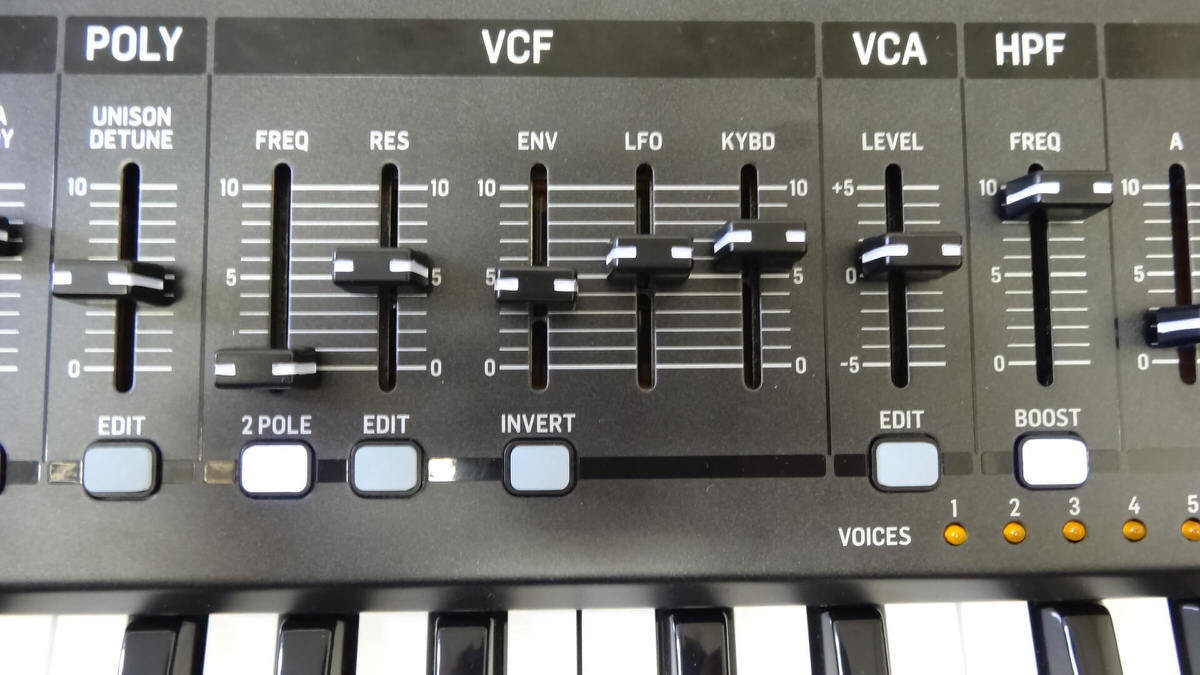 FILTER
2-pole/4-pole LOWPASS
HIGHPASS
BOOST
The DeepMind12 has an analog lowpass filter with can be set to either 2- or 4-pole, allowing you to easily cut out exactly the frequency band of the sound you don't want. Also, there is an additional, independent highpass filter, so a diverse range of filter control is possible.
It's also possible to independently control the filter envelope, and you can make the envelope function in a flipped manner via the INVERT switch.
The BOOST function does just what the name implies, and boosts the low frequency band as it leaves the filter, which is a useful parameter for adding extra oomph and fatness to bass sounds and the like.
VCA/HPF/ENVELOPES Section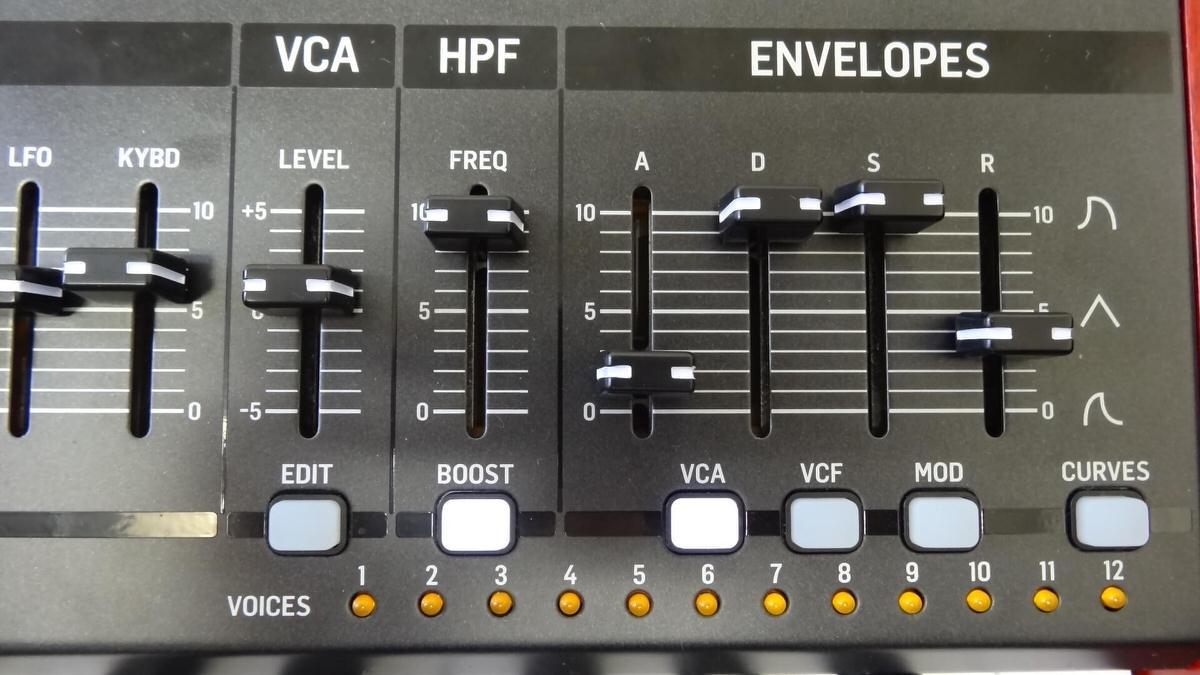 Envelopes
There are three envelopes, one each for filter, amp and modulation. There's only one set of envelope sliders on the front panel, but you can change between envelopes in an instant via the button below the sliders, so editing is very easy.

You can also select which envelope curve to use from three options, which allows for the creation of some delicate envelope curves, resulting in very detailed, expressive sounds.

The modulation envelope serves as a source in the matrix modulation menu, and if you set the destination to pitch, for example, lets you apply an envelope to control pitch change.
Highpass Filter
The synth has a high pass filter which operates independently from the lowpass filter, and by combining the two filters, you can come up with some diverse changes in timbre.
VCA
The final volume setting of the program is controllable via the VCA slider, and is very effective when used to adjust and match the output levels of the patches as a whole.
High-performance iPad Editor App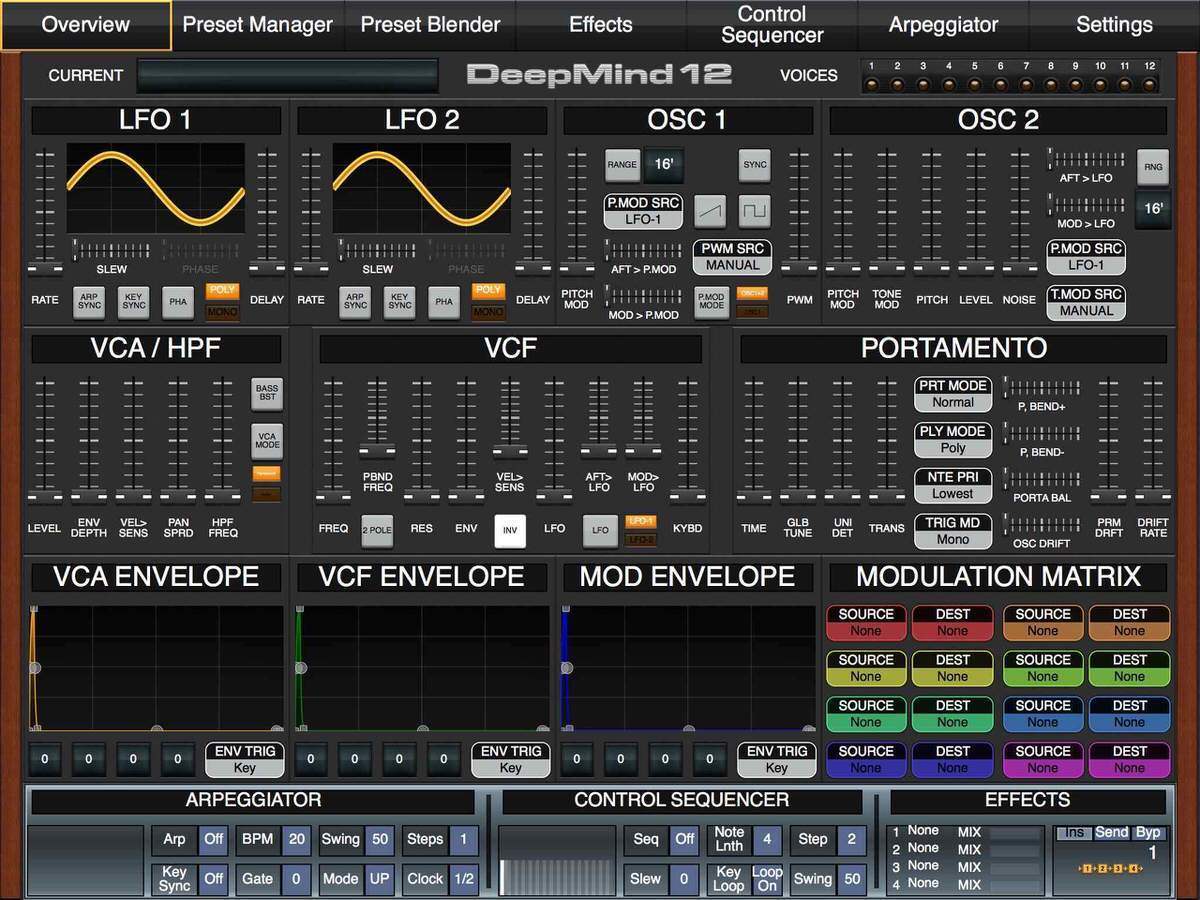 The DeepMind12 comes equipped with internal wifi, so you can wirelessly connect an iPad to it. After you install the free editor app on your iPad, once you connect the two it feels just like you're controlling a synthesizer app on it. The app is colorful and very well put together, with a layout that is very easy to understand.
Thanks to having an editor app, you can easily control settings such as sequencer patterns, at the arpeggiator, and internal effects, which are hard to deal with from the front panel of the synth itself.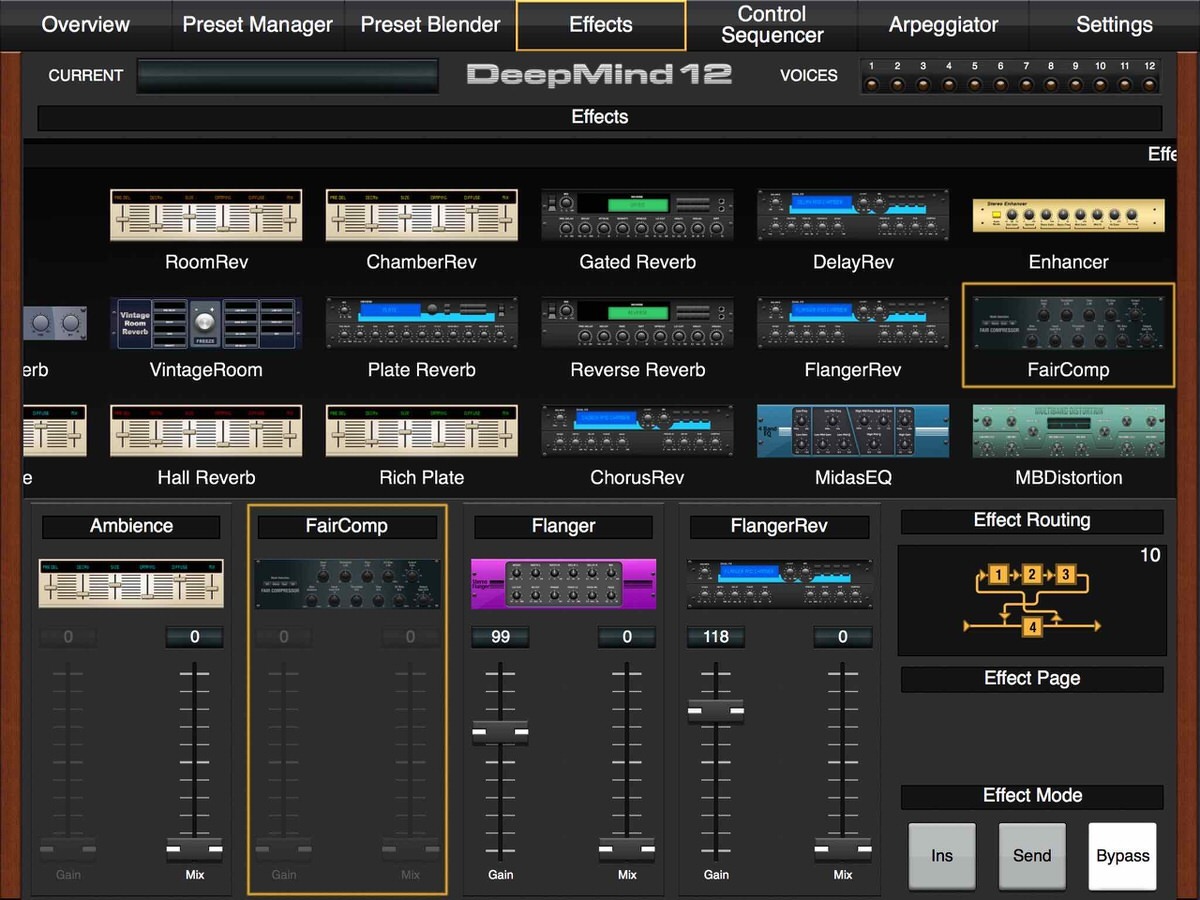 SUPER powerful internal effects
The internal effects processors have 34 types of effects, in four effects slots which offer flexible routing options.
The big deal here is that the DeepMind12, in addition to being an analog polysynth, uses effects processors from none other than TC Electronics and Klark Teknik.
Now, if the sound of the synth itself wasn't fantastic as it is—that analog sound, the sound you get from a real analog synth with a great analog filter—by passing that sound through effects processors brought to you by such big name manufacturers, the sound just gets exponentially better. The easiest sounds that show this are the pads.
The pads on the DeepMind12 sound very full, broad and rich thanks to spatial effects such as chorus, reverb and delay, all effects for which TC Electronic is renowned.
To see and hear what we mean, be sure to keep the effects processors in mind and listen carefully while checking out the video demo & review.Because the DeepMind12 has integrated such high quality effects processors at the final exit point of the sound, thanks to the fusion of these effects with the synth's analog sound, we think it's possible to coax warm and spacey pads like you've never heard before out of the synth.
Modulation Matrix
19 Sources
129 Destinations
8 Slots
The DeepMind12 utilizes an eight-slot modulation matrix, for control over a number of parameters. Because you can internally make connections between things that normally can only be done by using patch cables, you can use a variety of sources from which to apply modulation.

For editing the mod matrix, we highly recommend you use the iPad app as the interface is very realistic, and making sounds with it is fun!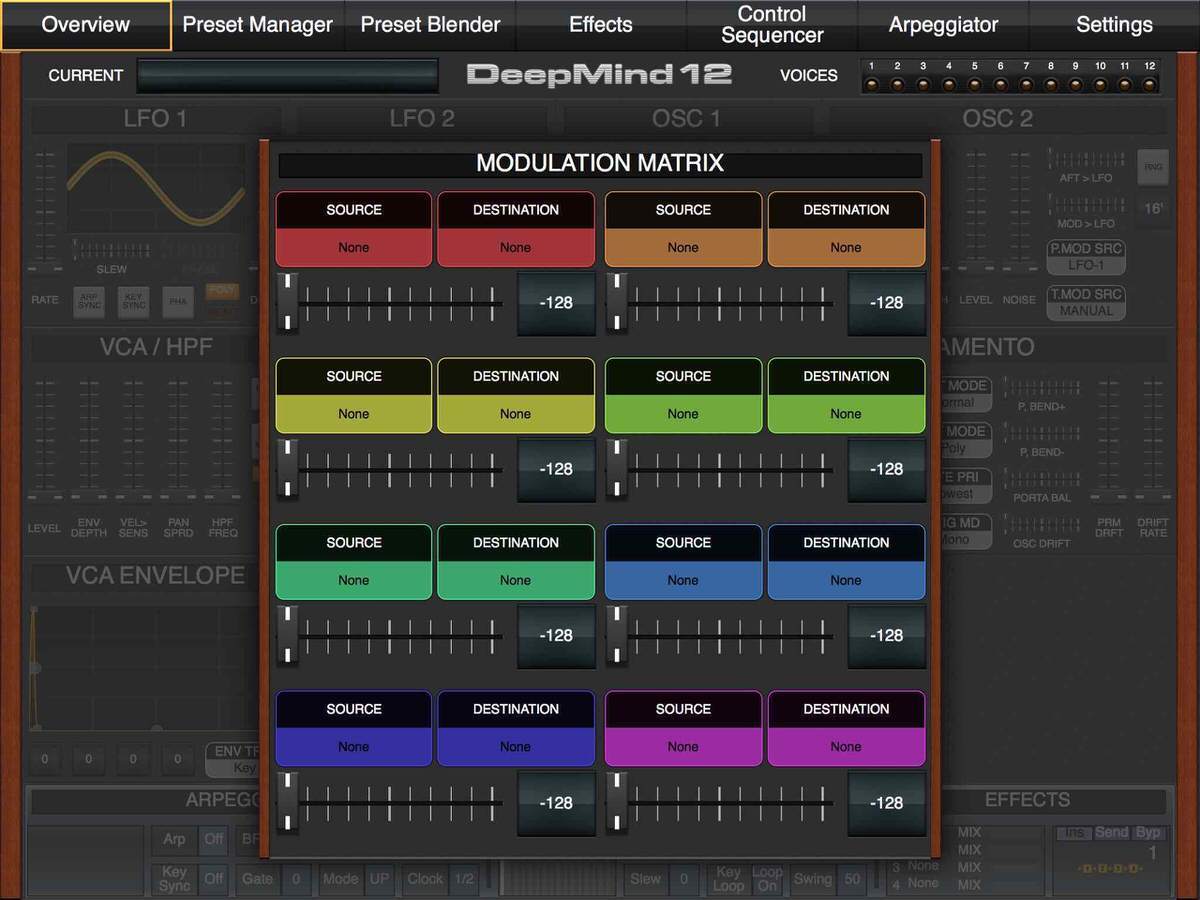 Controllers and the Rear Panel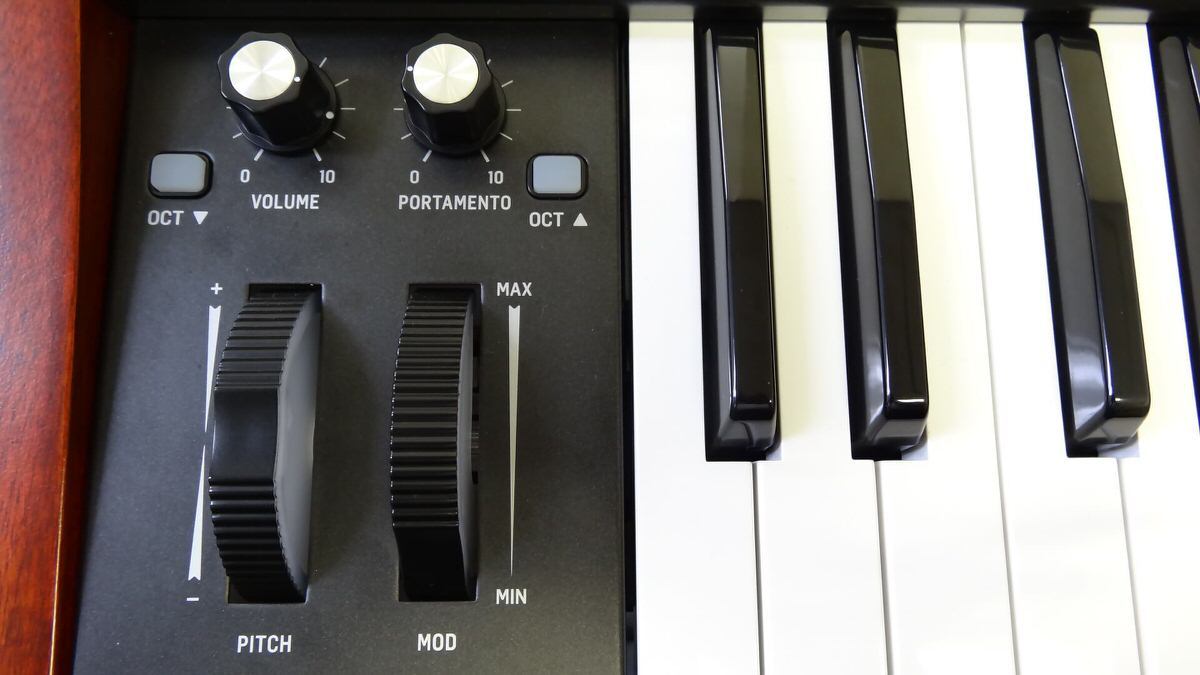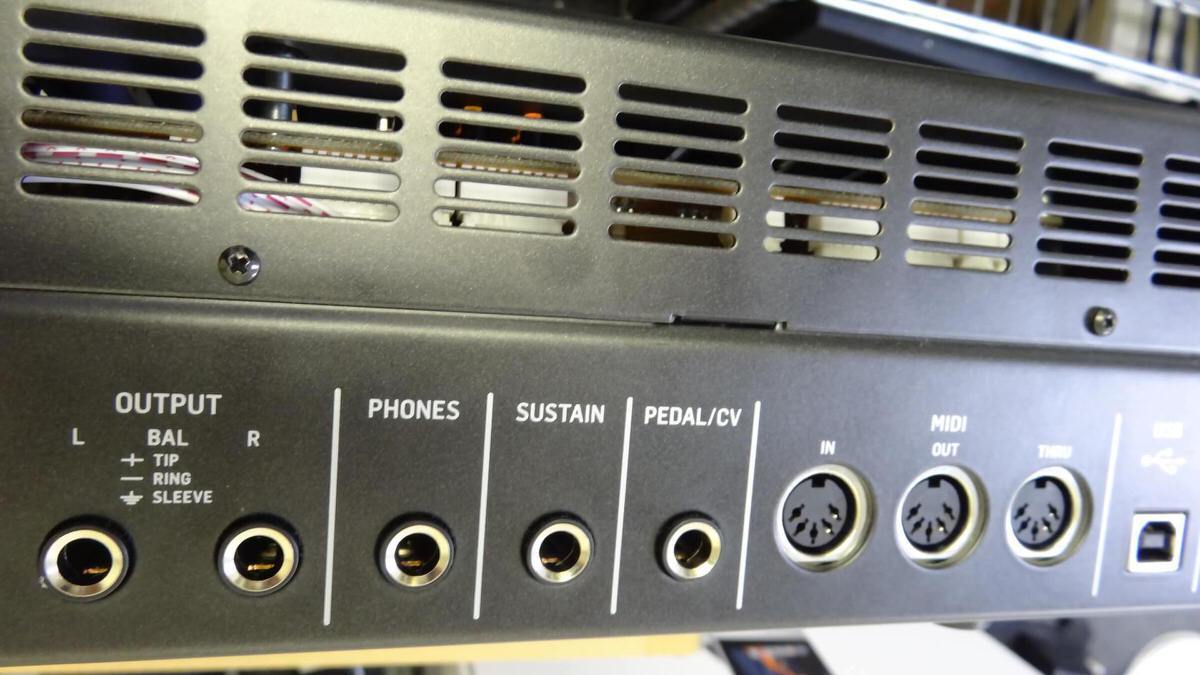 Controller Section
To facilitate ease of use with the left hand, the usual set of synth controllers is lined up at the left side.
Master Volume
Portamento
Octave Shift (Up and Down)
Pitch Bend Wheel
Modulation Wheel
Rear Panel
You've got all the inputs and outputs you need, as well as a wifi interface.
Stereo Outs(L,R)
PHONES
SUSTAIN
PEDAL/CV 
You can assign a pedal as a source in the mod matrix, to control filter cutoff etc.
MIDI(IN/OUT/THRU)
USB
Wi-Fi(internal)
This is Behringer's first real analog polyphonic synthesizer. Even though it is a serious synth, it is priced so that it is easily within reach of beginners, and we think it's a synth that you're not likely to grow tired of anytime soon, that will provide years of use.

by musictrack