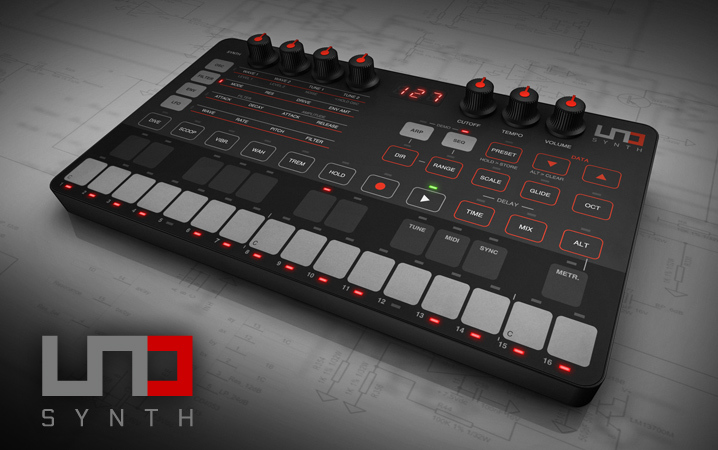 Features:
Compact Real Analog Synthesizer
Packed With Features You'd Never Expect Just From Looking At It
Very Reasonably Priced Considering How Powerful It Is
IK Multimedia, known for its IRig series and software such as SampleTank, have released a hardware synthesizer! And not just any old synthesizer at that, a real analog monophonic synth, the UNO.
Compact Desktop Form Factor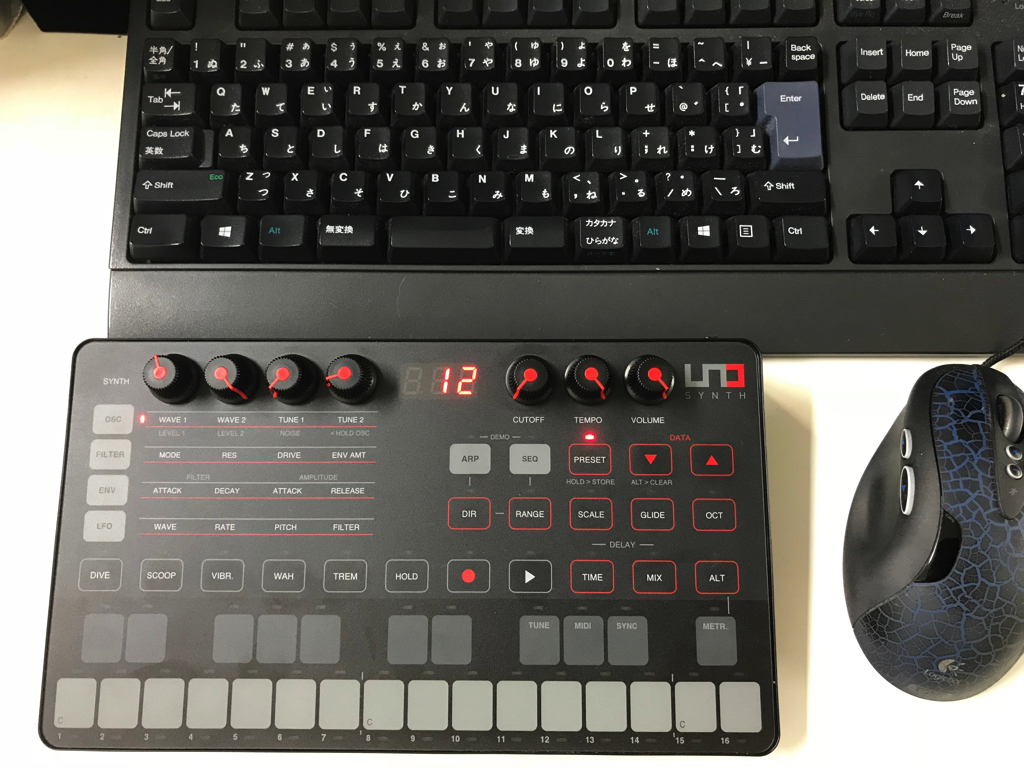 The UNO Synth is one of the currently trendy desktop type synths, which have a compact, very slim style. You'd almost never guess it was analog just from looking at the futuristically designed flat front panel of the thing.
However, the guts are all analog circuits; it is a true analog synth.
Mention "Analog" and you might have an image of a knob- and slider-laden synth where a multitude of parameters are editable on the fly. With the UNO Synth though, there are four knobs laid out in an editing matrix, three of which are usable for real-time tweaking. There are also 40 flat, LED button switches which give access to a number of parameters.
The layout of those parameters, as both a synthesizer and a controller, has been very logically done. There is also a button section for realtime control during a performance, which is a special feature of the synth.
What's more, the UNO Synth is an analog synth, but it can store 100 sounds, 80 of which can be overwritten by the user. 80 is more than enough to save sounds you've cooked up which you don't want to lose.
All of the sound slots have been preprogrammed, so it's ready to go as soon as you power it on.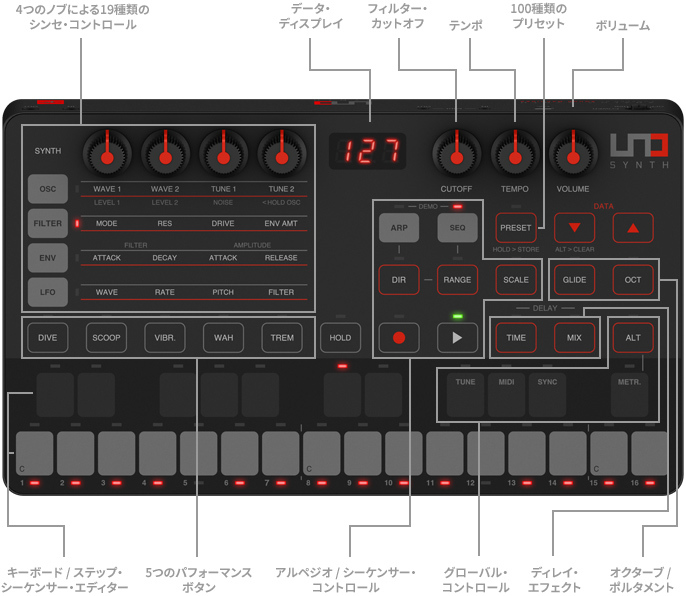 UNO Synth Main Features
Oscillator
Usually, with synthesizers in this price range you get one single oscillator, with maybe a sub oscillator thrown in for good measure. These limitations have probably been a result of cost versus functionality. Nevertheless, the UNO Synth has two totally independent analog oscillators.
Selectable waveforms are:

Sawtooth
Triangle
Square (PWM available)
White Noise
Because the two oscillators are independent, you have control over the pitch, tuning, and level of each. You can detune them slightly against each other, or use the LFO to add PWM for fattening up bass sounds. Or you could easily cook up a lead type sound by assigning different octaves and pitches to each oscillator.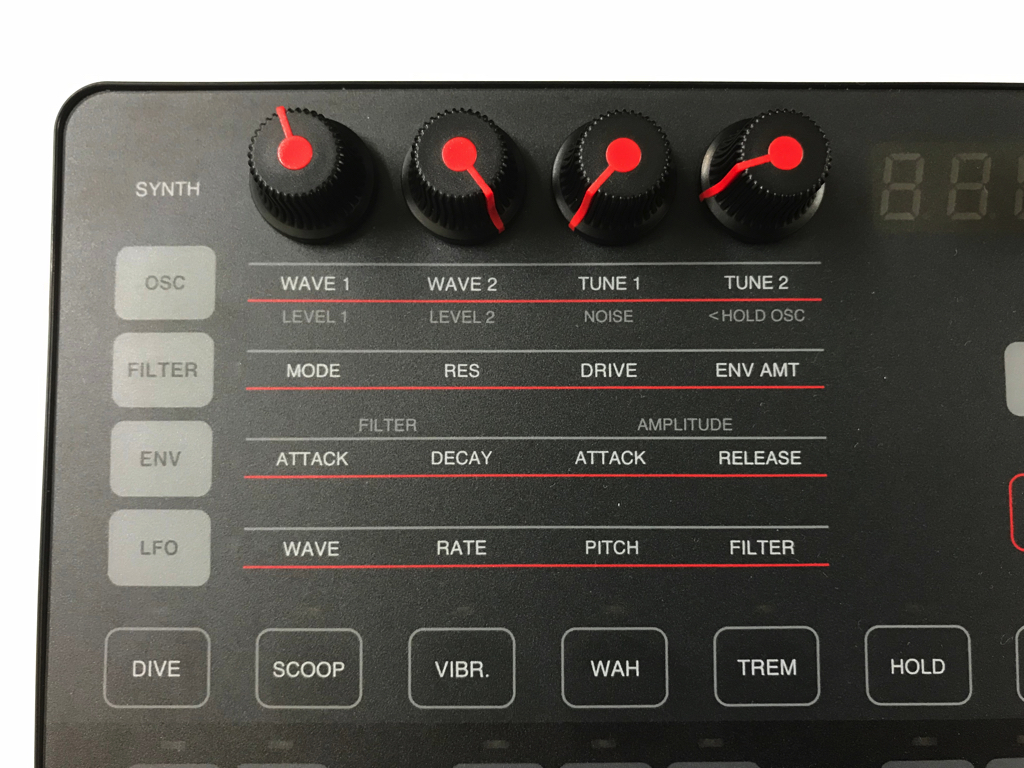 Filter
The filter is a totally analog, 2-pole resonant multi-mode affair. Of course, resonant sweeps are totally doable, as are fat sounds, or warm sounds, or resonant sounds with a real punch behind them.
DRIVE
A special feature of the filter section is the inclusion of a dual-stage overdrive. Using DRIVE, you can get the exquisite distortion and feeling of classic synths, as well as the distorted bass sounds that are quite popular among producers of club-oriented music these days. In any case, it's very easy to add distortion to your sound here.
FILTER AMT
Filter envelope modulation is independently controllable via the AMOUNT parameter.
Realtime Control of Cutoff Frequency
The leftmost knob of the three located on the right side of the synth is a dedicated knob for Cutoff Frequency. They probably chose to do this so you'd have realtime control over cutoff at all times, which is useful especially when tweaking or performing live.
Envelope
Two envelopes controllable from within the unit itself. For filter, you've got ATTACK & DECAY. For amplitude, ATTACK & RELEASE. Bare bones basics here. Just enough parameters to craft a decent sound using the limited space available on the front panel.
Fine control over ATTACK, DECAY, SUSTAIN, RELEASE (ADSR) parameters is available via the software editor. So, it's not like they left anything halfway done as far as envelope controls are concerned.
LFO
The LFO isn't half-baked either.
Waveforms:
Sine
Triangle
Square
Rising Sawtooth
Falling Sawtooth
Random
Sample & Hold
It's hard to find a full-size synth with this many LFO options.
LFO destinations:
Pitch
Filter
Amp
Pulse Width
The LFO on the UNO Synth is arranged to modify its basic parameters.
Realtime Controller
For realtime control during a performance, a number of knobs are provided. You've got a dedicated cutoff knob, as well as other knobs which can be used for editing resonance or other parameters on the fly.
But there is one more parameter section of independent buttons geared towards live performance.
DIVE
Drops the pitch.
SCOOP
Raises the pitch.
VIBR.
Puts vibrato on the pitch.

WAH
Puts vibrato on the filter (for a wah-wah effect).

TREM
Puts tremolo on the amp.
Because this many performance parameters are accessible at the touch of a button, we think this broadens the range of possibilities for live performance.
Finer control over parameters and settings is easily had via the PC editor software.
Arpeggiator & Sequencer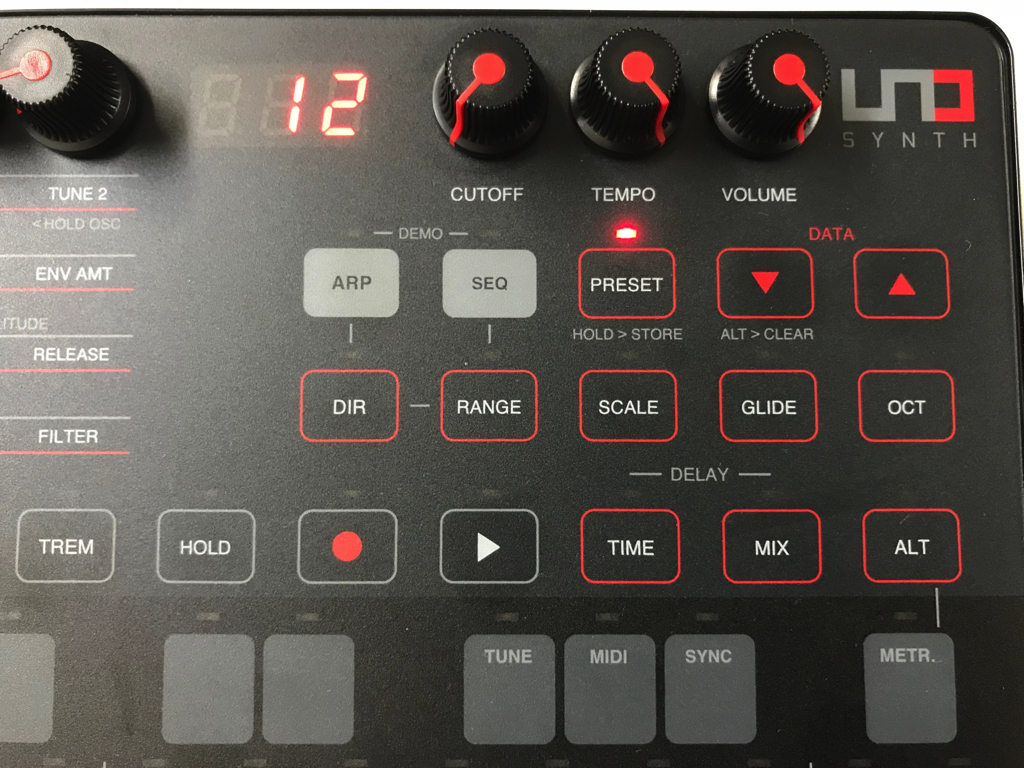 The UNO Synth is equipped with an arpeggiator and a sequencer. Controls for both can be found at the right side of the unit, with knobs for realtime control over tempo and volume. Parameters for control over octave, portamento, and scale are also available.
Entering and editing of notes can be done by using the 2-octave 27-key touch board.


Arpeggiator
There are 10 types of arpeggio modes, with up to four-octave range possible.

Sequencer
If we had to choose one huge feature of the UNO Synth aside from its functionality as an analog synthesizer, it would have to be the sequencer. Sequences can be entered either in step or real time. Also, a shocking total of 20 parameters can be edited PER STEP! To say the sequencer is top-notch is a bit of an understatement.
Usually with this class of synths, you're lucky if you get control over note, rest, tempo and automatic playback of phrases you've programmed. The UNO Synth sequencer can even save and control parameter data, so this is a big deal.
As we mentioned above, you can enter sequences step by step, but they can also be entered by simply pressing the record button and playing the keyboard and tweaking parameters in realtime. It couldn't be much easier.
Other Functions
The UNO Synth also has a number of other features, including:
Effects
Tempo syncable delay
Scale
13 types of scales are available to be assigned to the touch keyboard
USB interface for easy connection to a PC
MIDI IN/OUT for playing & syncing with other hardware
Can be powered over USB Bus Power or 4 AA batteries.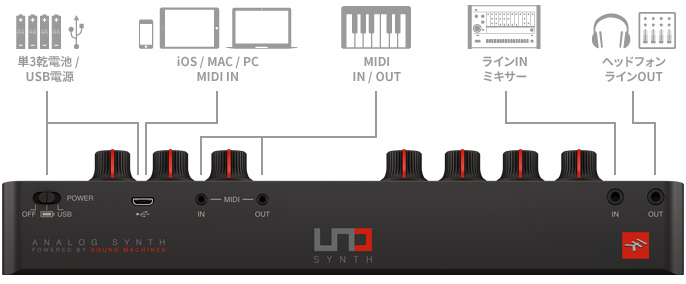 Demo & Review Video
UNO Synth Editor on PC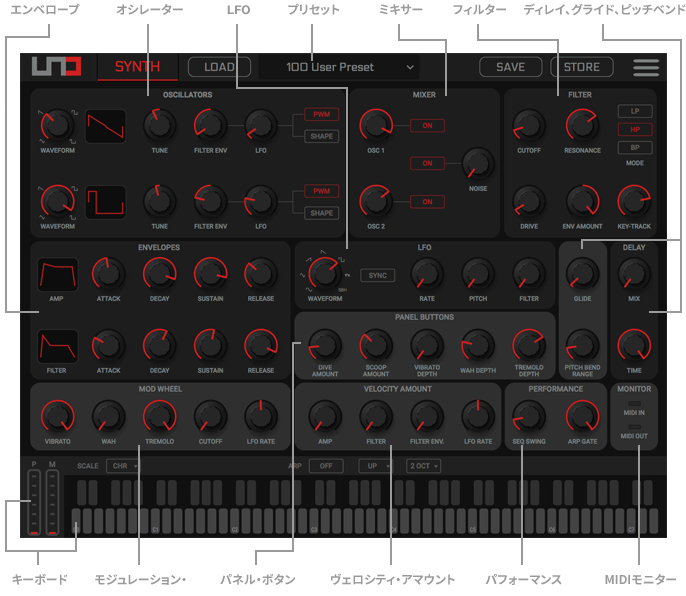 In our Demo & Review Video, we used a MacBook Pro to control & sync the UNO.
On the MAC side, we booted up Cubase and used that as a host. Then we used UNO Synth Editor VST as a plugin, which gives editor and sync control over the UNO Synth (it serves as a slave device).
For a rhythm track, we used loops from IK Multimedia's SampleTank3 plugin. The UNO Synth synced perfectly to the host tempo in Cubase.
By using the UNO Synth Editor you not only have fine control over parameters, but you also gain a broader range of possible uses for the synth. If you do happen to buy a UNO Synth MAKE SURE TO DOWNLOAD THE EDITOR!
As we see, the UNO Synth can be synced to a master DAW host, and fine editing control is also possible through the editor. It's as simple as connecting to a PC via USB, and seeing where you can add a real analog synth to your pre-existing compositions/productions. Or you could even try replacing sounds you've used plugins for. Or, you could add an analog arpeggio or sequence, all with your DAW still as the center of your studio.
Naturally, it's a synth suited for DJ play or performing with live, and we recommend you find out for yourself just how an analog synth sounds through a proper club sound system in a live house or club.
UNO Synth Editor
AAX / AU / VST
Standalone
MACOS、WINDOWS、iOS
UNO Synth Editor Info
IK Multimedia UNO Synth Editor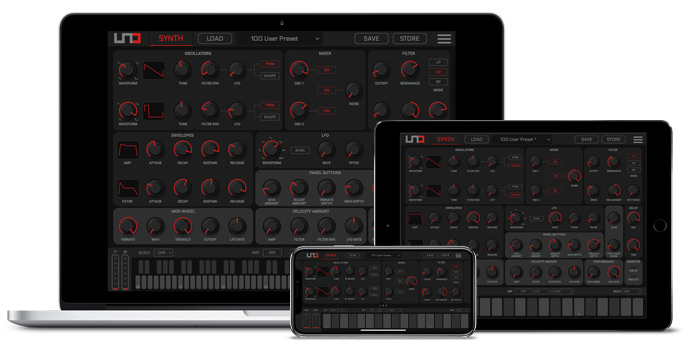 Sales Info (Japan only)
by musictrack