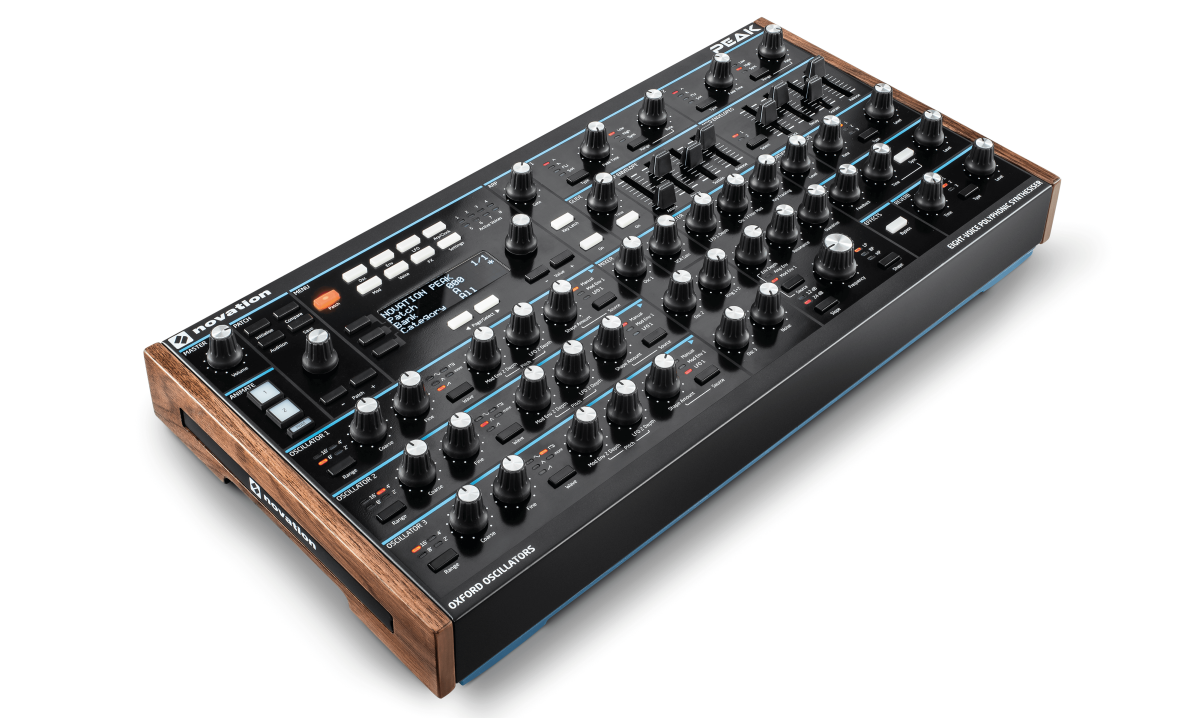 Features:
Analog 8-voice Polyphonic Synthesizer
High Quality New Oxford Oscillators & 17 Wavetables
Possible to Create Hybrid Analog + Digital Sound
Desktop Analog Synth That Means Business
Could Be Called The Polyphonic Successor in the Lineage of the Bass Station II
8-voice Oxford Analog Oscillators
The Novation Peak only comes in a keyless, desktop model. As such, it is a rather unique product in that there is no keyboard version.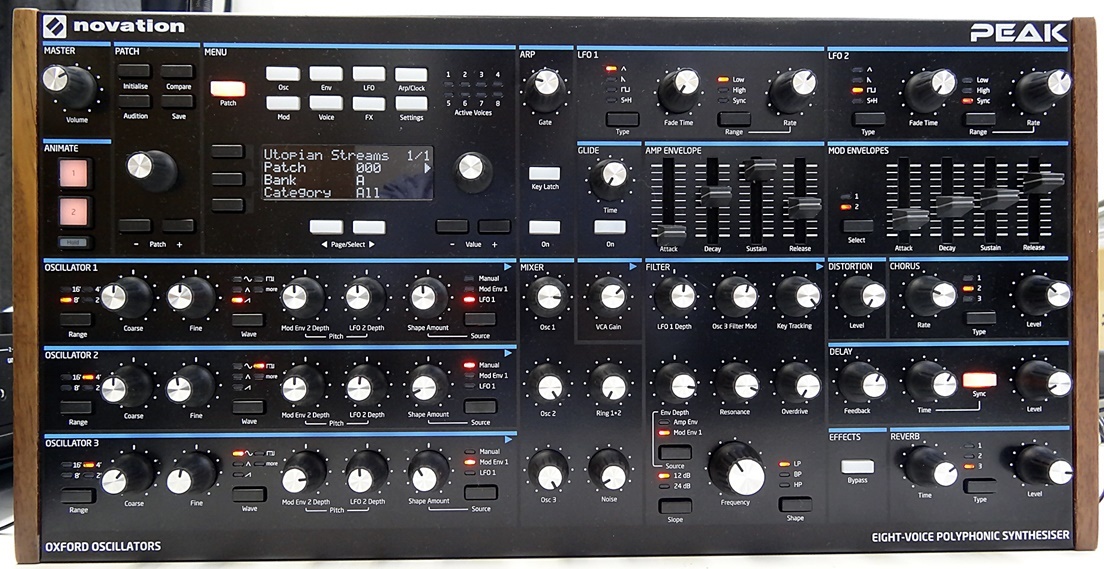 We think most users utilize a setup that includes one master keyboard/controller and multiple sound modules, so the addition of the Peak shouldn't cause any trouble to anyone at all. Novation has also just released the SL Mk III series MIDI controller keyboard, so the timing might not be coincidental at all, if you see what we mean.

In either case, the Peak is much more compact than a keyboard synthesizer, but even so, it is fully laden with knobs so that you can edit and control your sounds.
The layout is very easy to get your head around as well, as it is logically laid out so the signal path flows from left to right (oscillators at left, EGs on the right). They didn't scrimp on saving space by doubling up knob functions either, each section is independent, and there are a total of 42 knobs and 8 sliders. We think it's fantastic!
Main Section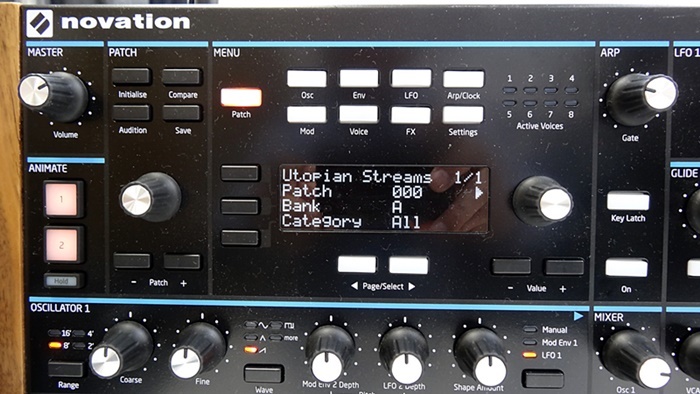 At the upper left is the Main Section, where you select Patches (Programs) on the Peak. This is also where you set most of the control parameters. There's an OLED display smack dab in the middle here, which shows Patch as well as Global info, and will display parameters while editing.

Patch (Program)
There are 256 Patches, with room for 256 User Patches too.


MENU
Above the OLED display you will find a Menu button, which allows access to the parameters of each section, and can call up additional pages of parameters too. There is a rotary encoder for ease of editing, and there are 8 LEDs here which indicate which of the 8 voices is active (being played).


Arpeggiator
Controls here include On, Off, and Latch (Hold). There are also pattern arpeggios so you can play chords and so on.
Oscillators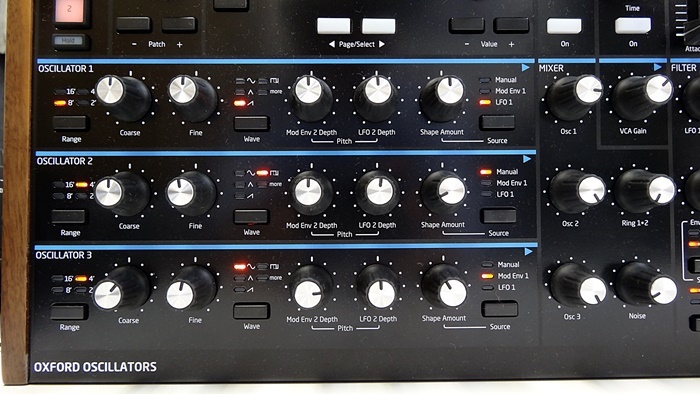 The Peak uses three oscillators per voice. Each oscillator is identical, with five different waveforms at hand.
Pitch controls are Range, Course and Fine tuning.
Waveforms

Sine, Triangle, Sawtooth, Pulse, and Wavetable (17 types)

Modulation
A knob has been provided to control the amount of mod applied to the pitch of the oscillators. There are also knobs for Mod Env 2 Depth and LFO2 Depth which control the associated amount of mod applied.
Also, to make selecting modulation sources easy, there are selections for Manual, Mod Env1, and LFO1 as well as a control for Source Amount.

Extended Parameters
For further, detailed editing, you can dive into the Osc section via the MENU button. For example, setting things like oscillator sync, noise, tuning on the Super Saw and so on.
Unison and voice detune, voice panning and other things are editable in the Voice section by pressing the MENU button and diving in.
As you can see, there are a number of parameters in the Peak which are not directly editable via the front panel, but are easily accessed via the MENU button. And, as the display changes to show detailed information while you are editing, the editing process itself is far from cumbersome.
Envelopes & LFO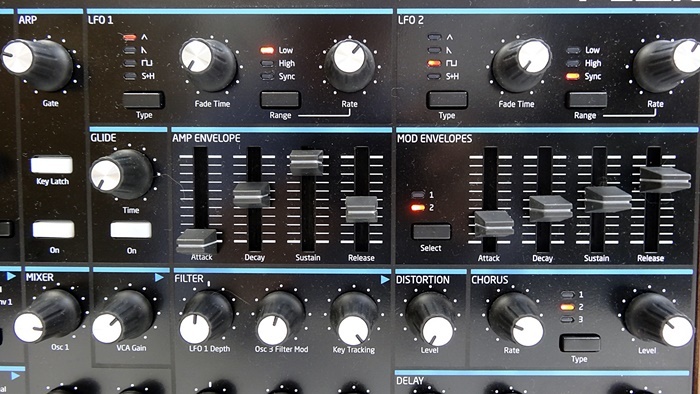 Envelopes
Envelopes are dealt with ADSR style, with sliders. There's an AMP envelope, and Modulation Envelopes 1 and 2 which can be selected via the Select button.
Extended parameters such as velocity handling and trigger control can be edited in the edit menu in the ENV section (as mentioned above with the Oscillators).


LFO
The Peak has two LFOs, each with four waveforms types. The Range and Rate are both user-definable, and selections of Low, High, and Sync are offered, so there's a wide range of possibilities here as far as modulation goes.
There's also a parameter called Fade Time, which controls how long it takes the LFO to fade in. Other parameters are also available in the LFO Menu.

Glide
You can set the Glide (Portamento) amount here.
Filter & Effects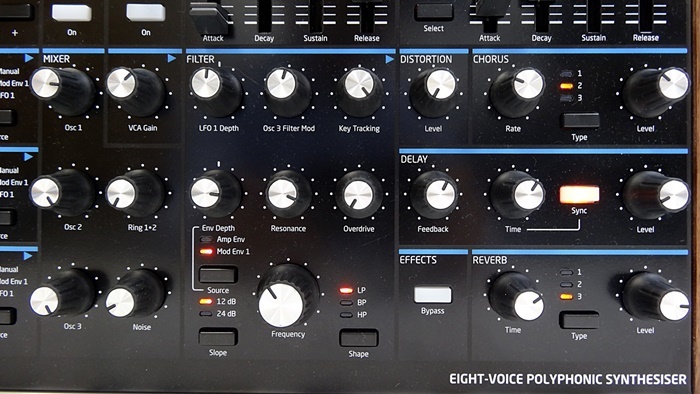 FILTER
The signal passes through the Mixer Section into the Overdrive (Drive Generator) then into Filter Section, which is analog. From here the signal is analog.
Just before being sent into the filter, the signal passes through the Overdrive section, which can add simple warmth or completely overdrive a sound, so you can alter the sound coming out of the oscillators before it even hits the filter.
The Peak's filter is analog (as mentioned above), and via the SHAPE button you can select the type, from LP / BP / HP 12db / 24db selections. Frequency controls cutoff, and Resonance is self-explanatory. Of course, you can set Key Tracking so the pitch will affect how the filter reacts.

FILTER Modulation
Filter Modulation sources are: Env Depth, Amp Env Mod, Env 1, LFO1 Depth, and Osc3 Filter Mod. A unique feature is being able to use the waveform of Osc3 as a direct mod source for the filter.
Of course, in synths with a mod matrix, you can set this up, but having a knob on the front panel for direct control of this parameter is definitely not something you see everyday.
If you set the pitch of Osc3 very low, you'll get low frequency modulation, and the converse is true as well. This is basically the same as you find on Oscillator 3 of the Minimoog.
Effects Section
The Peak comes loaded with four effects processors, which for an analog synth is really more than enough.
DISTORTION(analog)
CHORUS(3 types)
DELAY(Sync possible)
REVERB(3 types)
Each effect can be edited in detail for parameters that lack a front panel knob or button, as previously mentioned in the other various sections, via the MENU.
To turn the effects on or off, a Bypass button has been provided.
Rear Panel

On the rear panel of the Peak we find stereo audio outputs, control interface jacks and a power switch. A strange feature is the CV MOD IN jack which allows external CV signal to be used as a mod source. The fact that it's not a CV/GATE input is fairly unique.


OUTPUTS (L/MONO /R ) STEREO OUT
Pretty much self-explanatory
HEADPHONES
See above.
PEDAL 1 / PEDAL 2
These can be used as sources in the mod matrix. Expression and Sustain pedals can be used.

CV MOD IN
External CV signal can be used as a modulation source. The idea behind this is possibly to facilitate interfacing with Eurorack systems.
MIDI (IN / OUT / THRU)
Standard MIDI connectors.
USB
Type A USB connector, for transmitting MIDI data and connecting to a PC. Does not transmit audio data.
Demo & Review Video
Sales Info (Japan only)
by musictrack