Features:
Cool Design, High Cost Performance Music Workstation
Quick Composing & Production Thanks To Sound Sets & Styles
Extremely Portable: Lightweight & Battery Powered
KORG has released the i3 music workstation. Through the use of Styles, which provide backing, chord progressions, and sounds suited for a particular style of music all at the press of a button, making music is as easy as pressing the style button for the style you like.
When you think of auto-accompaniment, you probably get an image of a portable keyboard that can provide backing, and performance styles—something that you play along to in realtime. But, the KORG i3 is a music workstation, and as such it can be used not only for realtime performance, but also for composing, production, multi-track recording and live performance. It's a workstation with very high cost-performance!
Stylish Design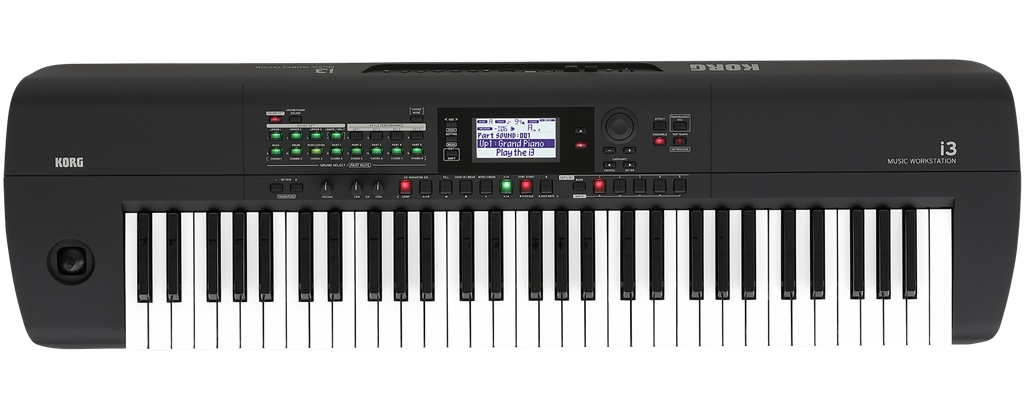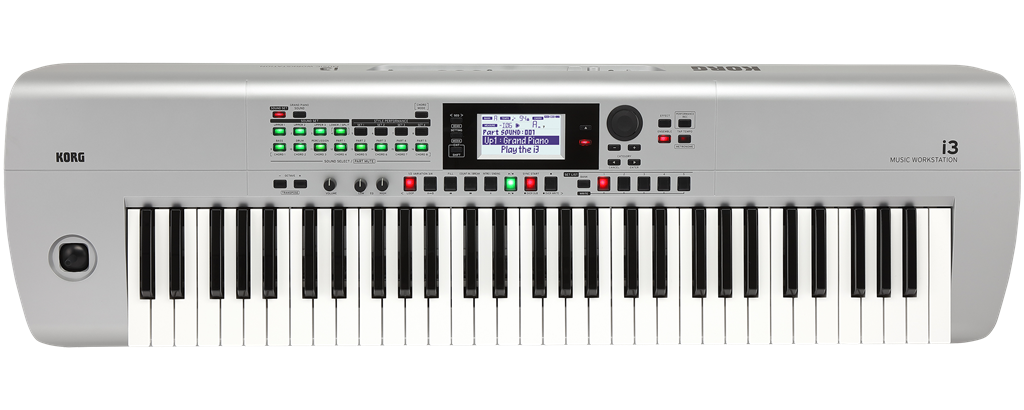 The KORG i3 comes in two models. A masculine black model with red and green buttons, and a fresh, stylish silver model. Both models include a large display screen, with strategically placed buttons equipped with red and green LEDs. The design is simply beautiful.
Additionally, weighing in at just 4Kg (without batteries), it's super light! Even after you put 6 C cell batteries in, it's still quite light. And, being so light, for keyboardists who perform live, it's one less burden to deal with.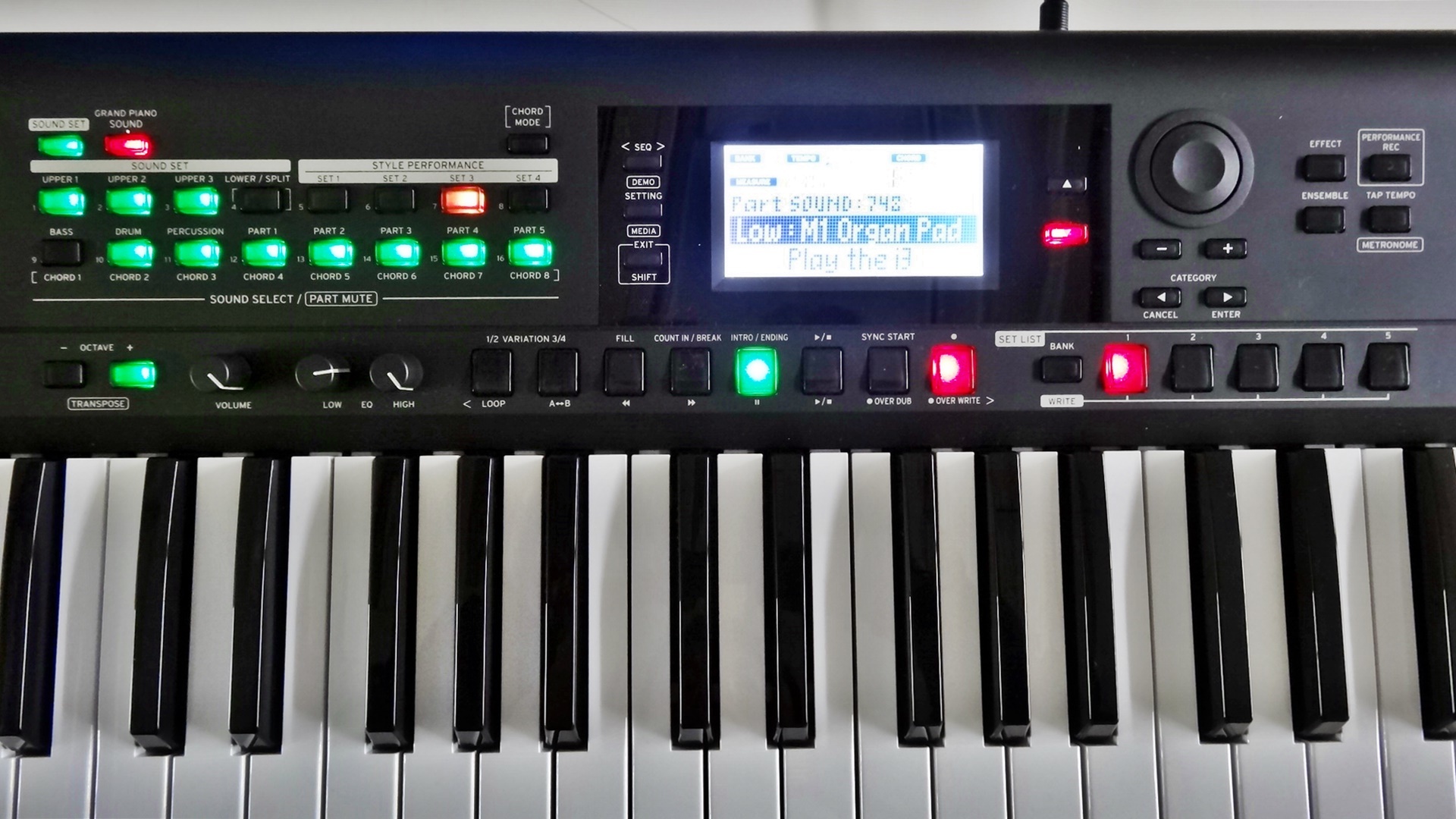 The colored LED buttons really shine in low light!
Sound Engine & Sound Set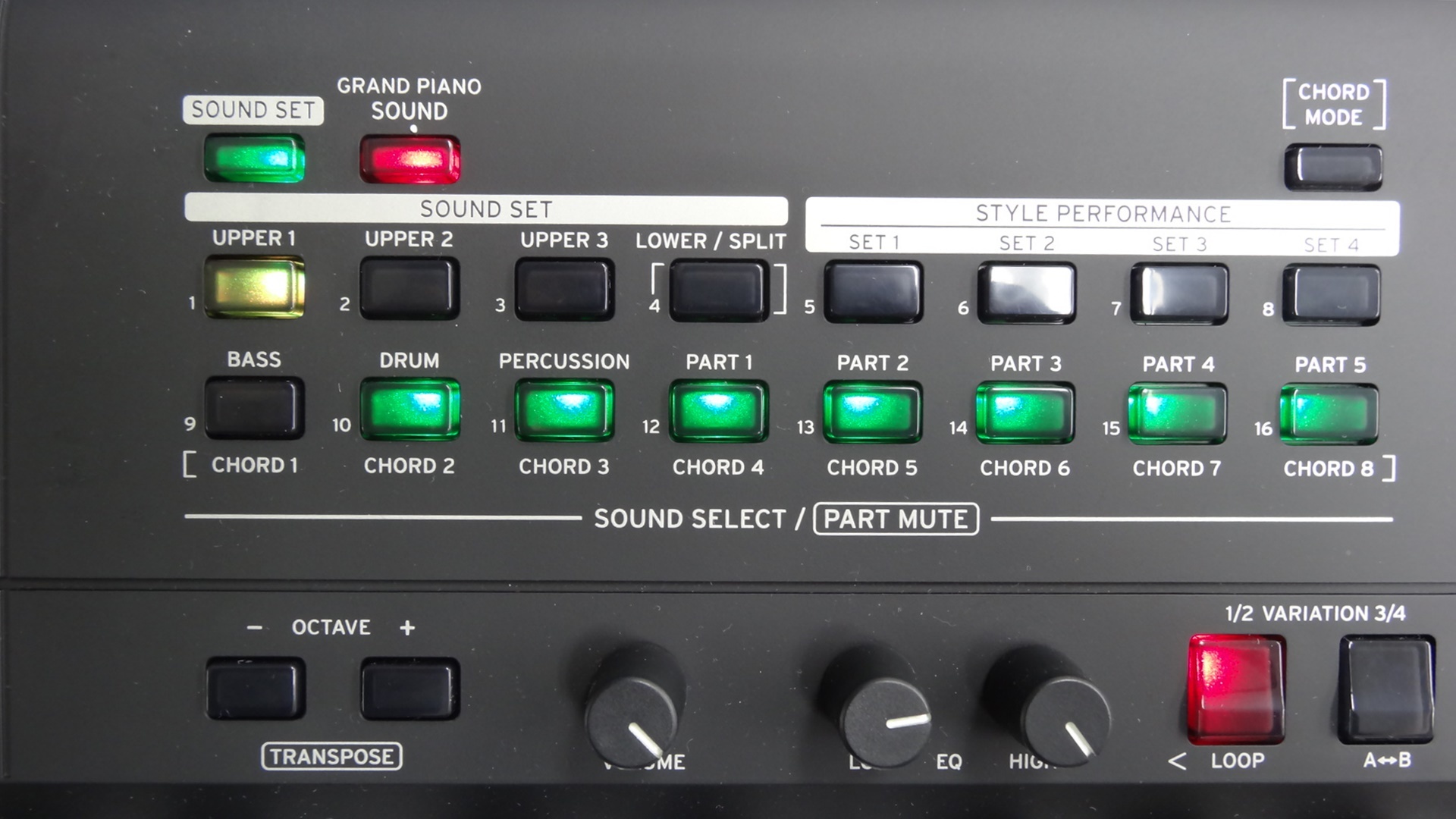 The sound engine of the i3 employs KORG's high quality PCM sampling engine, with a max polyphony of 64 voices. Included are 790 preset sounds, and 59 drum kits.
There are two effects processors, and 173 types of effects to choose from. For this class of synth engine, the sound quality is extremely high. Be sure to check out our demo & review video to hear how good it sounds.
Sound Sets are made of up to 4 parts, and combine preset sounds. There are 200 of these ready and waiting for you to use them. The 4 sounds can be split between upper and lower sounds, and you can layer up to three sounds in the upper part.
What's more, the i3 has a GRAND PIANO button, which gives instant access to (what else?) a grand piano sound, so it's ready to be played in the blink of an eye. For performing live with a piano sound, having instant access like this is priceless.
Styles & Multi-track Recording
Styles
Until now, recording tracks with workstations mostly entailed inputting steps into the internal sequencer tracks, or playing them realtime, or in some cases controlling advanced arpeggiators on multiple tracks, and so on.
With the i3, what's different from most workstations with internal sequencers is the introduction of Styles, which take care of basic automatic backing, offering rhythm, bass, and percussion. This allows the player to easily expand on their image of the song they want to make.

It's very easy to sketch out song ideas by simply choosing a Style, playing and recording it with the Multi-track Recorder.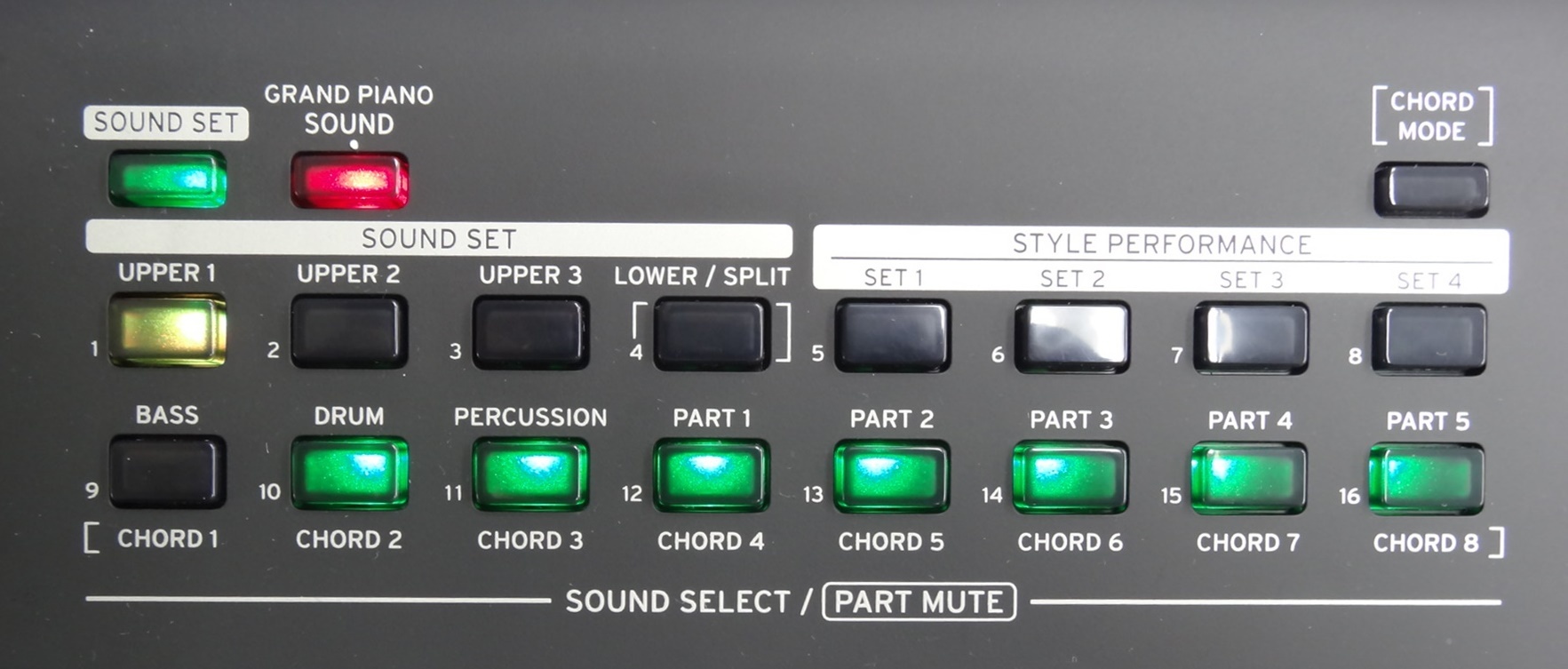 Style Performance
270 Styles are included. All you have to do is choose one you like, start playing, and let your imagination run wild. Styles are set up from the start with carefully selected backing sounds which best suit the actual style of music, so there's no need for the user to worry about assigning sounds or anything. Of course, you can assign other sounds if you want to.
Also, each Style has four Performance Style variations, which offer musically useful variations that suit the style (melody A might have a rim shot rhythm, while melody B has a snare rhythm, for example).
Multi-track Recording
The sequencer on the i3 is a 16-track MIDI sequencer. With the sequencer playing back a Style, you still have 8 tracks onto which you can freely record, using them for melody, additional tracks, overdubbing, and so on.
We explain how to use this function in our demo video so be sure to check it out.
The finished multi-track recording data can be exported as an SMF (Standard MIDI File) to USB memory via the onboard USB port, and you can also edit the data in your DAW.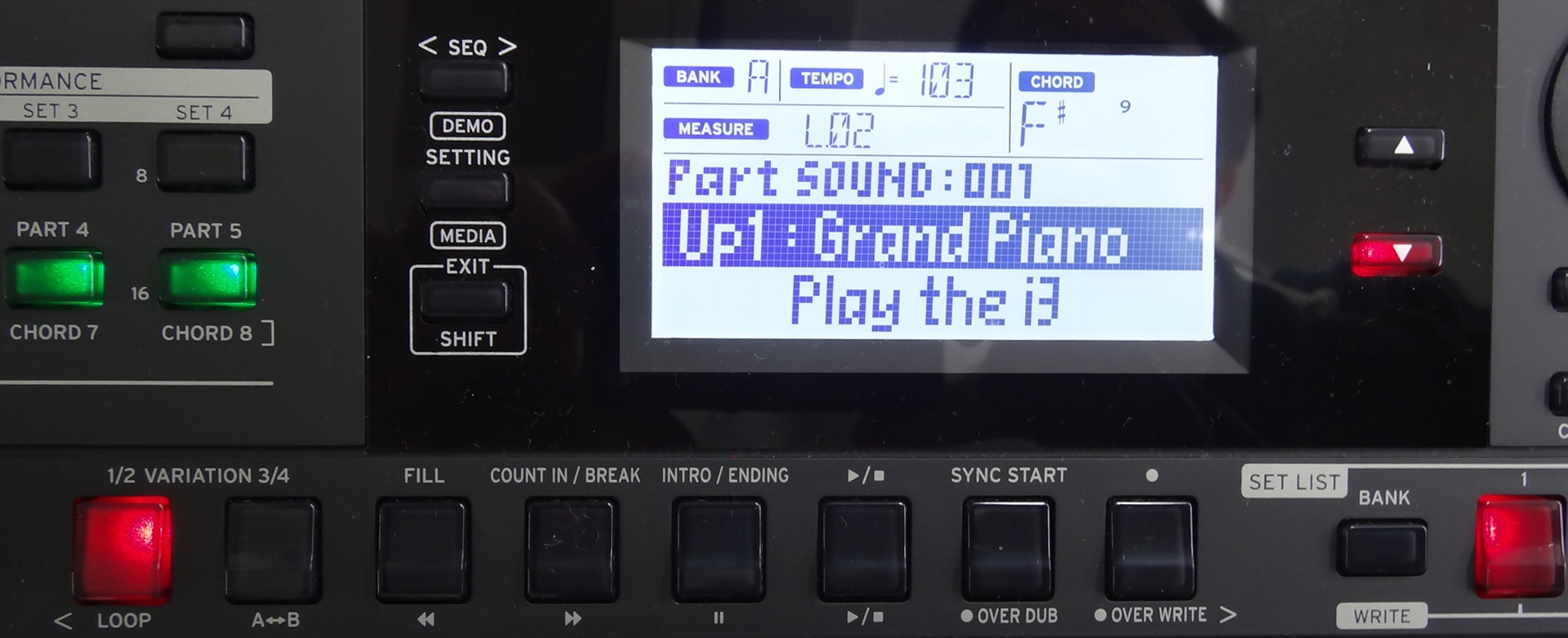 Locator and Style buttons can be found below the very large LCD screen. Buttons for controlling the performance, such as INTRO/ENDING, COUNT IN/BREAK, FILL are also provided.
Chord Mode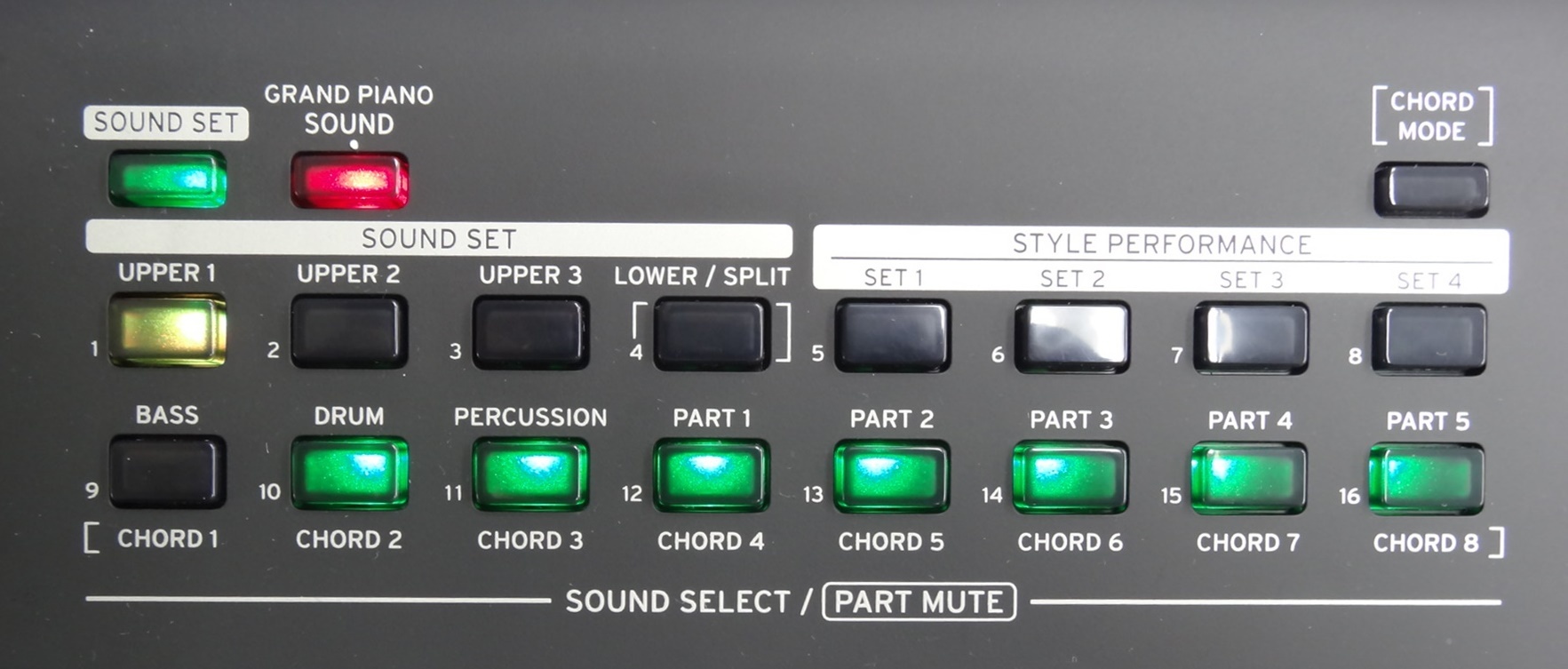 This is a special feature of the i3. We've touched on Style Performance, but actually each one has its own optimized chord progression assigned to 8 buttons. This makes playing along very easy as all you have to do is press one of the buttons instead of actually playing keys.
If you ask us, this is a very well thought out function. We go into detail in our demo video.
Set List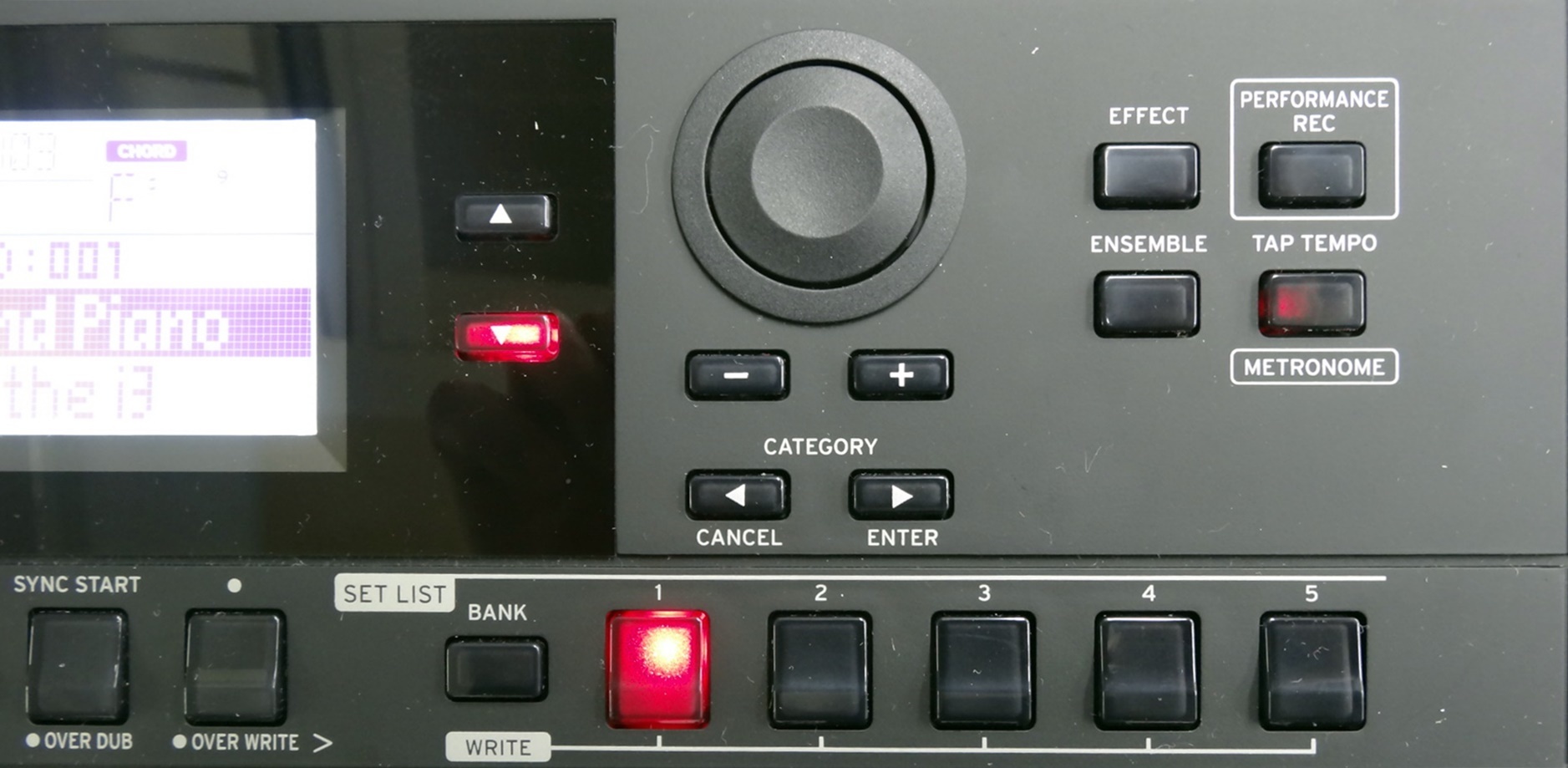 This is a very powerful function for using live.
Up to 50 Styles (10 banks of 5), with different tempos and effects can be programmed and stored.
Demo & Review Video
Sales Info
by musictrack