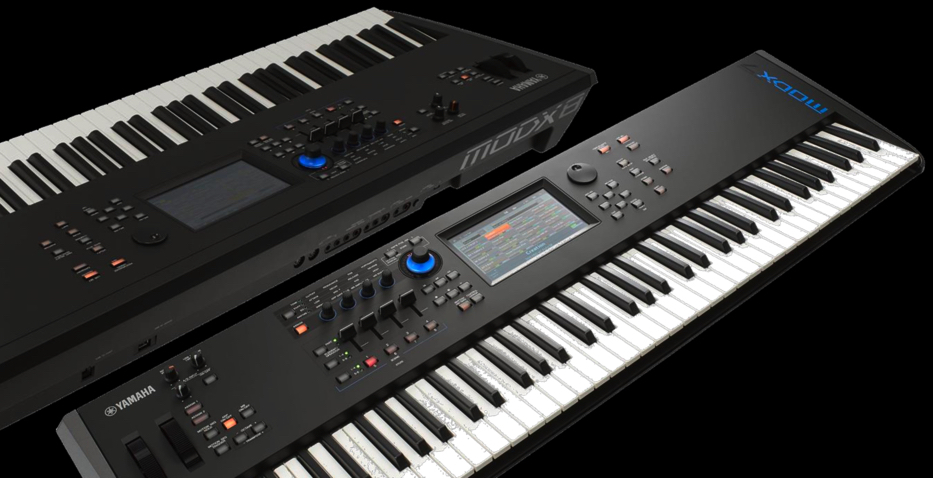 Features:
Super high quality sound that directly carries on the DNA of the MONTAGE
Unparalleled ease of use thanks to Huge Touch Screen & User Interface
Packed with features, yet very compact
Perfect match for active keyboardists
The MODX series has arrived! It carries on the DNA from YAMAHA's MONTAGE series as a hybrid synth with its FM-X sound engine and super high-quality, realistic AWM2 sound engine.
The MODX lineup consists of the MODX6 (61Key), MODX7 (73Key), and MODX8 (88Key) models. Yamaha's flagship synth lines until now have usually consisted of just 61- and 88-key models, but with the MODX we now see a 73-key model added to the lineup. This is great because it gives the player more options to choose just the right model.
Because the pitch bend and modulation wheels are located towards the top of the front panel, this has made possible a reduction in size widthwise. And these synths look good—from the red LED buttons to the blue (and other color) Super Knob, as well as the MODX name label and the huge LCD screen. We thought the MODX6 was especially cool considering its perfect balance between good design and compact size.
Synth Engines with Montage DNA
The MODX perfectly carries on the DNA of YAMAHA's flagship synth, the MONTAGE. From the point of view of technology and specs, with the MODX Yamaha has managed to far surpass what we as users could even imagine could be done to improve on the Montage. The sound engine utilizes both sample-based AWM2 (for sounds ranging from realistic acoustic sounds to drums and synths) and FM-X, a fully programmable, new and improved version of FM synthesis that goes back to YAMAHA's classic DX-7 synth. This hybrid synth engine is exactly the same as we find on the Montage.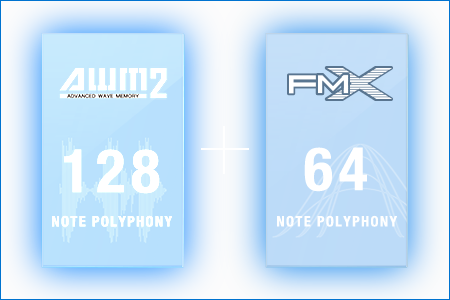 Sound Engine Specs are the same for all models:

AWM2 Engine 
Max polyphony: 128 voices
Waveform memory: 5.67GB User Memory: 1GB
FM-X Engine  
Max Polyphony: 64 voices(128 on the MONTAGE)
8 Operator 88 algorithms
More than 2,000 preset sounds.
18 Filter Types

The surprising thing here is that aside from the max polyphony of the FM-X engine, the specs are exactly the same as on the MONTAGE. What's more, all of the various contents that have been developed and released since the MONTAGE came out are cross-platform compatible with the MODX series! ALL OF IT!!! For a line of synths that is being marketed as mid-range, the features, functionality and compatibility are top of the line.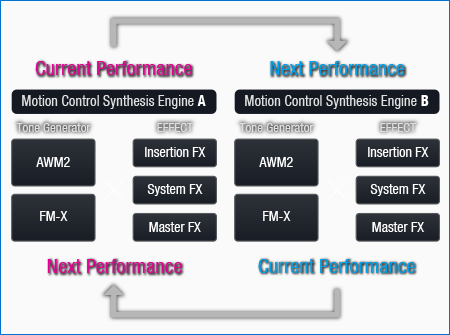 Astounding Number of Presets and Live Sets
Selections from the Presets
The MODX includes sounds that range from realistic acoustic instruments to synth sounds and rhythmic performances, which total to a staggering number of more than 2,000 sounds! On top of that, ALL of the presets are very high-quality sounds straight from the MONTAGE, and completely cross-platform compatible.

In order to make searching through all those sounds for ones you like, or ones you want to use with your band, an easy process, the sounds have been categorized. It's possible to search, of course, but you can also rearrange the order of the sounds however you like. Features like this make recalling sounds you like or want to use a breeze.
Moreover, just like with the MONTAGE, the MODX series comes equipped with a high-resolution LCD touch screen. As a result, the amount of info that can be displayed at one time is huge, and since it is a touch panel, it's possible to recall sounds with a touch.
Of course, it also has the useful Audition function, which plays a different, optimized phrase for each individual preset sound.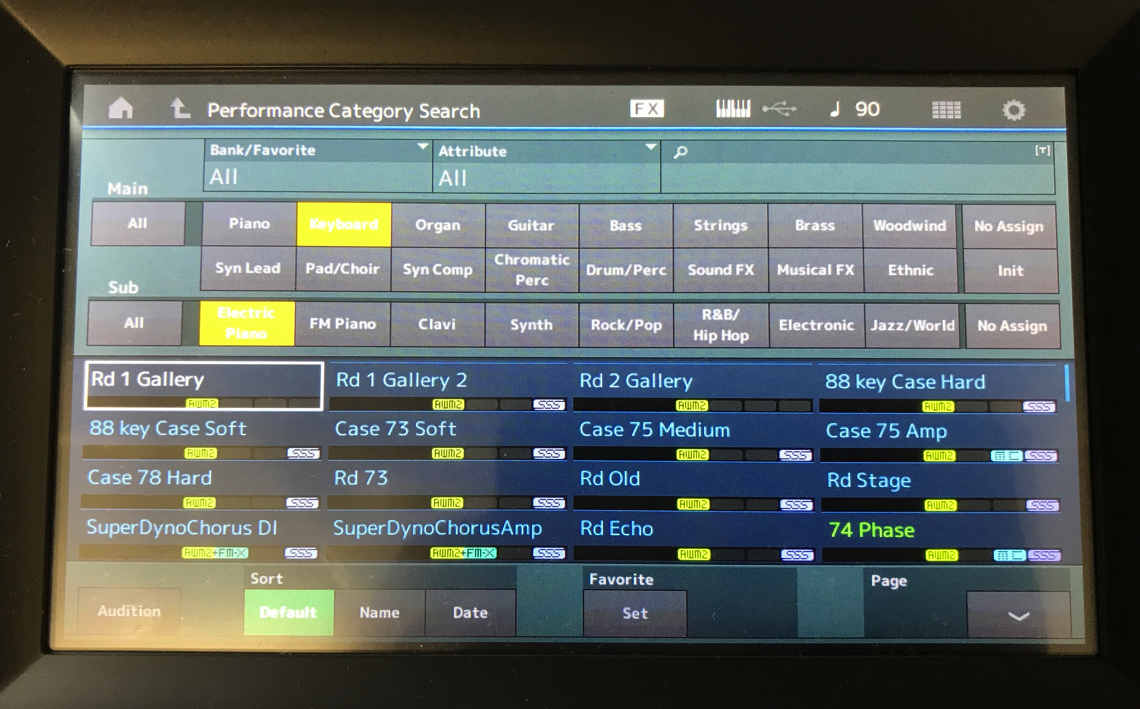 Managing Presets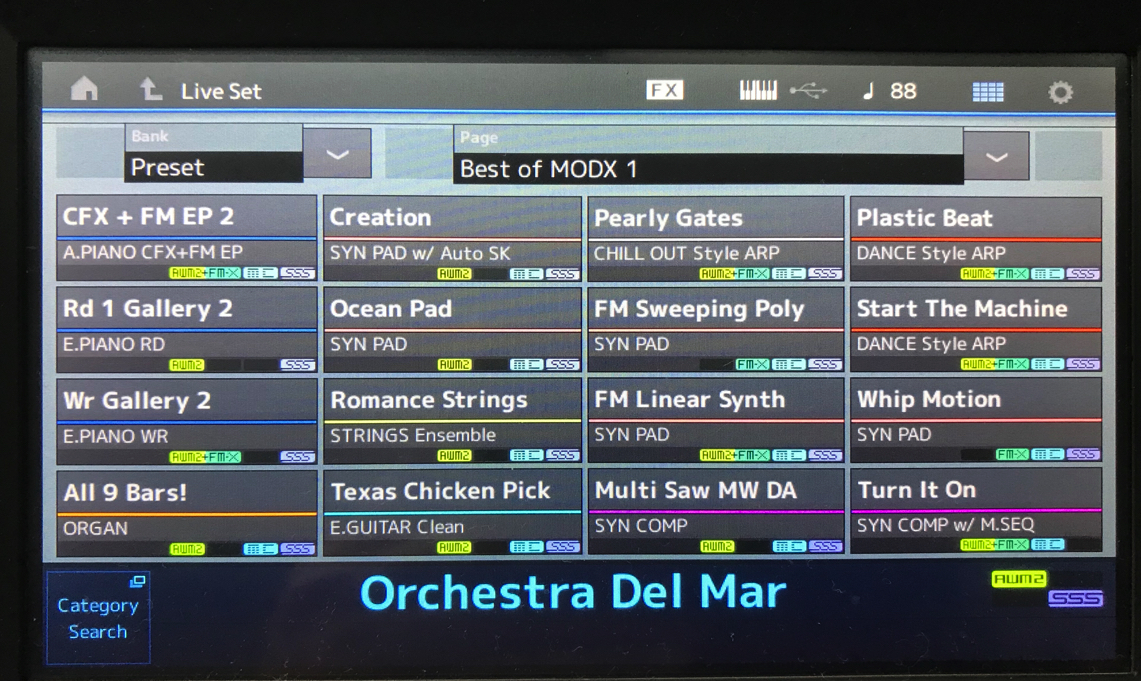 This too is directly brought over from the MONTAGE. Sounds you want to use in a live setting, or sets of sounds, can be stored and managed as LIVE SETS.

Storing LIVE SETS is easy too. Select a sound, press SHIFT + LIVE SET, then select a destination.
That's all it takes to save a preset in the destination slot of your choice. This makes creating LIVE SETS very, very easy!
As you can see in the above photo, Yamaha has prepared a set of presets called "Best of MODX 1" but there are a total of 256 of these, with another 2,048 which can be user assigned. You really could make a new LIVE SET each time you have a live performance, for a variety of different set lists.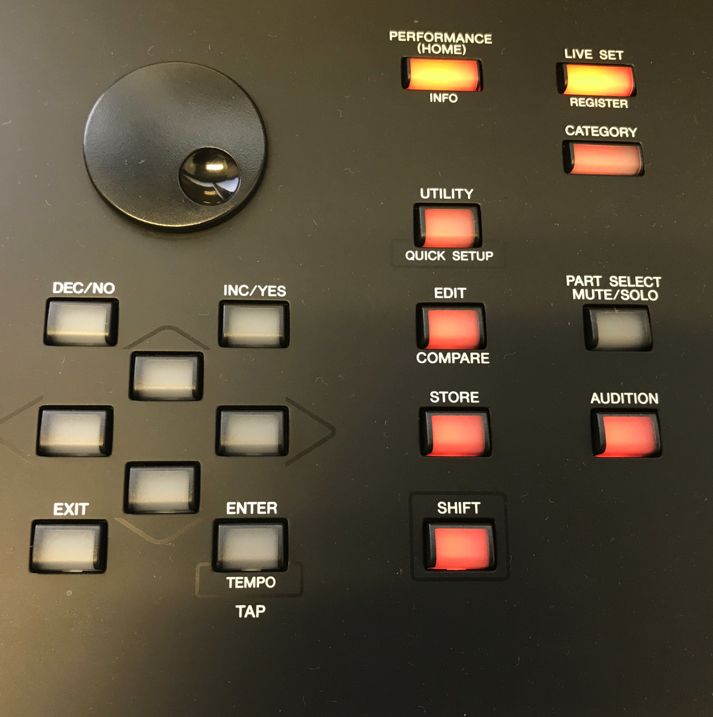 MODX User Interface
Performance Control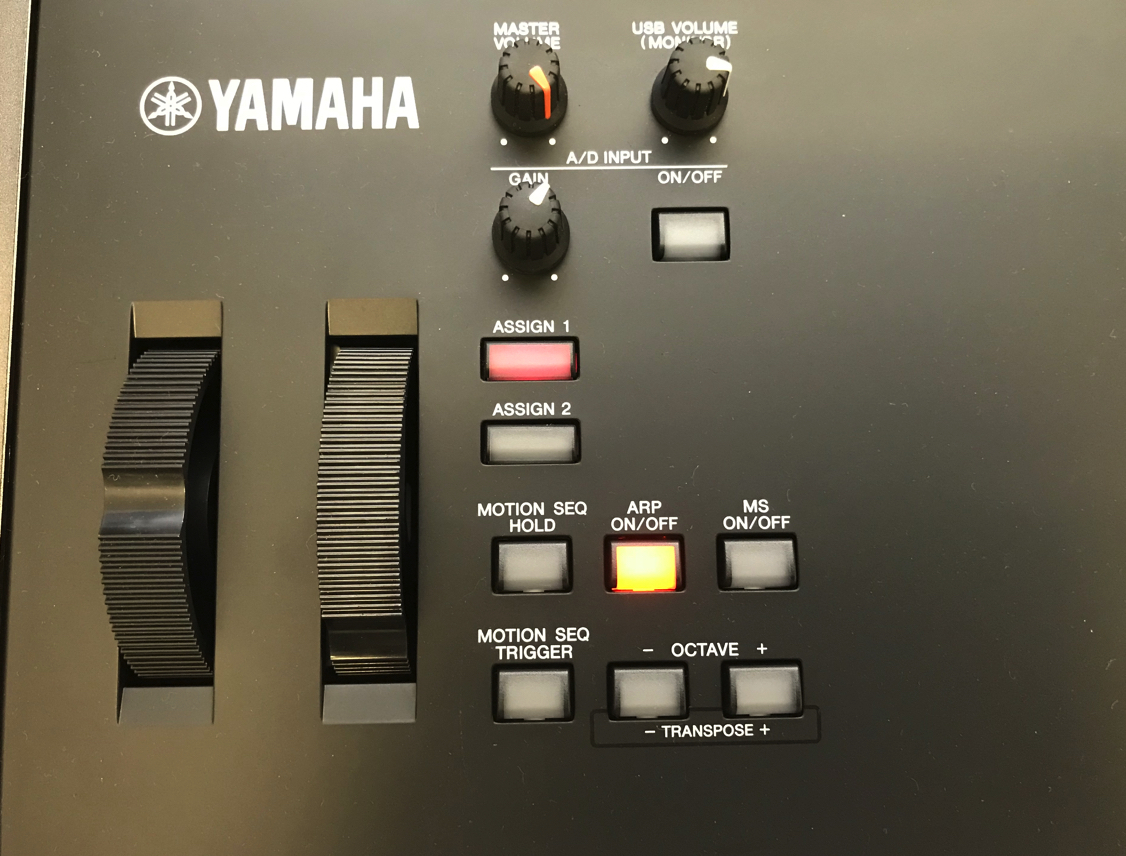 We've decided to call the section at the left side of the MODX the Performance Control section. Here you'll find:
Pitch bend and Modulation Wheels
Assign Buttons 1 and 2
Motion Sequence Hold and Trigger

The buttons located near the wheels share the same functionality as on the MONTAGE. However, the touch slider controller is absent, but that itself doesn't present such a huge problem at all.
Additional features include audio interface functionality, USB (monitor) volume in addition to master volume, an on/off switch for the analog inputs, and a gain knob.
A strongpoint of the MODX which again comes straight from the MONTAGE is its arpeggiator and motion control (on/off buttons for both are here).
There are also transpose and octave +/- controls, so basically any control you would need in relation to performance can be found in this section.
Sound & Part Control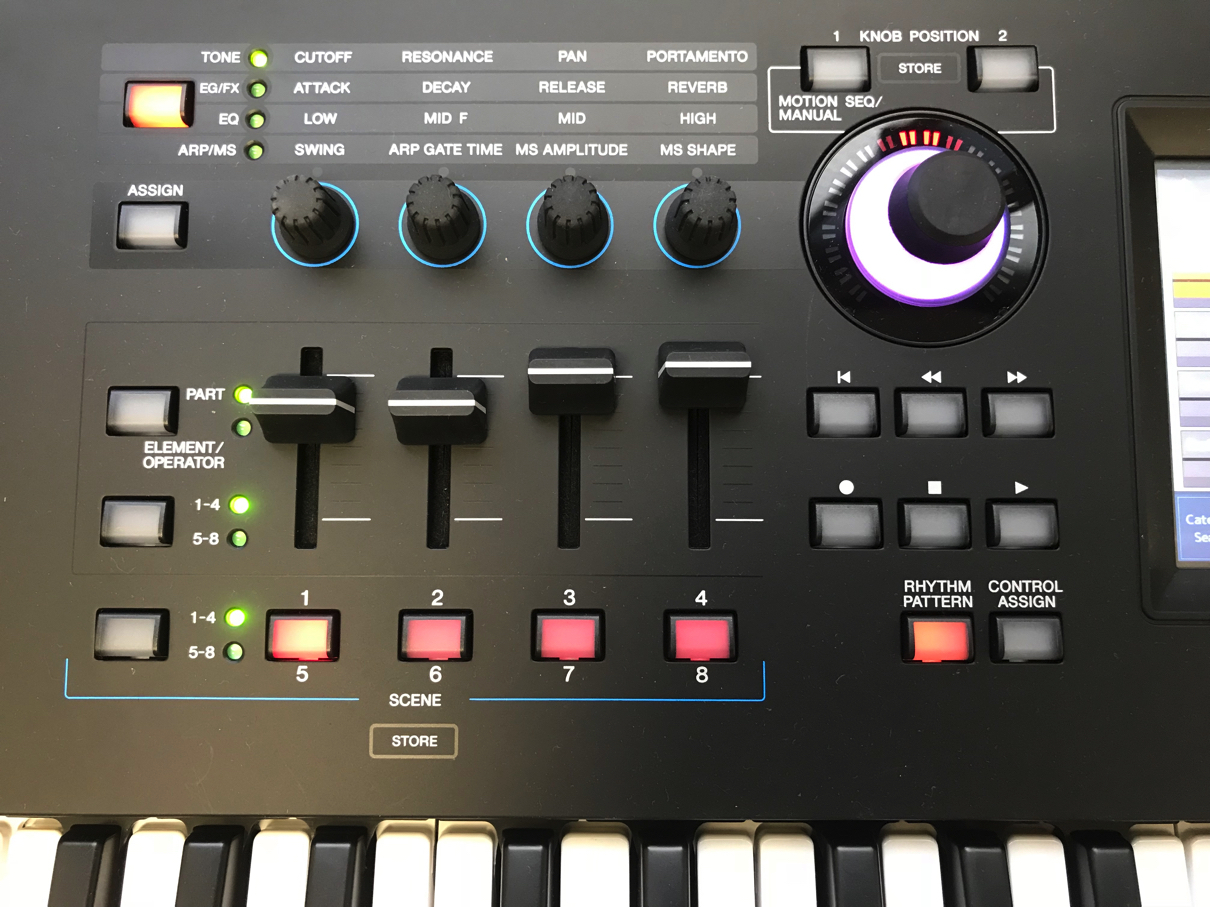 Like the MONTAGE, the MODX has 8 parts. Each part, element/operator can be accessed via 4 sliders, so in actuality it's like having 8 sliders for controlling all of those things, while only taking up half the space.
The matrix of knobs for controlling the sound in realtime has been reduced to 4 knobs, but you have access to four lines of control via the button at the side, so it's like having control of a 4 X 4 matrix, for 16 parameters altogether, in the end. And of course you can assign these knobs how you like.
The main feature and probably biggest selling point as far as realtime control over a number of parameters goes, is of course the Super Knob, which you see has also been directly carried over from the MONTAGE. And, in the same way the sounds are completely compatible with the MONTAGE, controlling the sounds via the Super Knob is exactly as on the MONTAGE as well.
There is actually one button on the MODX that you will not find on a MONTAGE!
The RHYTHM PATTERN button.
By pressing this button, the MODX puts itself into a mode where you can immediately select and start playing a rhythm pattern. This is useful for times like when you're in the middle of playing and want to start a rhythm pattern going but don't want to stop and search for a pattern to play. In the end, it makes the workflow much easier and shorter, and smoother. Also, it's a handy feature for using when practicing with a band but there's no drummer (for whatever reason). It's super easy to recall and playback a rhythm pattern on the fly. In all, a very convenient feature!
Edit, Control Section.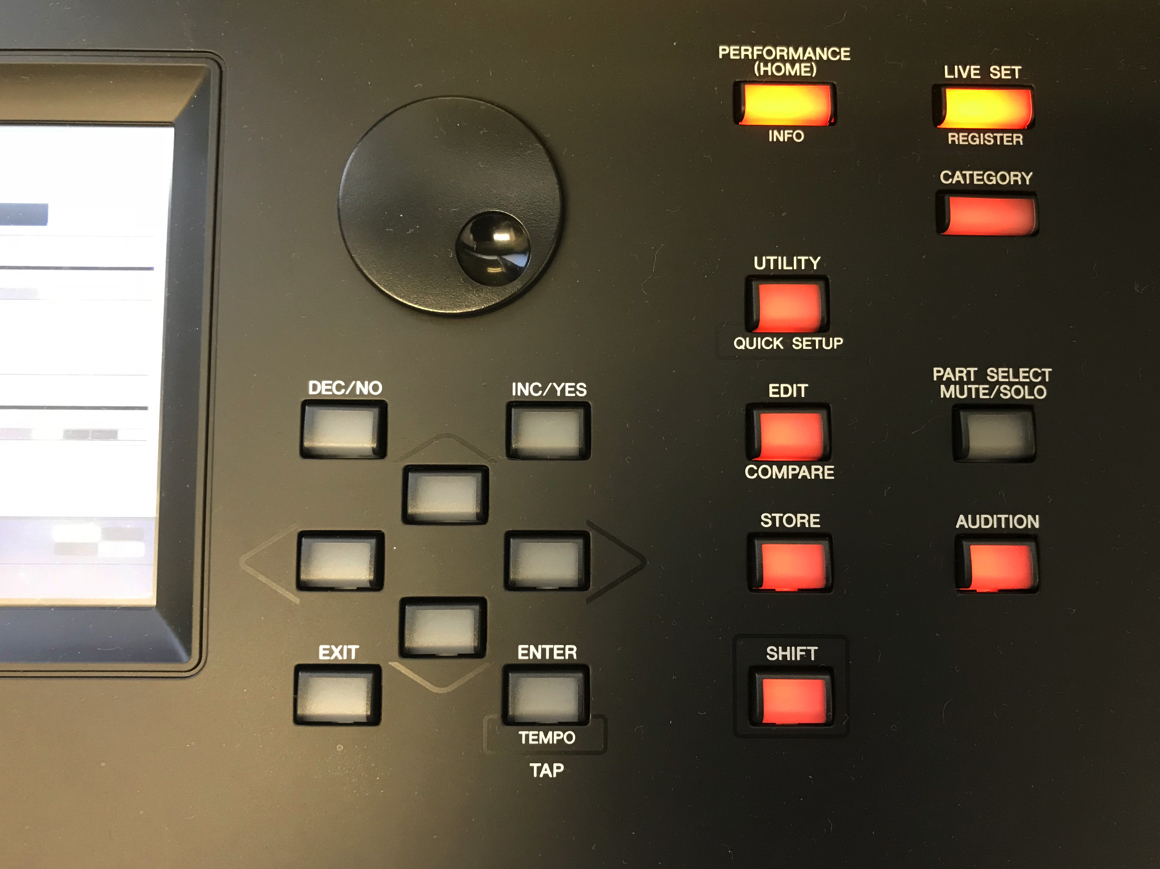 Here too, we've taken the liberty to name this the Edit/Control Section. You can use the dial and other parameter controllers, along with the parameter inc/dec (yes/no) and enter/exit buttons for editing.
System settings can be dealt with via the Utility button, and for other functions there are Store/Edit and Shift buttons as well.
The most important part of this section, something we'll look into a bit deeper later on, is being able to register presets you like or want to use frequently via the Shift + Live Set buttons, which translates into having near-instant control over Live Sets. 。
Preset sounds all come with their own special phrases that show off the unique qualities of each sound, accessible via the Audition button. This is a useful feature!
What Makes a Useful Synth?
Using Presets
Currently there are a large number of synths on the market, each with their own kind of sound engine and unique style, but when you think about what goes into a synth that is actually easy to use, we encounter problems. Today, we take it for granted that synths come with a few hundred if not a few thousand preset sounds, but even so, it's virtually impossible to listen to all of those sounds and then make a decision about which synth to buy based on how you feel as you come to grips with the synth.
It's exactly here that the ability to quickly and easily select sounds becomes an important factor, especially important for active keyboardists. A variety of synth manufacturers have taken great time and care coming up with categories and genres in which to group sounds. Even so, having immediate access to a high-res touch panel able to display loads of info at once is a huge bonus and makes the search process that much easier. Once you get used to this way of selecting sounds, you'll never want to go back to turning dials or pressing buttons again!
In this regard, the MODX is a synth that Yamaha really put a lot of thought into, especially so that players and users can quickly familiarize themselves with how to operate it and immediately put it to use.
For Players
Pro players aside, for amateurs playing in a band or in charge of playing keyboards, usually the choice is to use whatever keyboard the studio has on hand, or bring in your own gear. Not to mention that high-end keyboards easily weigh in at more than 20kg, we're sure that there are many of you out there who have put in their fair share of back-breaking work just to keep actively playing.
The MODX series though, when considered from the above point, has been designed to reduce the burden on the player, with the end result being that it is very compact and lightweight. For the MODX6 and MODX7, Yamaha has released optional soft carrying cases with shoulder straps. For the MODX8, the case adds wheels. With any model, portability is not an issue if you purchase one of the aforementioned optional cases.
This is actually a big deal! Simply being able to choose between bringing along your own gear to the studio or not is enough to completely revolutionize the meaning of band rehearsal, in our humble opinion anyway.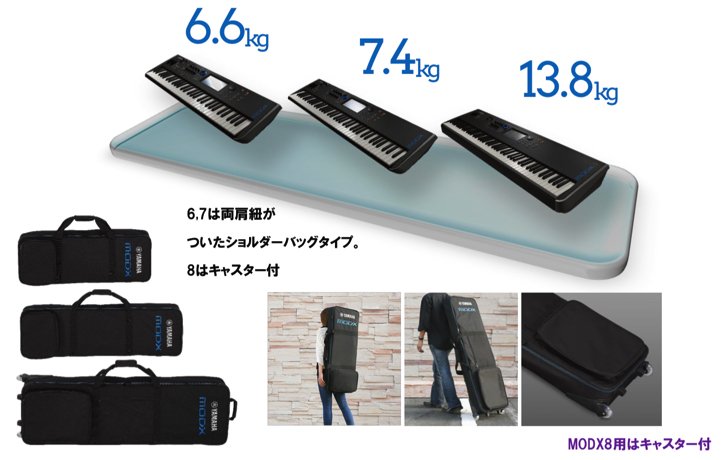 Demo & Review Video
High Cost Performance
The Demo & Review Video takes a very close look at the sounds, performance and the features and functions we've mentioned above. BUT. The most surprising thing about it is that even though it has 99% of the same features and functions as the MONTAGE, the price is so much lower that it's almost shocking.
Having backwards compatibility with all of the contents made for the MONTAGE, even going as far back as the MOTIF, as well as being able to revisit and reproduce said content on a modern machine, well what can we say? We think lots of thought went into the design of this fantastic synth.
And again, it's lightweight, compact, easy to use, and easy to get your head around. It's truly a synth that won't discourage the user/player in any way, but will allow them to fully concentrate on operation and performance.

Sales Info (Japan Only)
by musictrack