Features:
Contains 77 Types of Synths
UVI Quality Multi-sampled Vintage Sound
Workstation Format Sound Engine for Uniform Operation
Covers Wide Range—from Vintage Analog to Modern Digital
SYNTH ANTHOLOGY 2, What's That?
SYNTH ANTHOLOGY 2 is an instrument brought to us from UVI, which covers everything from the famous vintage analog synths of old to modern digital synths of today.
SYNTH ANTHOLOGY 2 is not an emulator of analog synthesizer sounds, rather it is an engine based on multi-sampled vintage synths—synths in exceptional condition, run through outboard such as EQ, compressors, and effects, and finally high-end pro equipment prior to sampling.
Check our Demo & Review Video to see for yourself the quality of the multi-sampled sounds, and how easy it is to use.
Demo & Review Video
Workstation-style Common Interface
The SYNTH ANTHOLOGY 2 comes with all the necessary editable parameters a synthesizer requires, but even among the 77 different synth types, the method of operation is the same across the board.
As a workstation, there is a common interface screen, which is easy to use due to the fact that parameter editing is standardized.
Compare the two main screens below, with the MemoryMoog at left, and Jupiter-8 at right. We think you'll easily see that the parameters displayed on both screens is the same.
OSCーOscillator Page
All of the different synths have a sub-oscillator available, which is the UVI Engine Synthesizer Oscillator. This is a major difference to the real synths, and as such allows the creation of a new kind of sound not possible with the originals.
Editable parameters on the Oscillator page are divided into Main and Sub tabs, with each being independently editable.
EDITーEdit Page
On the Edit page you will find parameters for pitch, stereo image, and destination for the modulation wheel. These parameters are also independently assignable for the main and sub oscillators, which means you can create and control a wide variety of changes in your sound.
STEPーStep Modulator Page
This is a step sequencer type modulation function. There are up to 16 steps of fine control available, applicable independently to the main and sub oscillators, easily assignable thanks to a graphical interface. Destinations include volume, filter cutoff, resonance, main oscillator drive depth, and sub oscillator pulse width modulation.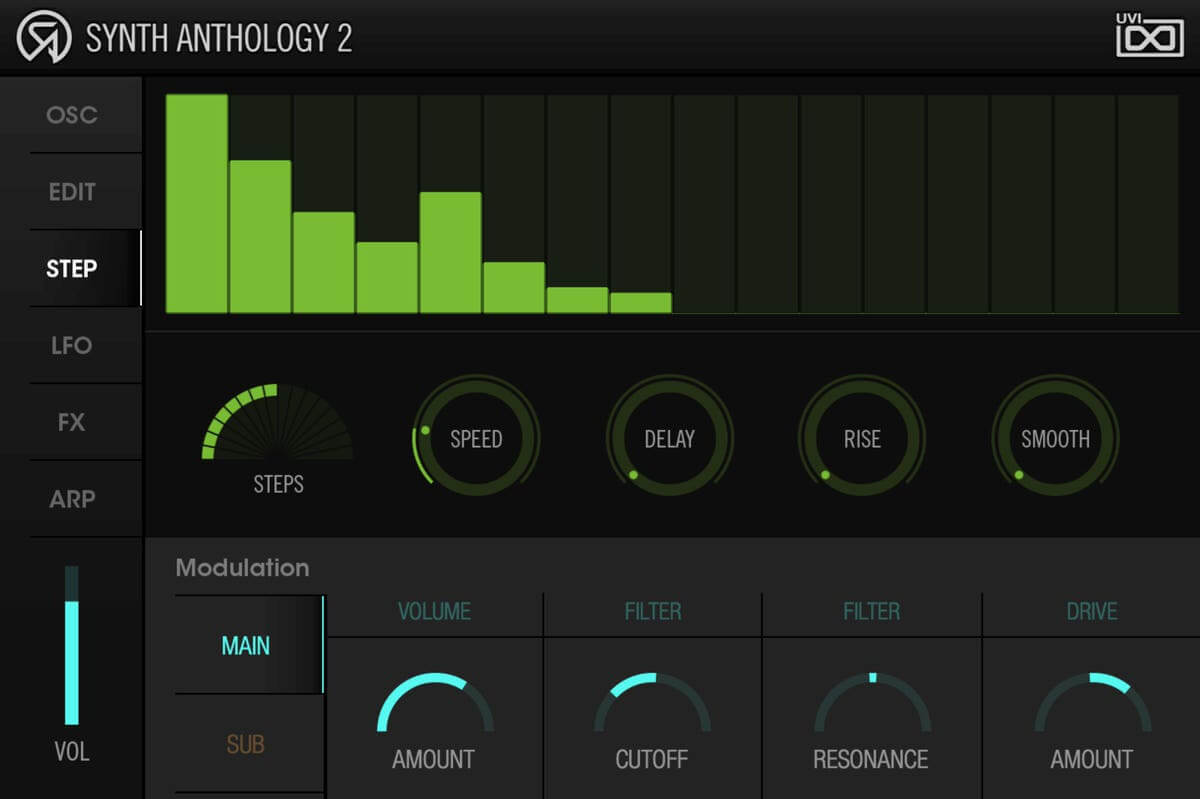 LFOーLFO Page
There are two LFOs each for both the main and sub oscillators. Waveforms include sine, triangle, pulse and sample & hold. Destinations include volume, filter cutoff, resonance, and panning depth.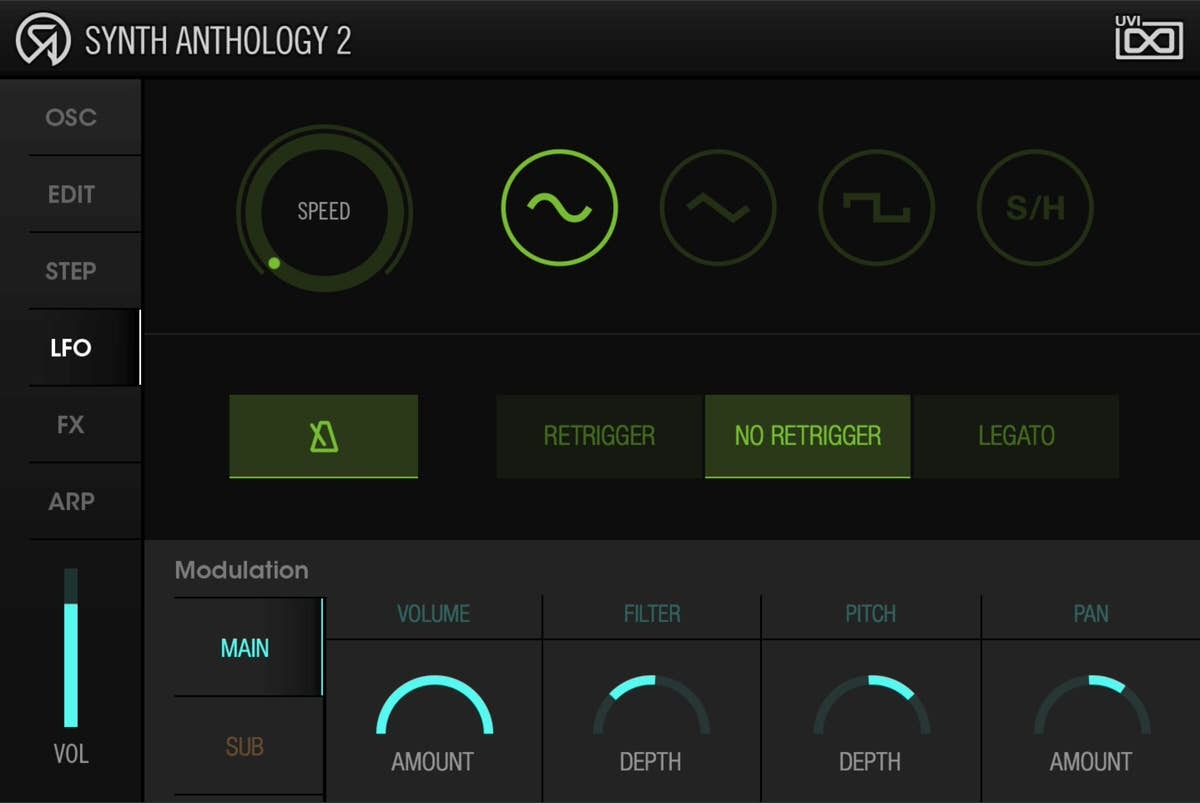 FXーEffects Page
Finally, effects can be applied to the sound, and let us remind you that UVI is well-known for excellent effects. Six effects that work well with synths are provided:
Bitcrusher
Drive
Chorus
Phaser
Reverb
Delay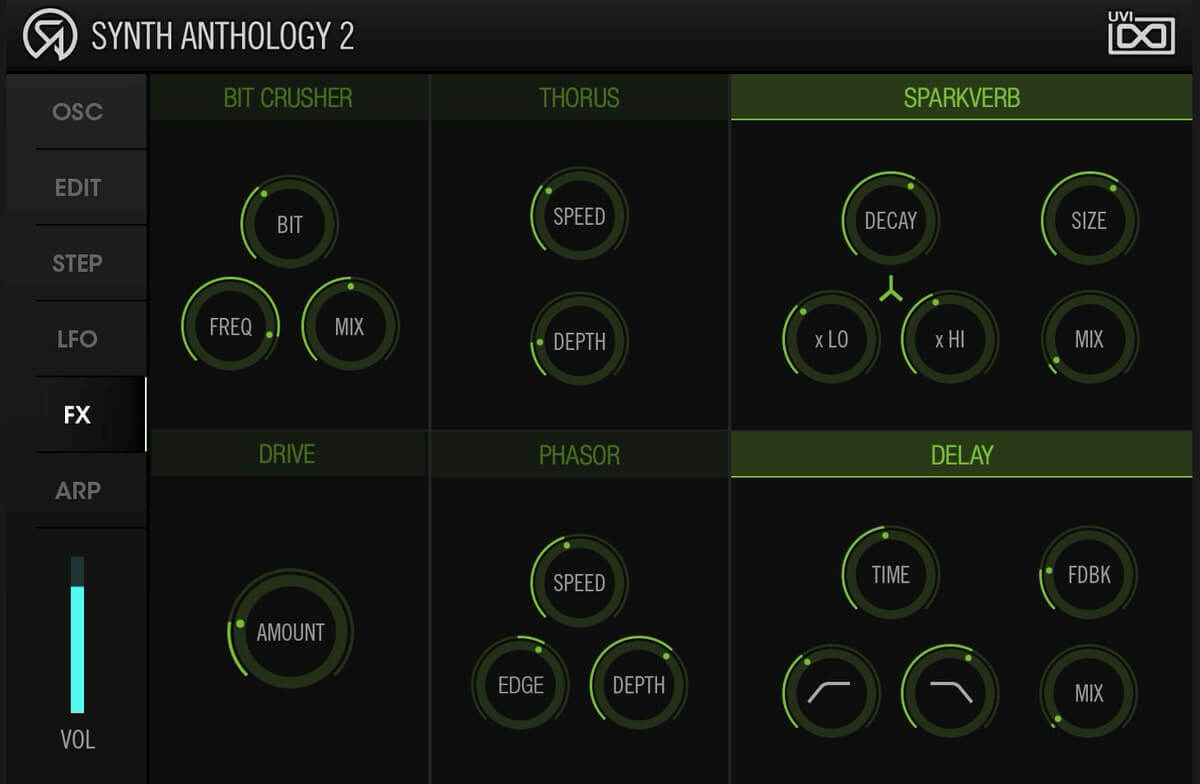 ARPーArpeggiator Page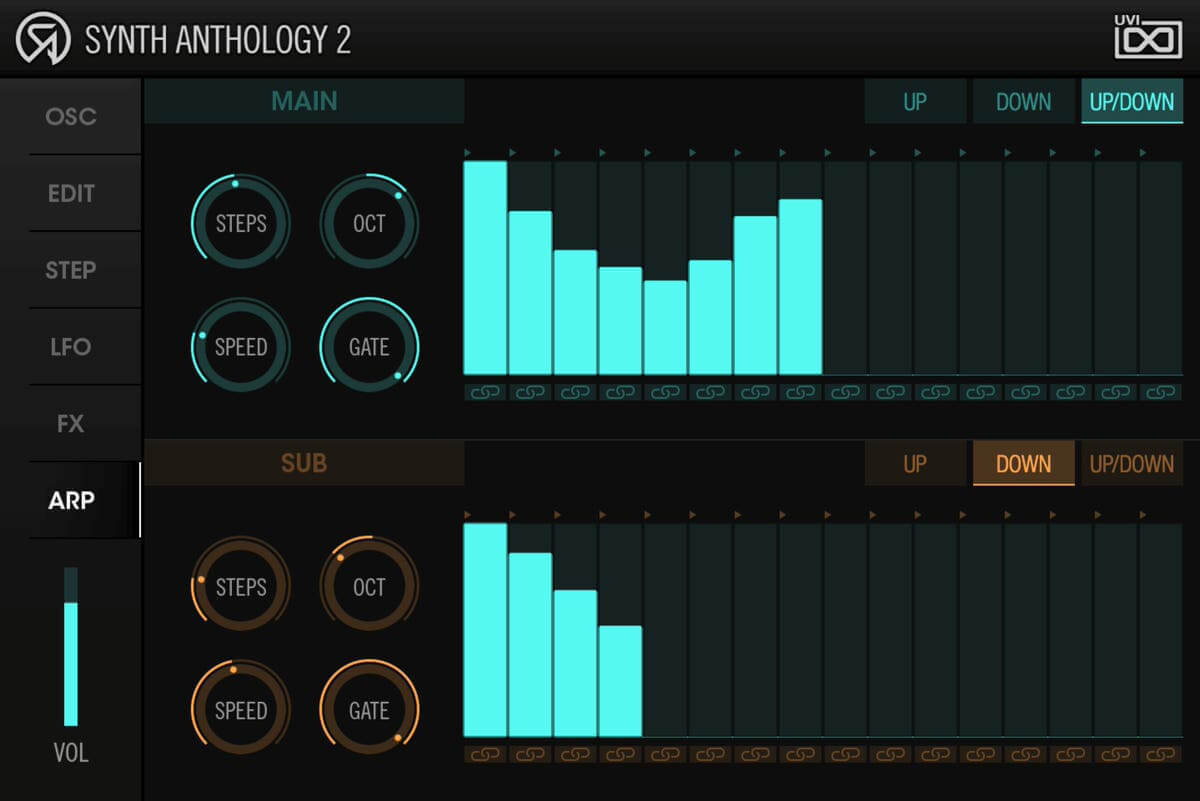 The arpeggiator can be applied independently to the main and sub oscillators. As the SYNTH ANTHOLOGY 2 allows pitch control via the arpeggiator, and other parameter control by the step modulator, it is possible to simultaneously apply complex movement and expression to your sounds.
Numerous Synthesizers Included
The 77 models of synths included in the SYNTH ANTHOLOGY 2 are categorized as follows: analog, digital, vintage classic, and future classic. Here you are sure to find synths that you wanted to own, touch or just hear. Trust us, this will fill all of those desires! It's that kind of instrument.
There are over 2,500 preset sounds, and one fun way to use the SYNTH ANTHOLOGY 2 is to scroll through the machines, comparing the character and sound of the different synths.
What a list!
Access Virus C • Akai AX80 • Alesis Andromeda • Alesis Fusion • ARP Chroma Polaris • ARP Odyssey • ARP Quadra • Casio CZ-1 • Casio VZ-1 • Clavia NordLead • DSI Prophet 6 • Elka EK44 • Elka Synthex • Emu Emax • E-MU Emulator 2 • Ensoniq ESQ-M • Ensoniq Fizmo • Ensoniq SQ80 • Ensoniq VFX • Fairlight CMI IIx • Formanta Polivoks • Kawai K3 • Kawai K4R • Kawai K5000 • Korg DS8 • Korg DSS1 • Korg DW8000 • Korg Minilogue • Korg MS20 • Korg M1 • Korg PS-3200 • Korg Triton • Korg Wavestation • Mellotron M400 • M-Memory • Moog MiniMoog • Moog Polymoog • Moog Source • Moog subphatty37 • NED Synclavier 2 • Novation Basstation 2 • Novation Nova • Novation Ultranova • Oberheim Matrix 6 • Oberheim OB6 • Oberheim OB-X • Oberheim Xpander • OSC OSCar • PPG Wave 2.3 • Roland D-50 • Roland JD-800 • Roland Jupiter-6 • Roland Juno-106 • Roland Juno 60• Roland Jupiter-4 • Roland Jupiter-8 • Roland JX-8P • Roland TB303 • Roland VP-330 • RSF Kobol • SCI Prophet 5 • SCI Prophet VS • Seiko DS301 • Siel DK80 • Studio Electronics ATC • Studio Electronics Boomstar 5089 • Yamaha AN1X • Yamaha CS-80 • Yamaha CS20m • Yamaha DX7 • Yamaha DX100 • Yamaha FS1R • Yamaha SY77 • Yamaha SY22 • Vermona Tiracon 6V • Waldorf MicrowaveXT • Waldorf Pulse • Waldorf Q
UVI SYNTH ANTHOLOGY 2 Sales Info (Japan)
価格
オーディオ制作ツール、ソフトウェアの販売サイト
beatcloud