Features:
New-generation wearable metronome
Shareable beat
Wide variety of uses thanks to Bluetooth connectivity with PCs & smartphones
All-new style
For this showcase, we're not going to talk about an instrument, but a wearable device. Something about that has a nice ring to it, don't you think? A wearable device, which in this case is a metronome.
When talking about metronomes, the standard version is the same one that's been used for years—a pendulum-type arm swings back and forth going "tick, tock." Current models include those that use sound and light, where the musician relies on the sense of vision as well as the sense of hearing to follow tempo.
Just from the shape alone, the Soundbrenner Pulse is an entirely new style of metronome which is totally different from anything up until now.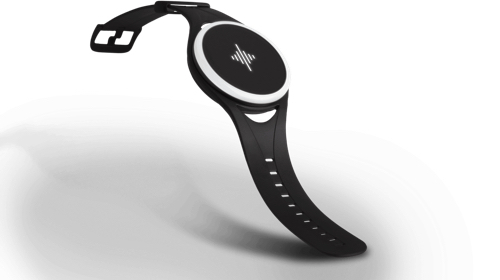 Feel the beat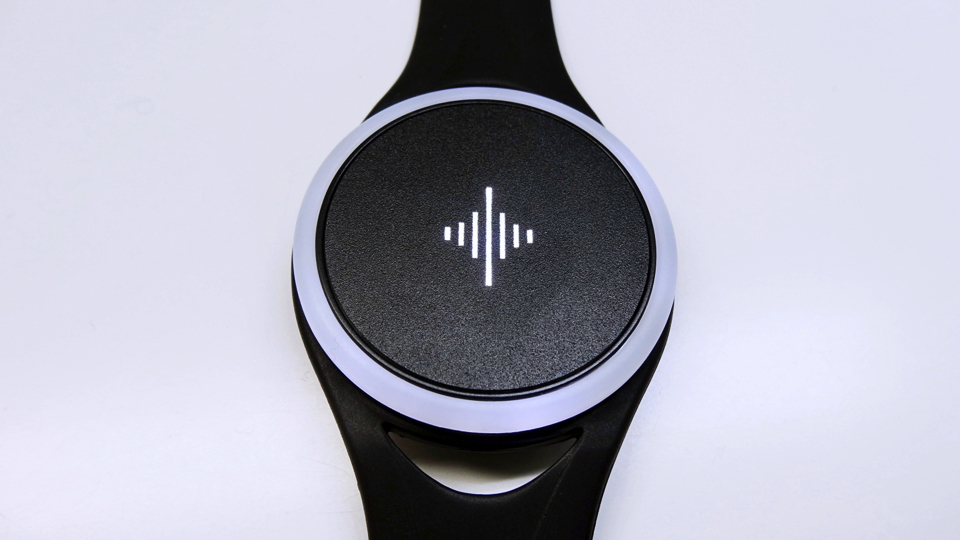 The shape of the Soundbrenner Pulse is that of a wristwatch or wristband. By using the bundled long-band, it's possible to attach the device to body parts other than wrists, such as to an arm or even a thigh.
Right now it should be apparent that the Soundbrenner Pulse has altered the concept of what the shape of a metronome should be.
Well, how exactly does one follow the tempo with this device? The answer lies in the ultra-compact, high-performance vibration motor embedded within the unit. You feel the vibration with your wrist (or other parts of your body). Imagine the vibration of your smartphone or cell phone, going off in a steady rhythm—that's what we're talking about. That rhythm, along with the unit's blinking LEDs, keep they beat.
You can see what we mean by checking out our Demo & Review Video.
Demo & Review Video
How was it?
We think you get the idea about its functionality and use.
App-based Settings & Control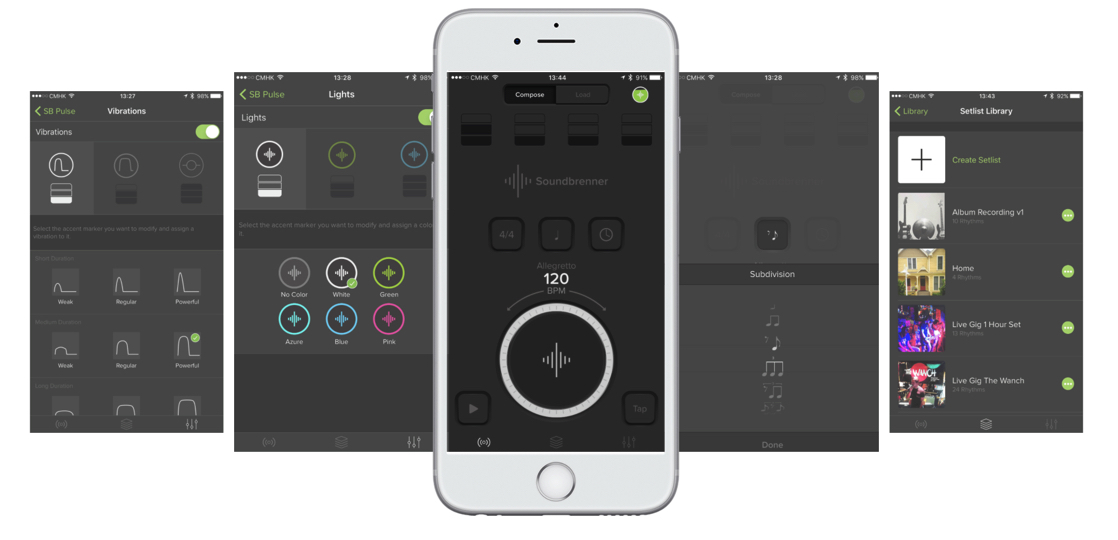 The Soundbrenner Pulse connects via Bluetooth to iPhone or Android smartphones and tablets, on which you can fine tune the various user settings.
The tempo is settable on the device itself by simply tapping the face with two fingers, but to adjust settings concerning individual beats, sounds, LED color, type of click, and storable per-song based tempo information in song lists you'll need to go through the app.
Syncing Multiple Units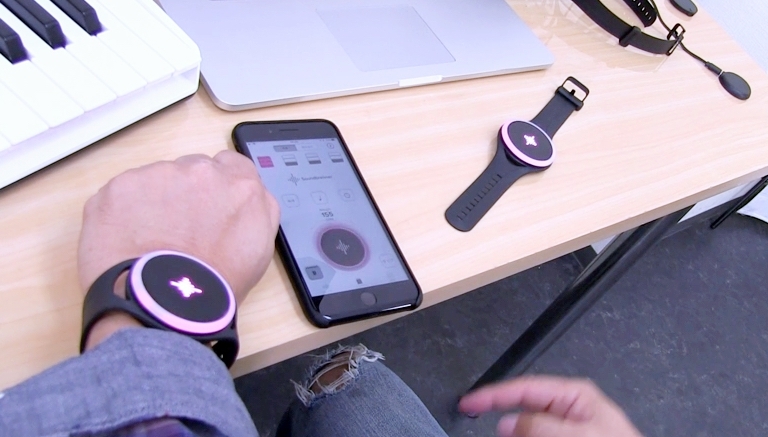 One unique feature of the Soundbrenner Pulse is the ability to use and sync up to five devices at once. In this case, we use sync to indicate sharing and synchronizing one tempo on multiple devices. This is handled via the app, which can manage the devices once they are all recognized over Bluetooth.
All you need to do is connect over Bluetooth. After that, up to five units will operate at the same tempo—the tempo is basically shared between the units. We think this is a useful feature in situations like when your whole band is performing, playing, or recording, and needs a common click.
Syncing with a DAW

Another feature of the Soundbrenner Pulse, and a revolutionary one at that, is the ability to sync over Bluetooth with a computer (Mac only as of December 2017), and share not only tempo data but MIDI CC data as well.
Thanks to this kind of connectivity, you can share the tempo of a track with the master clock coming from the computer. Up to now, this was done via earphones or headphones and a click track. But now you can accomplish this in an entirely new way—by feeling the beat at your wrist.
Charging & Operation
Charging the Soundbrenner Pulse is done by connecting the supplied USB adapter. The charger base is magnetic, and charging will begin once the unit is properly placed on the base.
Even though the unit itself has but a few input controls, resetting the unit can be done via the charger. Setting the device on the charger for just a few seconds with the poles reversed will reset it.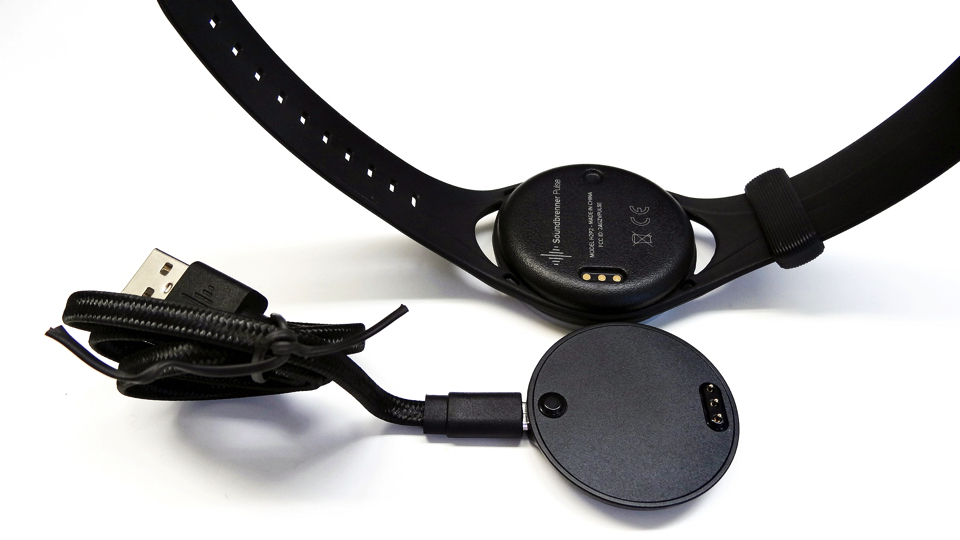 What do you think?
It's a new-style wearable metronome. Of course you can use it when practicing alone, but you can also do a number of things not possible with a metronome until now, such as controlling your DAW among other things.

And, for what it does, we think it's priced very reasonably.
Recommended! Check it out at a store near you.
Soundbrenner Pulse Sales Info
Manufacturer Homepage
Price Info
by musictrack