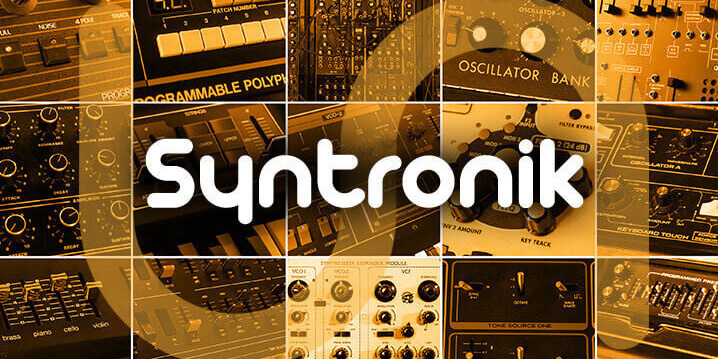 Features:
Re-creations of a number of vintage analog synths.
DRIFT Technology models the behavior of analog oscillators.
Filters based on analog circuit models.
Includes added functions not found on the originals.
What kind of synthesizer is the SYNTRONIK?
Vintage analog synths. They're still in demand, but finding one in good condition isn't exactly easy. Moreover, if you haven't seriously considered the trouble of upkeep and inevitable repairs, maintaining and owning a vintage synth is next to impossible.
Don't let that deter you. IK Multimedia—the company that brought us products such as SampleTank and SampleMoog—have utilized their cutting-edge sampling skills to bring us SYNTRONIK, a virtual instrument based on multi-samples of a number of vintage analog synths and string machines, all in excellent condition.
SYNTRONIK isn't just another multi-sample rompler, though. It utilizes a "vintage filter" emulation that is based on IK Multimedia's own modeling technology. As a result, it's a hybrid type of software synthesizer that uses a combination of sampling and modeling.
Demo & Review Video
We showcase a number of sounds in our Demo & Review Video. Of course, we also go through features including the arpeggiator, layers & splits, and explain how easy it is to use and edit sounds. Be sure to check it out!

SYNTRONIK—Sound Engine & DRIFT Technology.
The sound engine itself is based around sampled waveforms obtained by multi-sampling only excellent condition vintage synths. The engine also utilizes IK Multimedia's exclusive DRIFT Technology, to add/re-create oscillator fluctuation, which has been optimized for each individual oscillator type.
Back in the day, since they were analog devices after all, actual analog synths had various peculiarities including differences between different units of the same model, differences in parts, and differences in pitch due to variation in voltage, as well as subtle differences in pitch when triggering the same note in succession. In the current digital age, digital products simply do not allow for such discrepancies in quality, but on the other hand, the aforementioned subtle variations added character and depth, indispensable characteristics of the analog sound of yesteryear.
IK Multimedia developed DRIFT Technology in order to reproduce those subtle fluctuations, and included it in the SYNTRONIK. As a result, even with repeatedly triggered notes you don't get a machine-gun-like repetition of the same exact sound over and over—each individual sample is imparted with subtle differences in phase, timbre, pitch and so on, re-creating the peculiarities of analog synths mentioned above. In our Demo & Review Video, we confirm this with a sound from the Alesis Andromeda.
Modeled Vintage Filters
The SYNTRONIK includes 7 types of filters.
Selectable filter types include four which have been modeled after vintage analog filters at the circuit level, and three special types. We look into the differences in character between the various filters, so be sure to check it out. On a side note, hats off to people who can figure out the filter types just from the first letter used.
Available slopes include 6dB (1Pole), 12dB (2Pole), 18dB (3Pole), and 24dB (4Pole). Modes include LP (Low-Pass), BP (Band-Pass), HP (High-Pass), and NOTCH. As far as variation goes, they've thought of just about everything you could ever need.
The characteristics of each filter type are easily discernible by listening to how cutoff and resonance affect the sound. As a result, it's very easy to see that the modeling technology being used here is very high-level. It doesn't matter which filter type you use, as the behavior of each filter will leave you saying "Yes, that's it!" The filter section is truly a joy to use.

Filter

Filter Types

M-Type

Transistor Ladder Filter
ーMoog, Minimoog, Modular Moog etc.

R-Type

IR3109 Chip Filter 
ーROLAND Jupiter-8, Juno-60 etc.

C-Type

Curtis CEM3320 Chip Filter
ーProphet-5, Oberheim OB-Xa, Memorymoog etc.

O-Type

State Variable Filter
ーOberheim SEM etc.

PHASER

Phase Filter (Multistage)


FORMANT

Filter that emulates Human Vowel sounds

CLASSIC

SampleTank IK VCF Filter
Up to 4-part freely assignable Layers & Splits
The SYNTRONIK doesn't just stop at emulating single vintage synths. Users can freely assign up to 4-part Layers and Splits, for extravagant analog vintage synth sound performance.
For example, you could build a 3-part layer starting with a deep Oberheim OB-Xa pad sound, then adding a Yamaha SY-99 spacey voice pad, topping it all off with sparkling bell sound courtesy the Alesis Andromeda.
Or you could build a Split with the right hand playing chords, perhaps with a layered Polymoog sound together with an attack sound from the PPG Wave 2.3, and an arpeggiated Prophet-5 sequence. The left hand could play bass, of course a Minimoog synth bass sound.
These are just a hint of the kind of performance settings possible with the SYNTRONIK. And, putting them together is as easy as drag & drop!

Arpeggiator (not included on some of the real synths)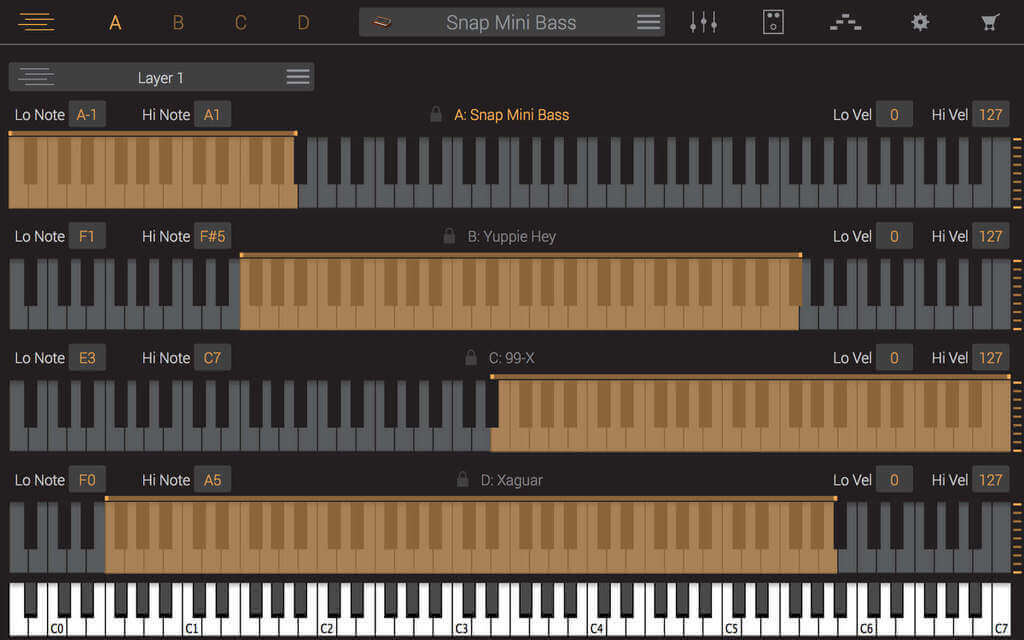 Back in the day, vintage synths that included an arpeggiator were rather rare. The arpeggiator in the SYNTRONIK is applicable to each of the four layers (with a separate instance on each layer). Because each layer is independently controllable, assignments such as the following are possible:

Layer 1: Kick Drum Pattern (Arpeggiator)
Layer 2: Bass Pattern (Arpeggiator)
Layer 3: Chord Pattern (Arpeggiator)
Layer 4: Lead Sound (Played Manually)

This kind of rhythmical performance is just one of the possibilities. It's easy to build and control your own patterns with the SYNTRONIK. Each preset sound has its own arpeggiator patterns as well, ready for immediate use.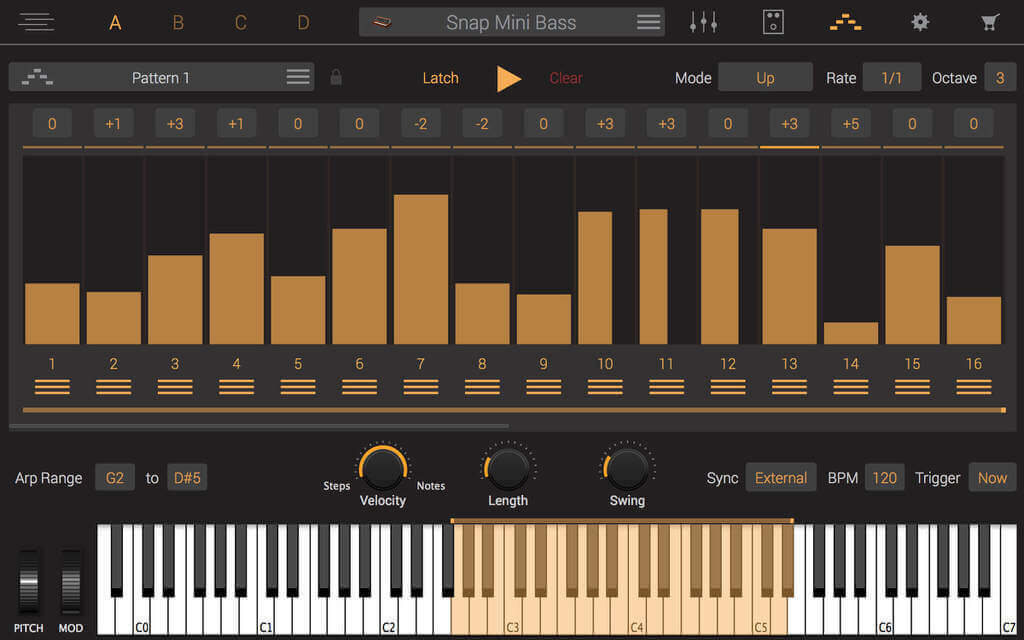 High Quality Effects for Richly Finishing the Sounds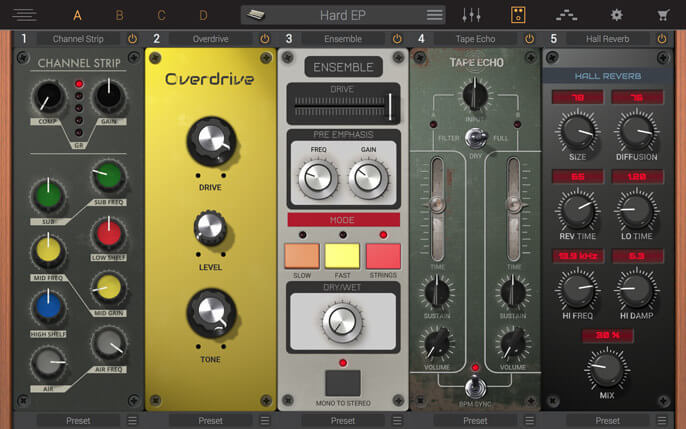 Looking at products such as the T-Racks or AmpliTube, it's blatantly evident that IK Multimedia has established a strong reputation for high quality and high performance effects and modeling technology. Of course, the SYNTRONIK comes with 38 types of high-quality effects, with slots for up to 5 simultaneous effects. Making the most of these effects while creating your own sounds allows one to add new dimensions of depth and spaciousness. What's more, the realistic look of the effects processors themselves is enough to get you motivated!
All of the effects are fantastic, but the typical ones used with analog synths—Chorus, Delay and Reverb—are all just simply superb. Using them on any sound will immediately bring about a whole new level of richness. We are quite impressed with the effects overall.
Modulation

AM Modulation, Ensemble Chorus, Chorus C1,
Electric Flanger, FM Modulation, Opto Tremolo,
Phaser, Rotary Speaker, Small Phazer, Uni-V, AutoPan, Slicer

Dynamics, EQ

Black 76, White 2A, Model 670, Parametric EQ,
Vintage EQ-1A, Channel Strip

Filter

LFO Filter, Env Filter, Multi Filter, Wah 47

Distortion

Distortion, Crusher, Overdrive, Overscream,
Lo-Fi, Phonograph

Amp Modeling

Flexi Amp, Modern Tube Lead,
SVT Classic, Jazz Amp 120

Reverb, Delay

Hall Reverb, Plate Reverb, Digital Delay,
Spring Reverb, Tape Echo, Stereo Imager
Syntronik's Famous Synths of Yesteryear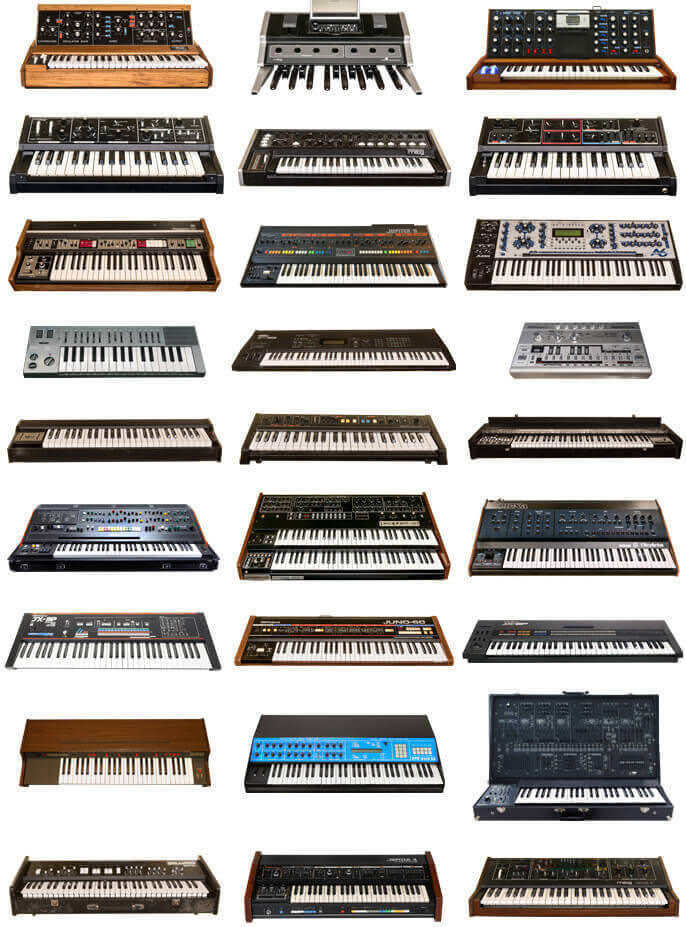 The SYNTRONIK includes 17 types of instruments including synthesizers and string machines, with 38 kinds of vintage machines, and a grand total of over 2,000 preset sounds!
The instrument panels of each of the different machines re-created the unique colors, sliders and knobs. As a result, the second you see the panels you'll know right away which synth you're dealing with.
Selecting various synths we've never owned and playing the sounds brought about an immediate feeling of "Oh, THIS is what it sounds like!" along with the feeling that we had actually added that synth to our collection! Very fun! With not just sound but visually as well, the SYNTRONIK is a real piece of work! Well done!
Minimod

Modular Moog, Minimoog Model D, Moog Voyager


OXa

Oberheim OB-X, OB-Xa


J8

Roland Jupiter-8, Jupiter6, Jupiter

Pro-V

Sequencial Circuits Prophet-5, Prophet-10

V-80

Yamaha CS-80, GX-1, CS-01II

Harpy 260

ARP 2600

T-03

Roland TB-303 Bassline

Blau

PPG Wave 2.3

Bully

Moog Taurus I, II, III

Galaxy

Alesis Andromeda

SAM

Oberheim SEM (Synthesizer Expander Module)

String Box

ARP String Ensemble (Solina), Elka Rhapsody 490,
Hohner String Performer, Roland RS-505 Paraphonic,
Roland RS-09 Organ/Strings

Polymorph

Moog Polymoog, Opus 3, Rogue, Realistic Concertmate MG-1

99

Yamaha SY-99

DCO-X

Roland JX-10, JX-8P, JX3P

Noir

Multimoog, Micromoog, Moog Prodigy

​J-60

Roland Juno-60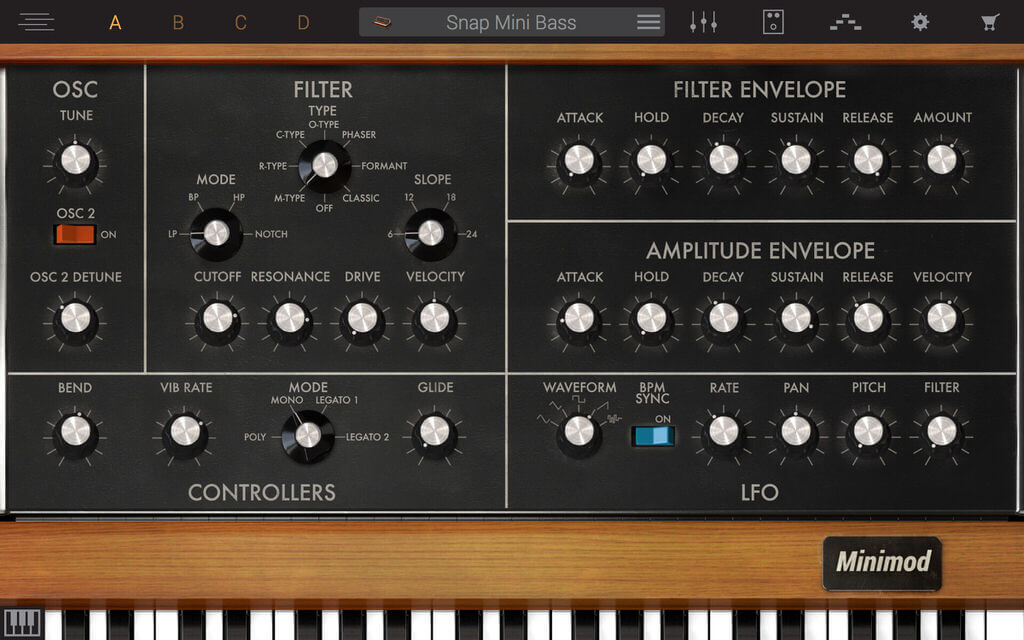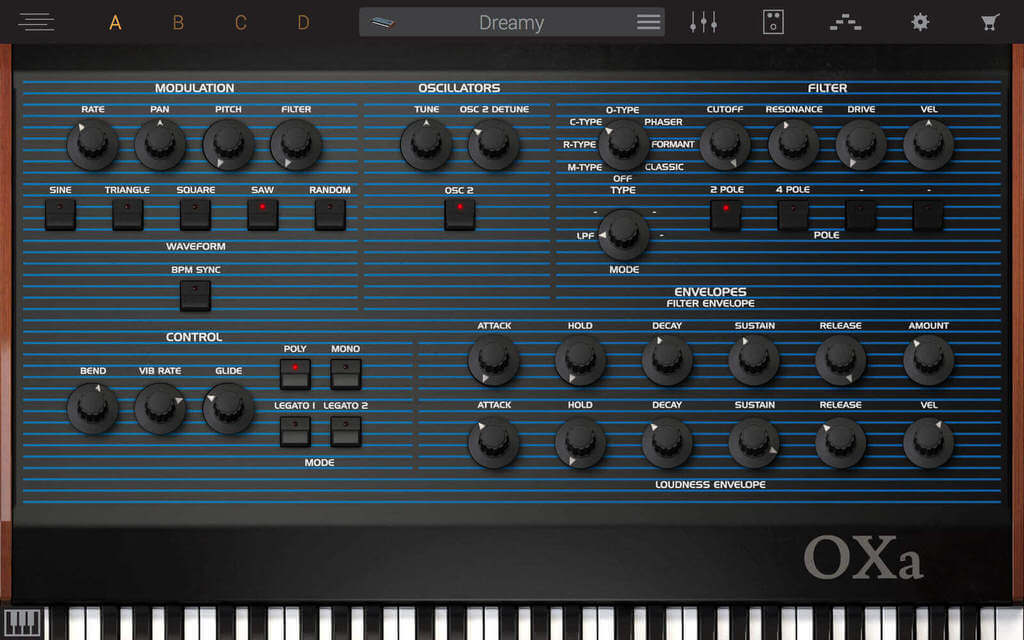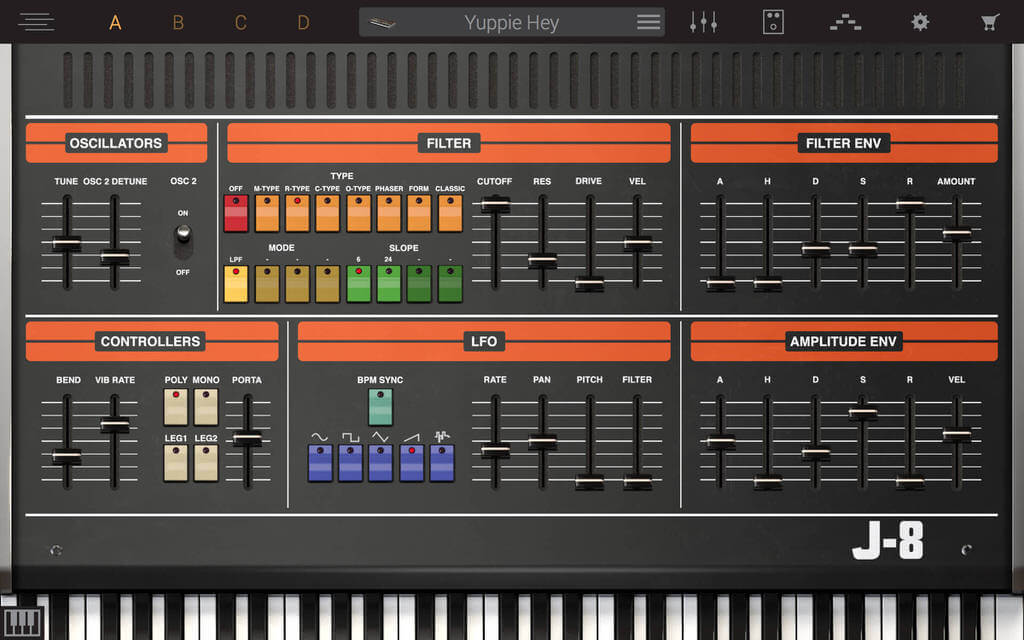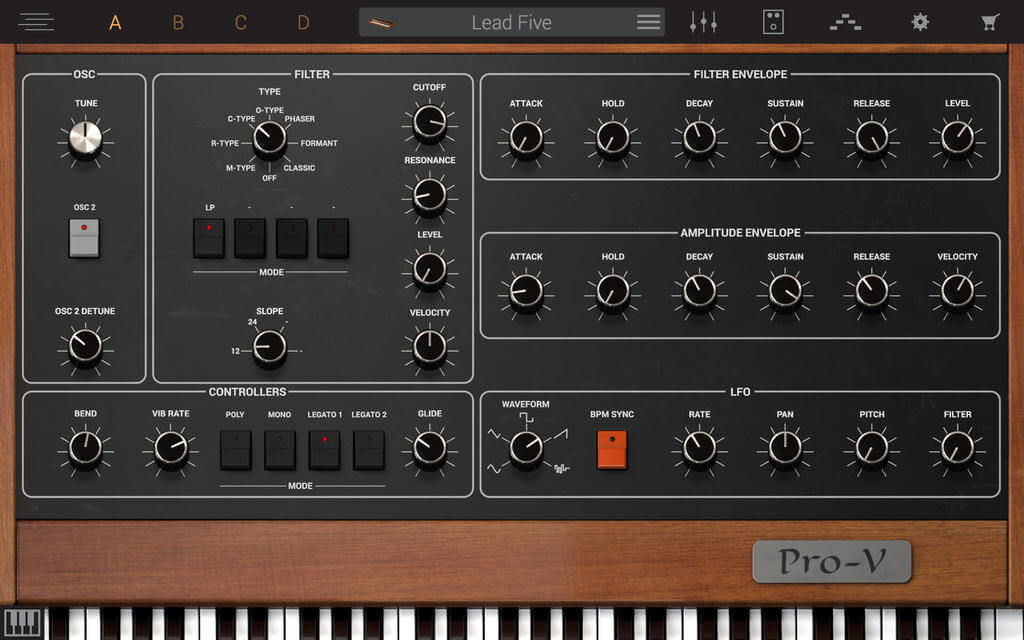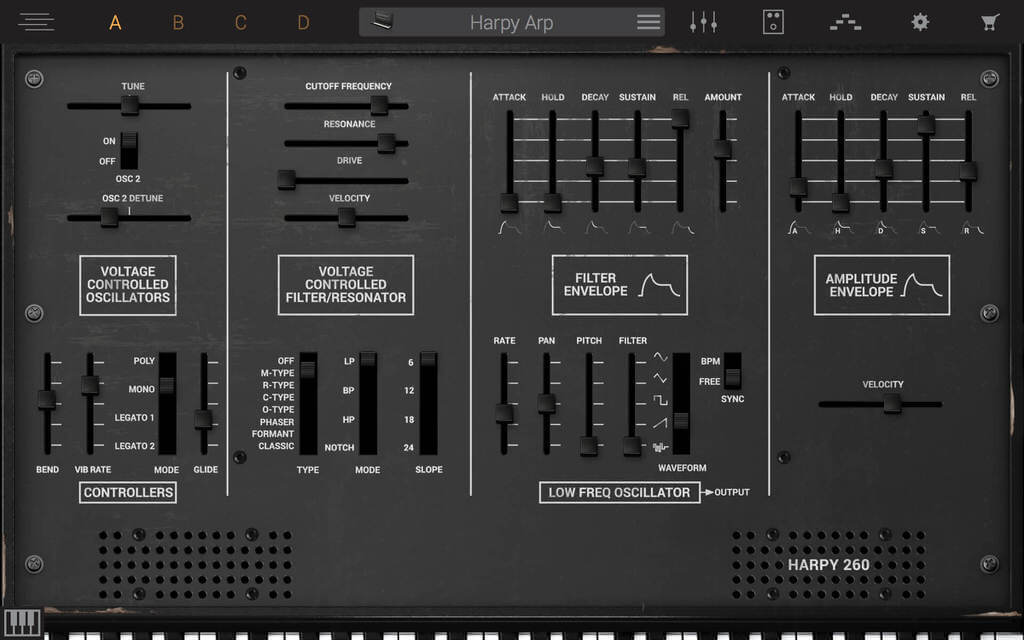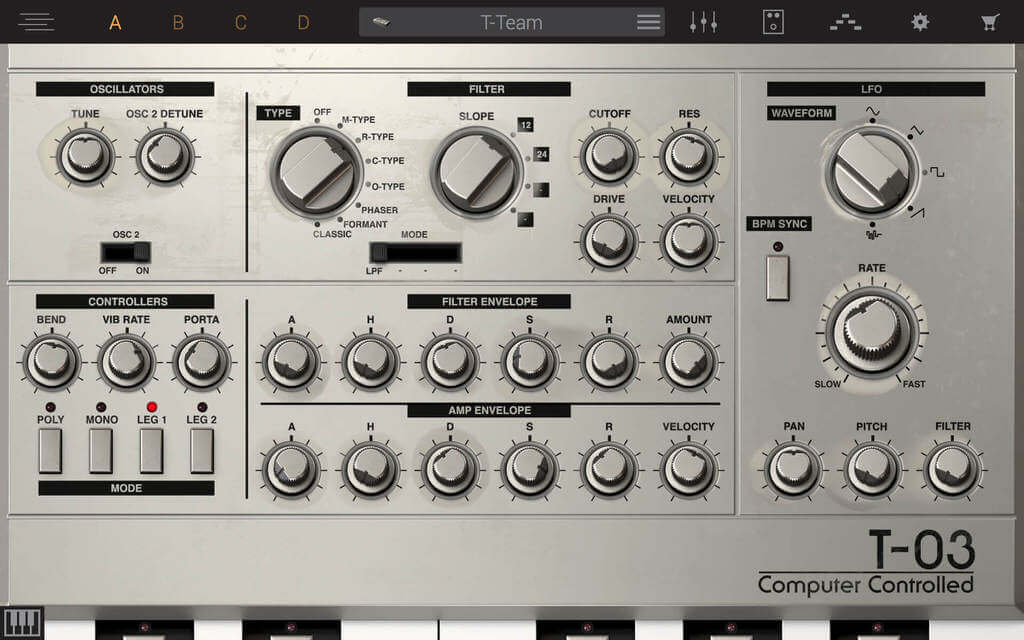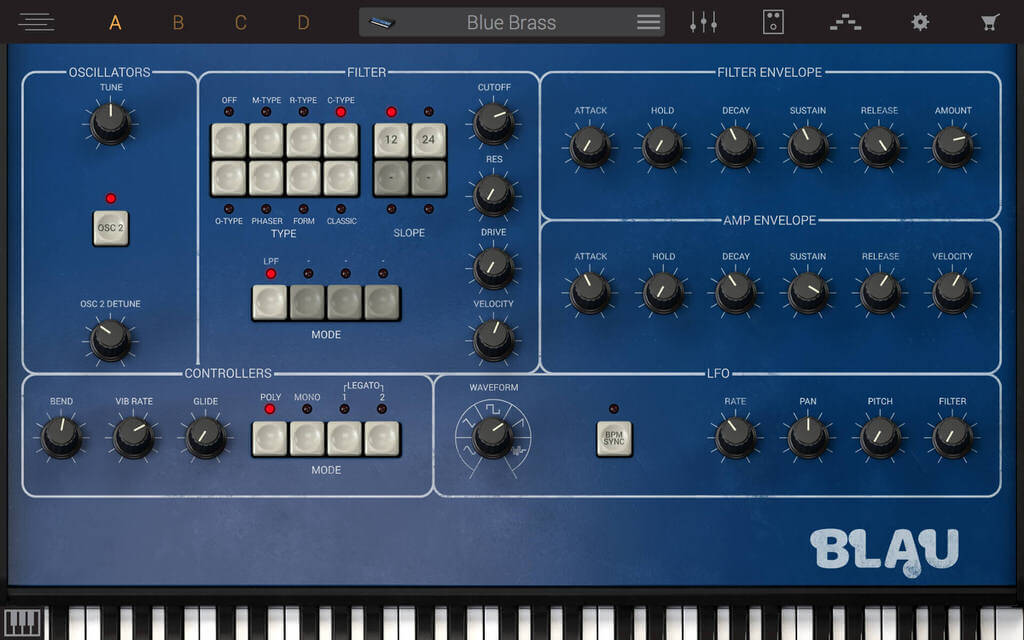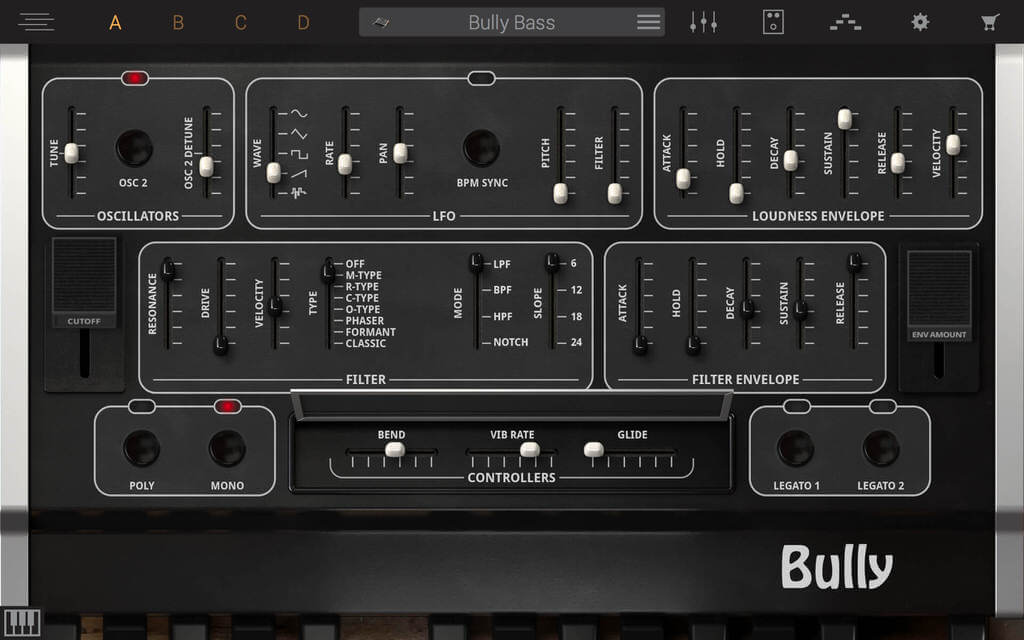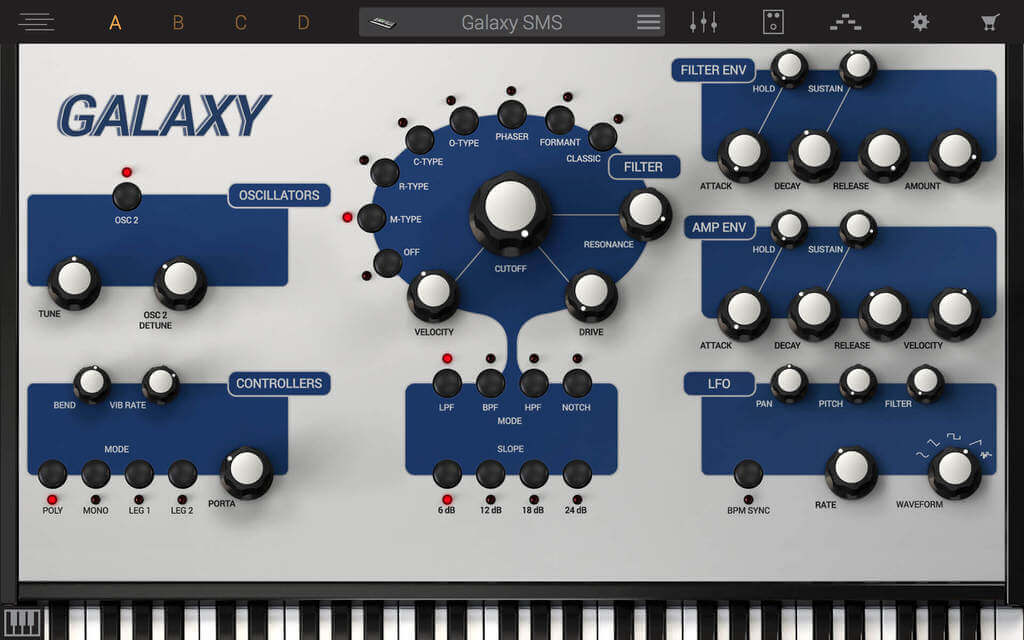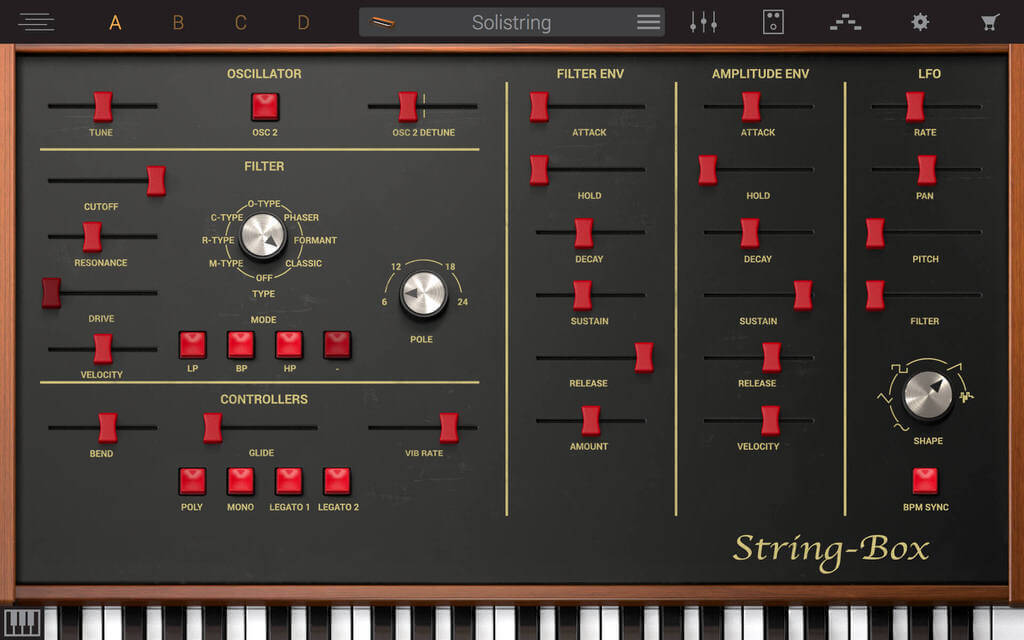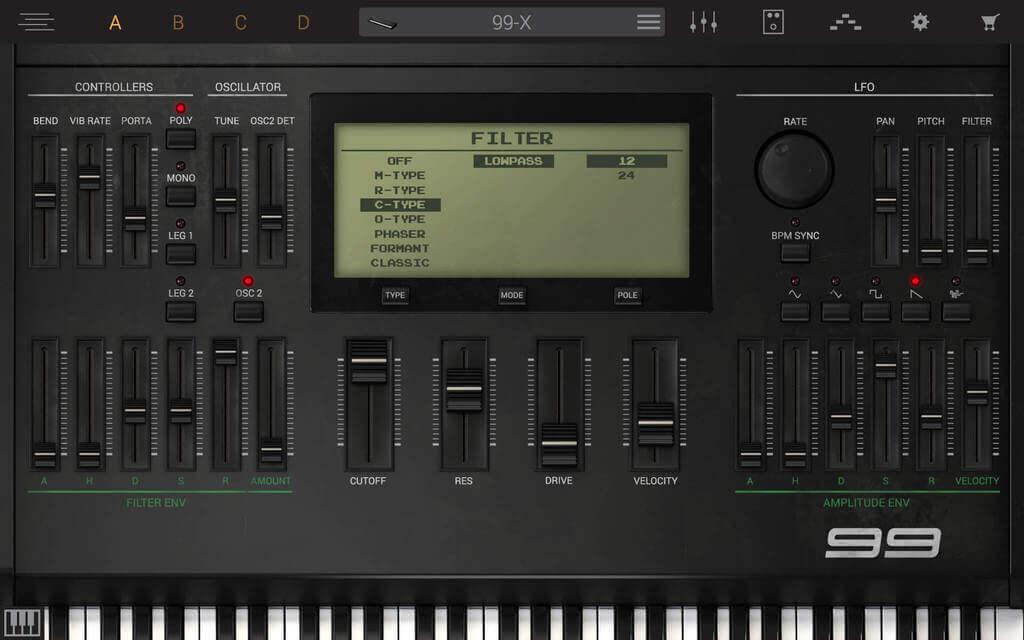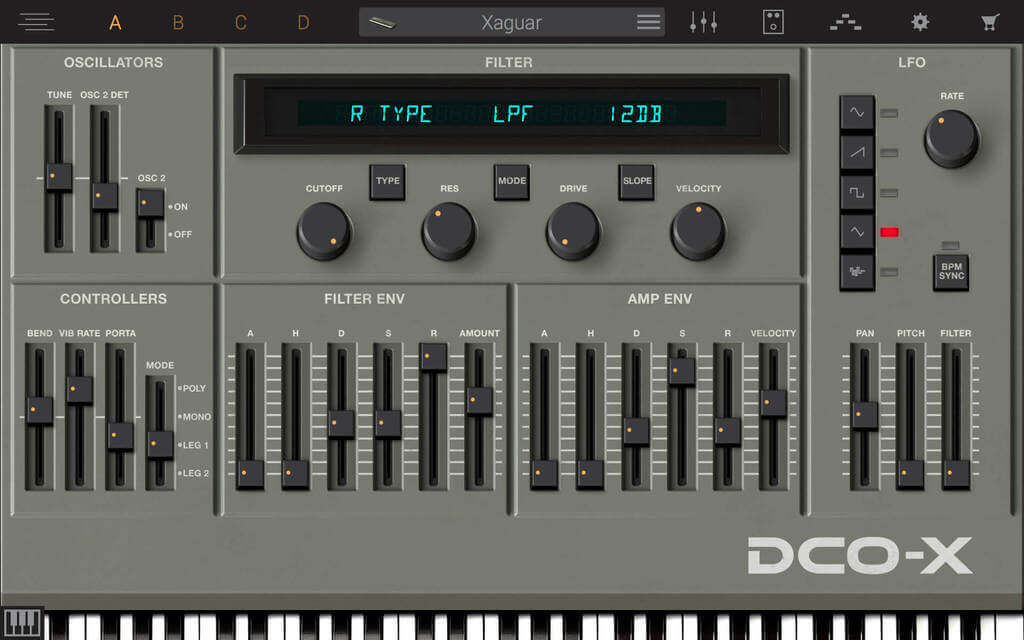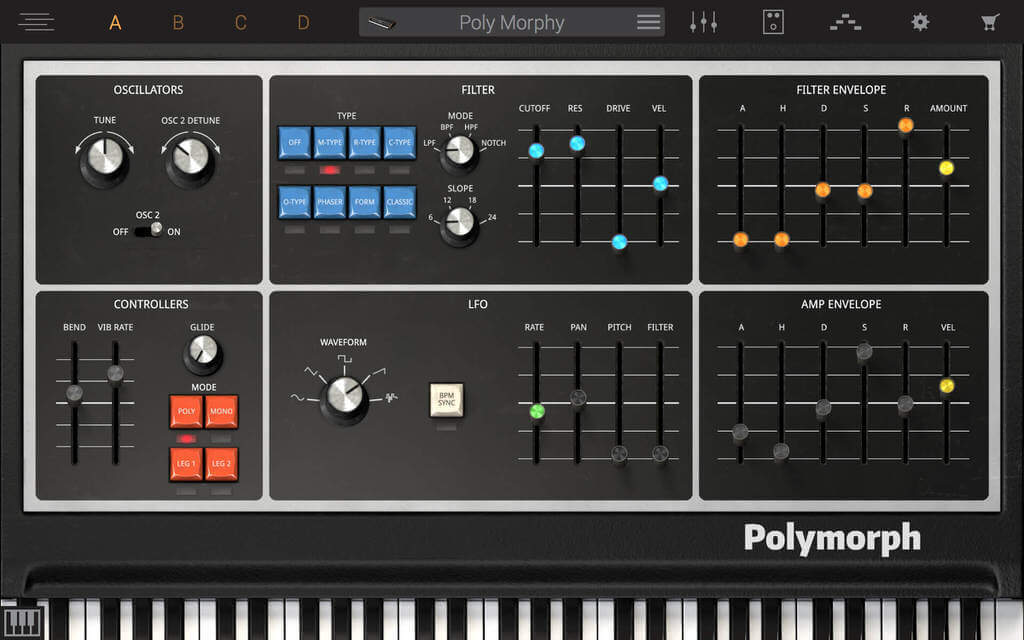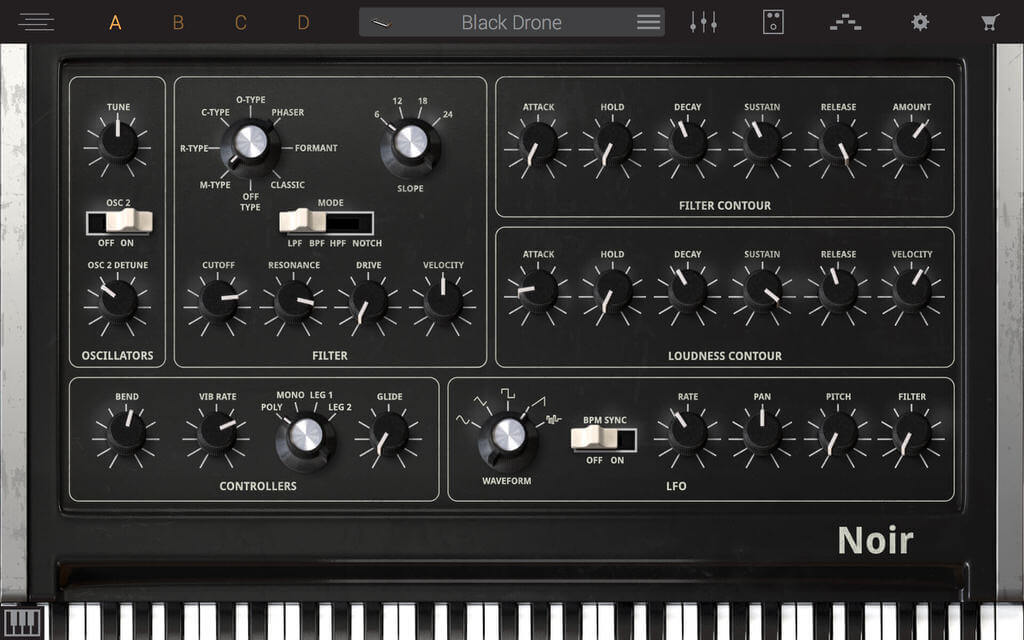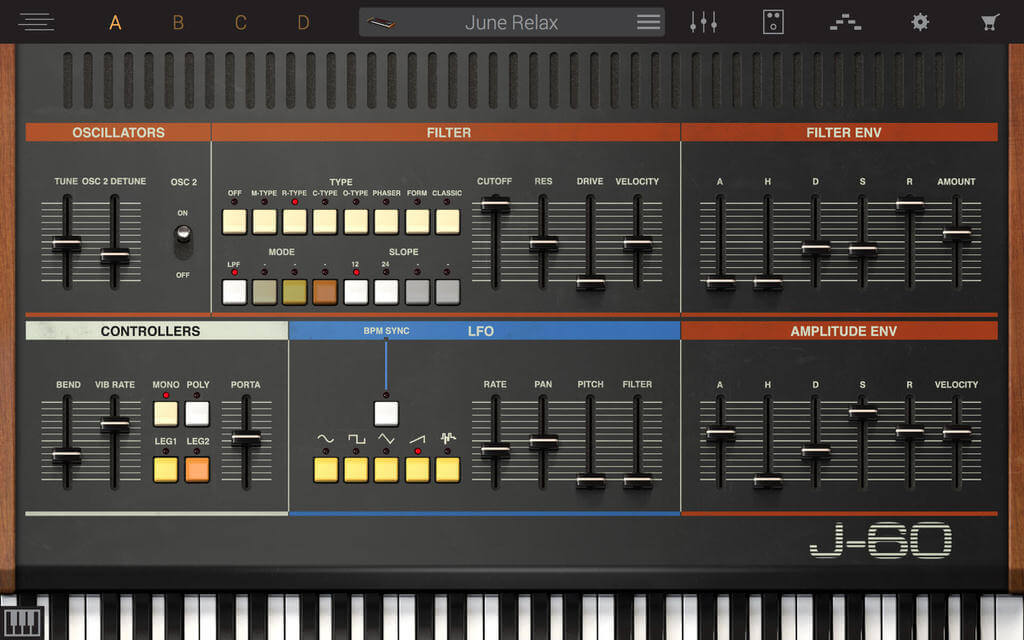 SYNTRONIK's Easy Editing Explained
Instruments within the SYNTRONIK each have their own individual panels, with unique color schemes and placement of knobs & sliders. Since they all use different colors, layouts, knob/slider shapes and so on, it may not be something you notice at first but actually all of them are equipped with and share the same functions that control the parameters used for basic sound creation.
Pay close attention to the parameters shown on the panels below.
At first glance, the panels appear totally different, with different knobs and parameters. Actually, while there are differences in layout, color, selection protocol, knob/slider shape and so on, all of the common synthesizer parameters are in fact the same. Regardless of which synthesizer you select, all parameters are shared and user-editable. This is what makes editing a breeze on the SYNTRONIK.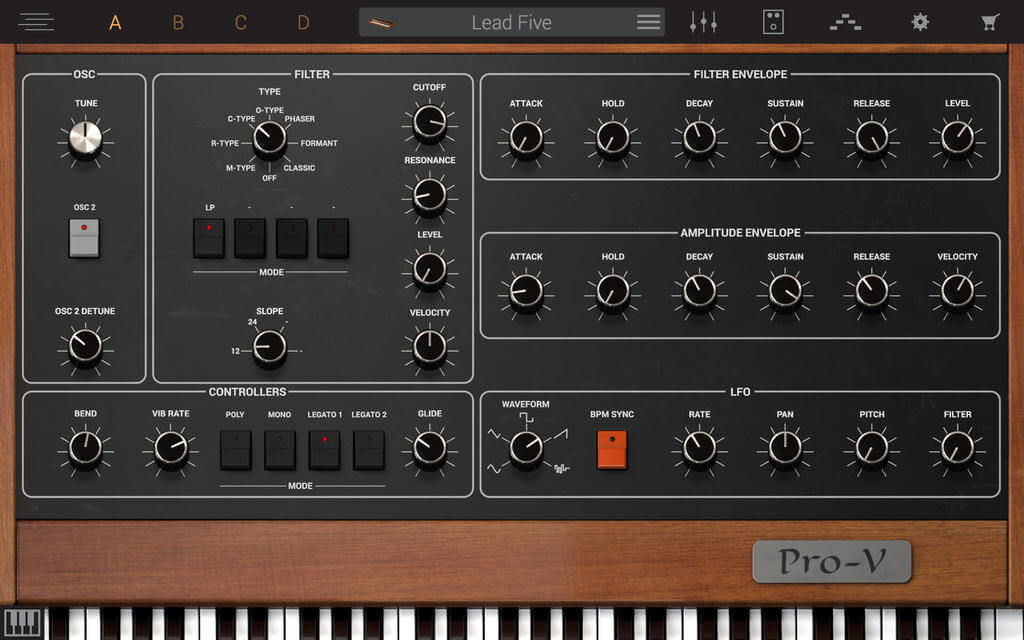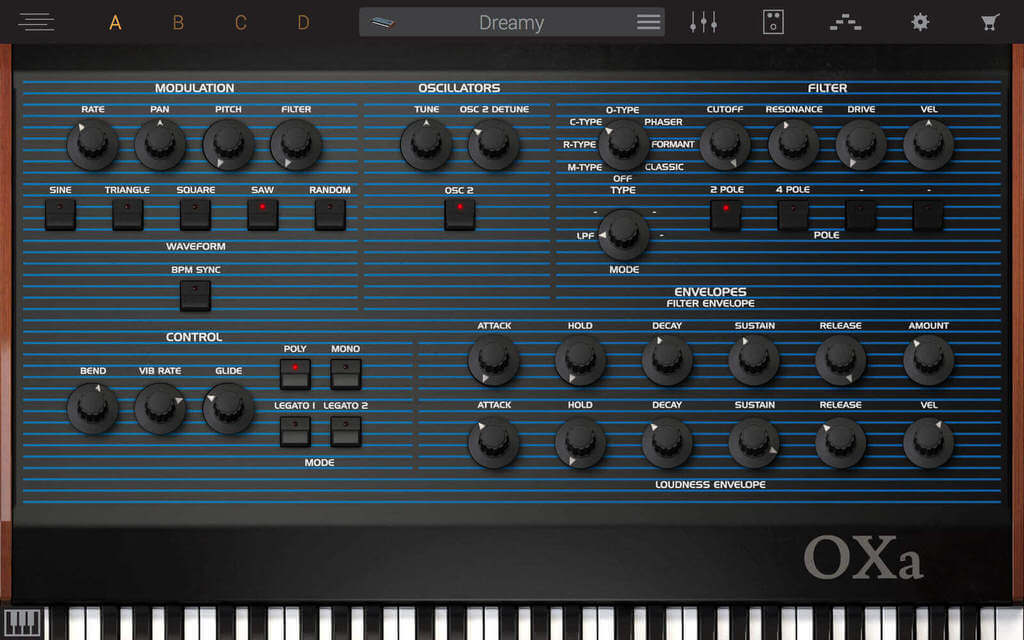 OSC(Oscillator)

・TUNE
・OSC2 ON・OFF
・OSC2 DETUNE

FILTER

・TYPE ー OFF・M-TYPE・R-TYPE・O-TYPE・
     PHASER・FORMANT・CLASSIC
・MODE ー LP・BP・HP・NOTCH
・SLOPE ー 6・12・18・24
・CUTOFF
・RESONANCE
・DRIVE
・VELOCITY

FILTER ENVELOPE

・ATTACK
・HOLD
・DECAY
・SUSTAIN
・RELEASE
・AMOUNT

AMPLITUDE ENVELOPE

・ATTACK
・HOLD
・DECAY
・SUSTAIN
・RELEASE
・VELOCITY

LFO

・WAVEFORM
  ー Sine・Triangle・Square・Saw・Random
・BPM SYNC
  ー ON・OFF
・RATE
・PAN
・PITCH
・FILTER

CONTROLLERS

・BEND
・VIB RATE
・MODE ー POLY・MONO・LEGATO 1・LEGATO 2
・GLIDE
Making Sounds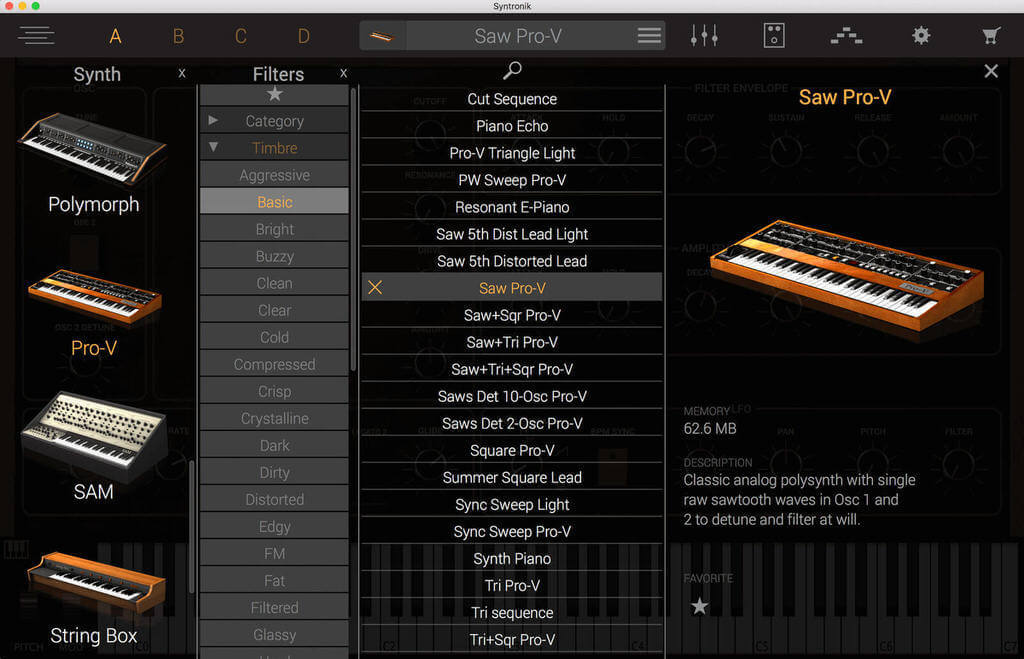 Each vintage machine in the SYNTRONIK includes a BASIC category located within the browser filter. This BASIC category is filled with the original waveforms sampled from each respective machine. The screen-cap above shows the Prophet-5 BASIC category.
As you can see, the Prophet-5's pulsewidth, synced, detuned and other waveforms have been multisample and are ready for use. In our Demo & Review Video, we demonstrate this with the Roland Juno.
Again, it is possible to edit the preset sounds, but it is also possible to edit sounds starting with the basic waveforms. Accordingly, you could do something like start with a Juno Pulse waveform, but instead of selecting the R-TYPE (Roland) filter (as used on the original) you could choose the O-TYPE (Oberheim) to give your sound a different color.
The number of possible combinations of oscillators, filters and what not, is staggering. This is one of the fun things about the SYNTRONIK. As well as the realistic look of the panels of the synths, which is enough to get you motivated too.
Playing with the SYNTRONIK can also make you feel like you've finally come face to face with synths that you've wanted forever or ones that you've never even seen. We're sure you'll be left with the impression of "So that's what it sounded like" when coming across such synths in the SYNTRONIK.
Be sure to check out our Demo & Review video to see for yourself the variety and number of vintage synths, and the sounds, for yourself.
IK Multimedia SYNTRONIK Sales Info (Japan)