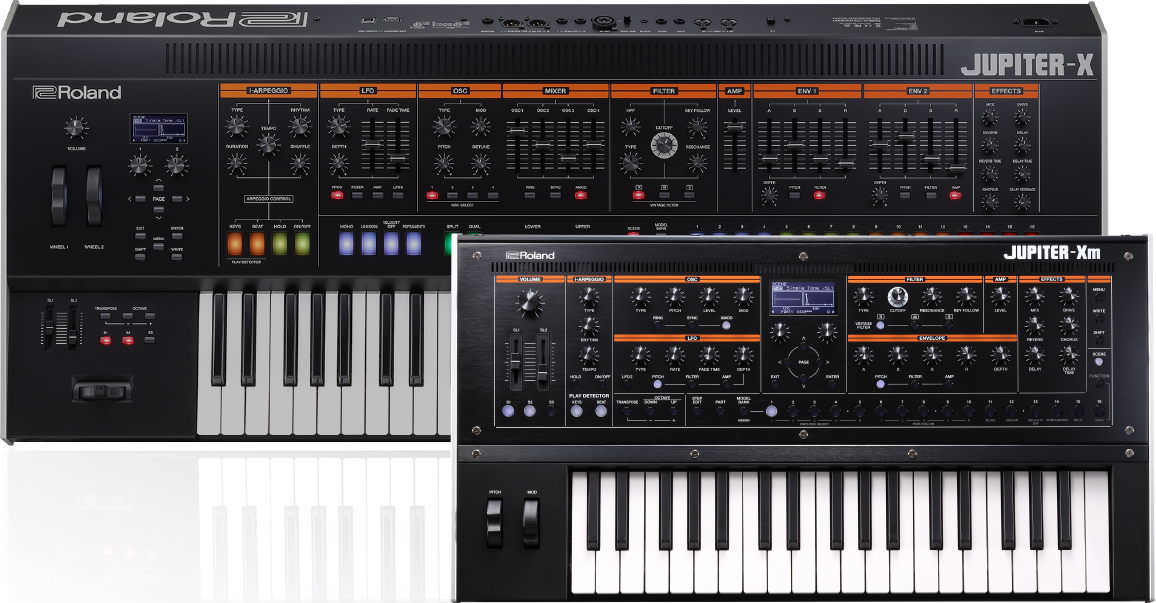 Features:
The newest incarnation of Roland's flagship JUPITER synth is here!
A number of vintage synths re-created with modern technology.
A fusion of modeling and the newest features make for fresh sound.
If you say the word JUPITER, in the synth world, people will immediately know you're talking about Roland's line of synths released in the 1980s—the JUPITER-4, JUPITER-8, and JUPITER-6 (listed in order of release). The Jupiter series of synths is famous for being at the forefront of Japanese polyphonic synthesizers.
On the second-hand market, JUPITER synths are still in demand, but ones in good condition that still work as they should are not that easy to find. What's more, even if you have one, maintenance and upkeep are definitely issues that must be dealt with.
The Newest Members of the JUPITER Family
Roland's analog polyphonic synthesizer JUPITER series sees new life, thanks to cutting-edge modern technology, in the JUPITER-X and JUPITER-Xm synths.
The sound engine utilizes the newest technology and is packed with innovative features, resulting in synths that are worthy of bearing Roland's flagship synth name: JUPITER.
ZEN-Core Engine
The engine of the JUPITER-X/Xm is a newly developed one, called ZEN-Core. According to Roland:
"It's a newly developed sound engine, which utilizes both PCM for ultra-realistic acoustic instrument sounds, and Virtual Analog for those unique analog synth sounds you just can't make otherwise. The engine integrates PCM and VA, so you can create completely new, original sounds." (From the Roland product homepage)

This new engine uses VA to model analog circuits down to the individual component level, while at the same time incorporating a very high-quality PCM element, for a totally new kind of sound engine.
The new JUPITER synths use the new ZEN-Core engine for the different Model Banks.
Six Model Banks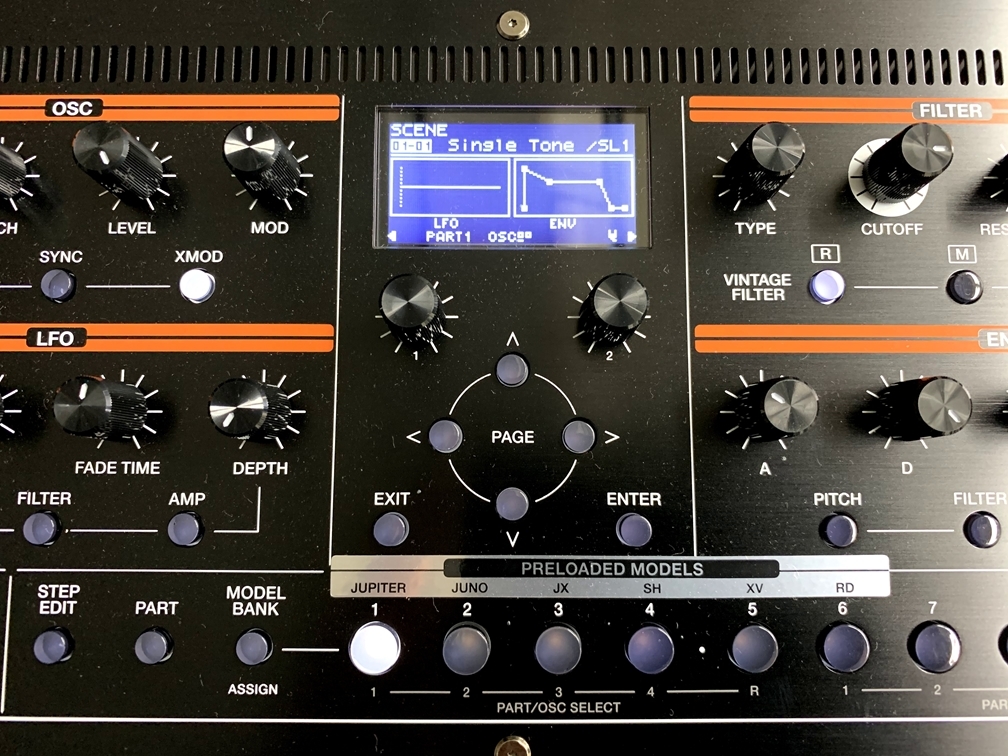 The new JUPITER synths include six synth models from the factory. If you look at the front panel, you can see a section labeled PRELOADED MODELS, with six buttons. But, the synth is configured so that future expansions can be easily integrated.
The new JUPITER series consists of two models: the JUPITER-X and the JUPITER-Xm. The only differences between the two are the size of the synth itself, the arrangement of operation parameters, and the size fo the keys. They both use the same exact engine, and are completely compatible with each other. So, depending on the environment and style of the end user, you can select a model which perfectly suits your needs.
The models include four vintage synthesizers: JUPITER-8, JUNO-106, JX8P, and the SH-101. Also, you have the PCM synth XV-5080, and the RD-700GX stage piano, for a total of six engines.


Models
JUPITER-8

JUNO-106

JX8P

SH-101

XV-5080

RD-700GX

You can use up to four of the six models at once, so each individual sound can be made of four parts. Back in the day, if you wanted to make such a sound you'd need at least four keyboards: a vintage synth or two, a PCM digital synth, and a stage piano, all hooked up to each other via MIDI, with cables going everywhere. The new Jupiter synths can do it all, and so much easier.

The JUPITER-8 and SH-101 came out before the birth of MIDI. As a result, the JUPITER-8 had a DCB interface, and the SH-101 had CV/GATE. If you wanted to connect the real synths together, you'd need a system that could handle MIDI, DCB, and CV/GATE, not to mention first of all having a set of analog synths that were in good condition and actually worked as they should.
Something else that's noteworthy is that sounds from the TR-808, TR-909 and CR-78--the standard Roland rhythm machines used in Electronic and Dance Music--are included. The Rhythm engine is the fifth part, so one sound looks like this:
1 Scene = up to 4 synth parts + 1 rhythm part 
The JUPITERーX/Xm is like a dream synth, in that it comes loaded with superbly-modeled engines of the famous Roland synths of yesteryear, so you literally have access to a stack of gear all inside one single synth.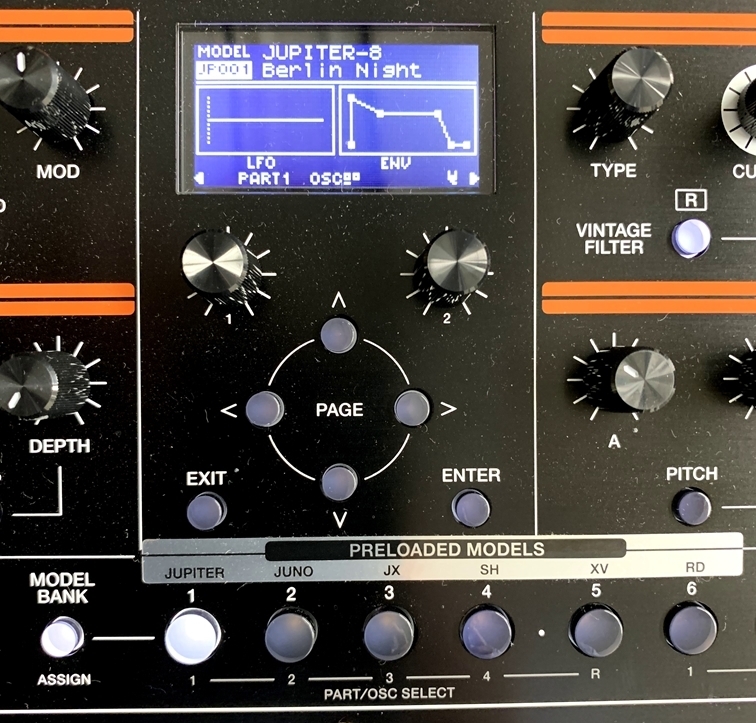 Model: JUPITER-8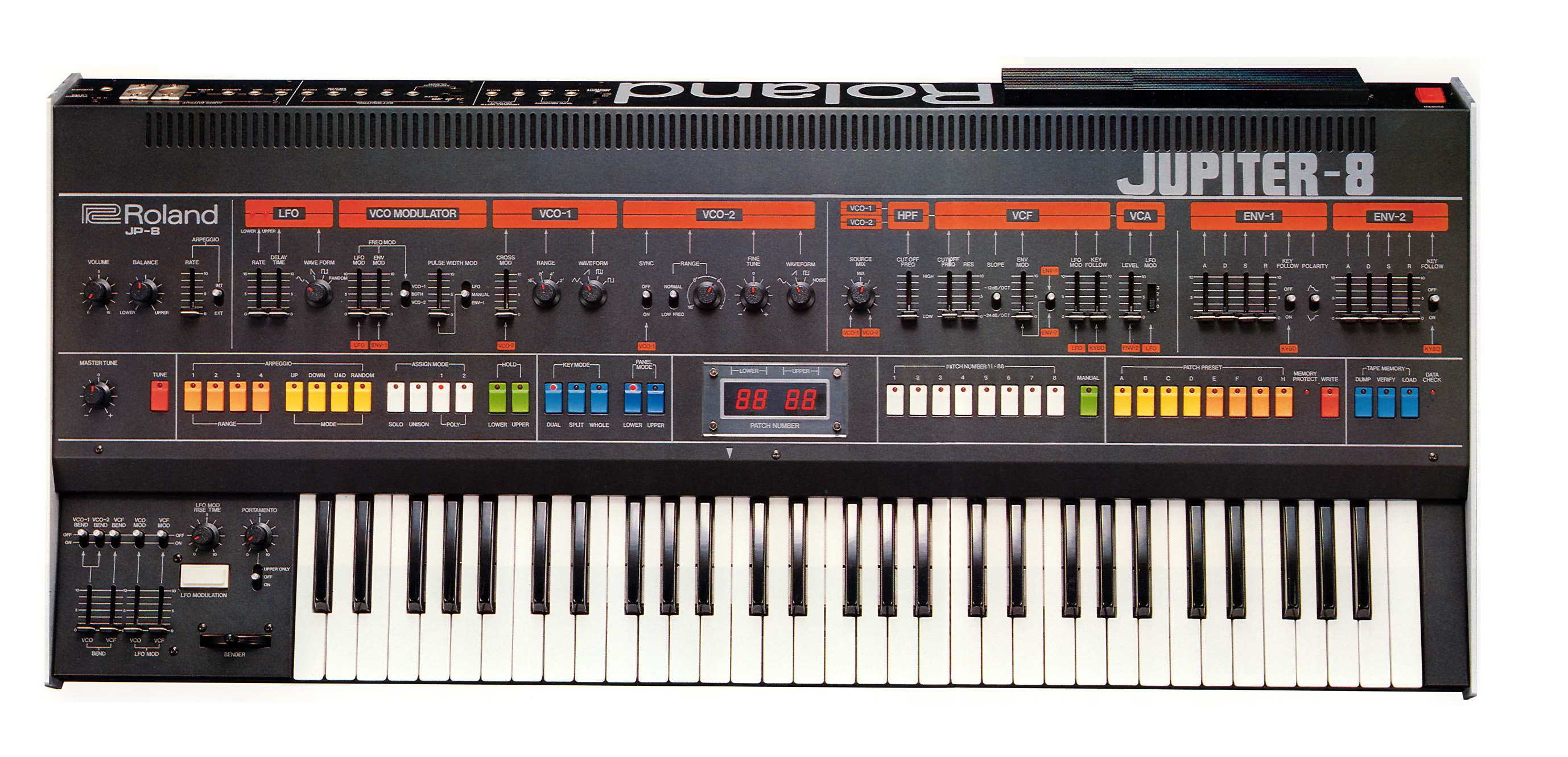 It goes without saying that the JUPITER-8 is a famous vintage analog synth.
The JUPITER-8 has a delicate sound, in contrast to the sharp sound of the PROPHET-5 or the deep, thick sound of an OBERHEIM. Characteristic features included a sharp high- and low-pass resonant filter, and snappy, quick envelopes. At the time, it was still impossible to connect and layer the JUPITER-8 with other synths via MIDI.
Representative sounds include exquisite strings and pad sounds, brass sounds that made use of the pitch envelope, and percussive sounds made using the cross modulation function.
All of the above, as well as the oscillators of the JUPITER-8, have been very faithfully re-created in the JUPITERーX/Xm.
Model: JUNO-106

The JUNO series came about a result of the progress of time and technology, and was the first reasonably-priced (affordable) polyphonic synthesizer series. What's more, something we all associate with the name JUNO now, it came with built-in Chorus which was a rare thing at the time.
The oscillators were digitally-controlled VCOs (so the pitch would be stable), called DCOs, and each sound consisted of one DCO plus a Sub Oscillator. There was only one envelope generator, so complex sound creation wasn't really possible, but thanks to the inclusion of PWM (Pulse Width Modulation), the Sub Oscillator, and the JUNO Chorus, a whole family of "JUNO" sounds was born.
The JUPITERーX/Xm comes with a model of the JUNO-106, so naturally you get the JUNO Chorus too, along with all the noise of the associated analog circuits (yes, they went that far with the modeling). You can check out the noise of the chorus circuit itself, with no sounds playing, on our Demo & Review Video.
Model: JX-8P
The JX-8P was released following the JUNO series. It was a 6-voice, 2DCO, 2 envelope synth with cross modulation and sync. And, it was the last high-spec analog synthesizer Roland would release.
With 2 DCOs at your disposal, it was easy to make thick, deep sounds with a different flavor from that of the JUPITER series of synths. The JUPITER-X/Xm faithfully reproduces all that, plus the unique characteristics of the chorus and filter. You can check out an A/B comparison between the JUPITER-X/Xm and a real JX-8P in our Demo & Review Video.
Model: SH-101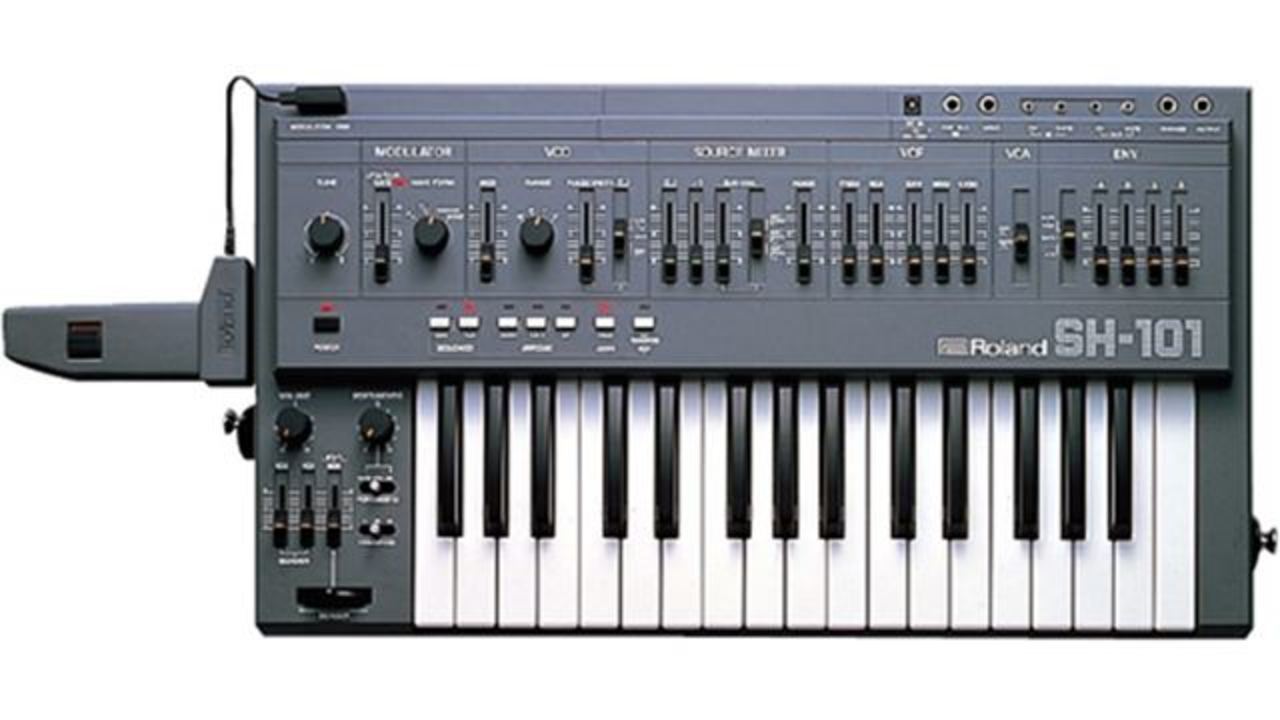 The sole monophonic synth included in the analog modeling synth arsenal is the SH-101.
The SH-101 utilizes a 1VCO+SUB Oscillator structure, so it's especially suited for bass and arpeggio sounds. The JUPITER-X/Xm allows these sounds to be played polyphonically though, which is a bonus.
Model: XV-5080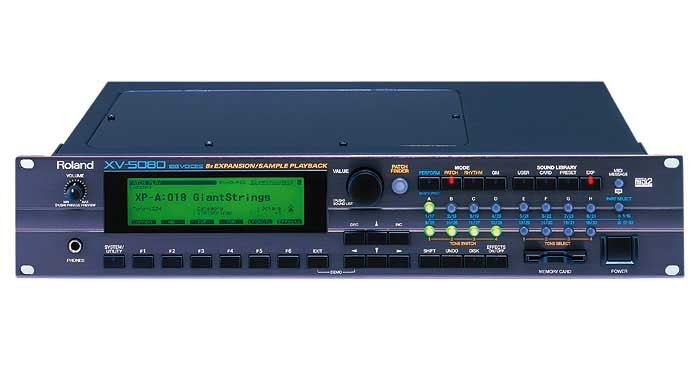 The JUPITER-X/Xm includes a PCM digital synth modeling engine too. The XV-5080 was the top model of the XV series, which utilized PCM samples, and was renowned for its realists and digital sounds. Way back when, if you wanted to mix analog and digital sounds, you had to have at least one of each type of synth and connect them via MIDI, then go through the trouble of making your sounds. Having this built-in just adds to the breadth of the sonic palette available and further increases the possibilities for interesting sound design.
Model: RD-700GX

The RD-700GX is a stage/digital piano engine. It has orthodox, high-quality multi-sampled grand piano sounds. But you can layer these sounds with analog and/or digital synth sounds, or even create MIDI Grand Piano sounds. Of course, the RD series engine includes electric piano sounds too.
Rhythm Machines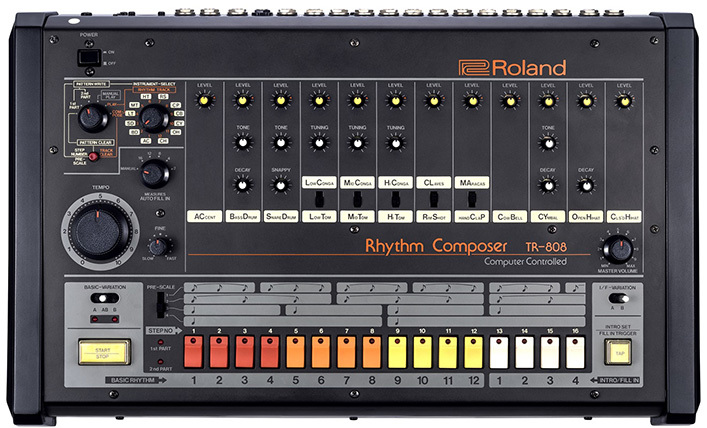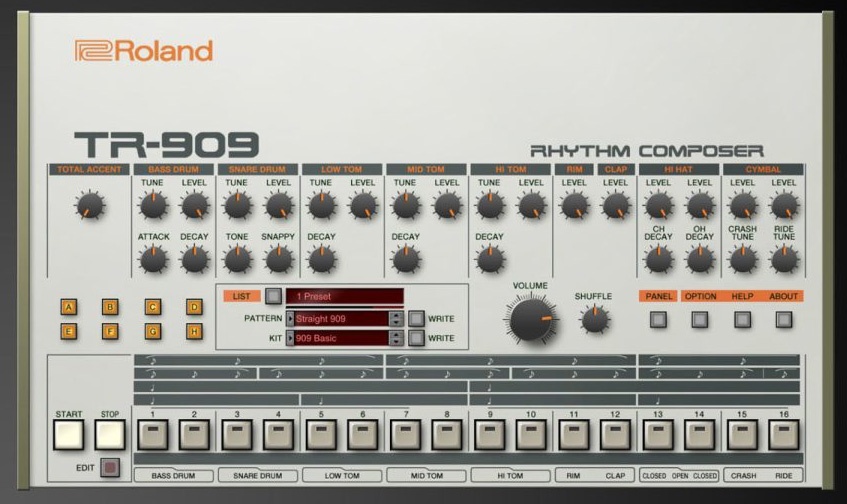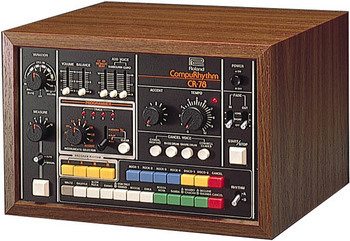 The JUPITER-X/Xm Scene includes a 5th part, which you can use for rhythm sounds in conjunction with the arpeggiator. This part sees the inclusion of the famous Roland rhythm machines from yesteryear. You can select a machine, a rhythm pattern, then four synth parts and one rhythm part to complete your Scene.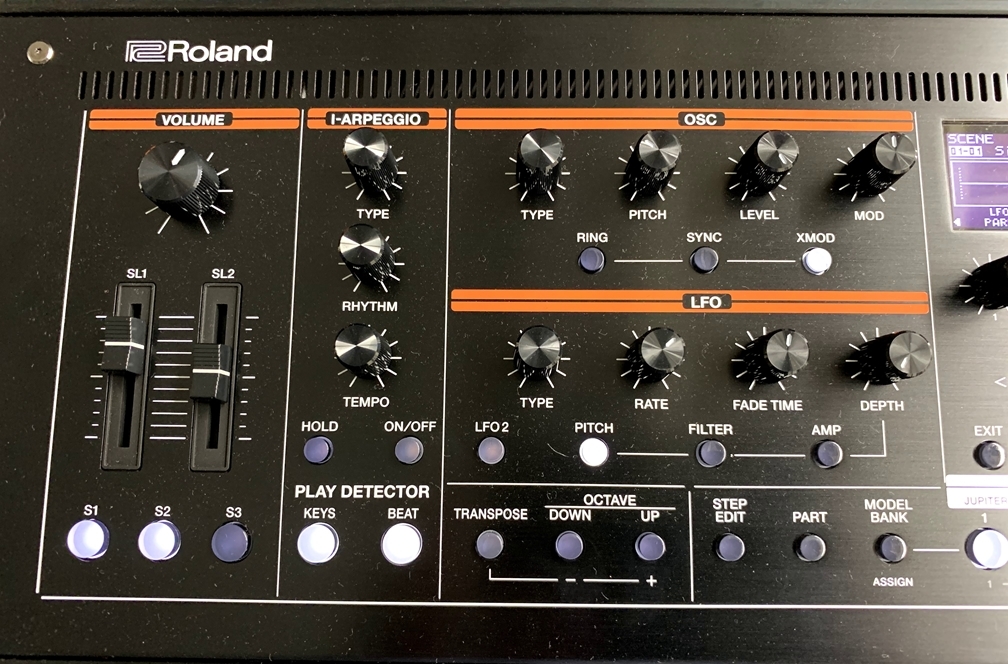 JUPITER-X/Xm Sound
Sounds on the JUPITER-X/Xm are comprised of a Scene, which includes five parts, plus an arpeggiator and effects.

Tone
A Tone is the smallest unit used when construction a sound. The Tone is where you select which synth model you want to use.

Part
One Part can be set to one of the six synth models or one of the three rhythm machine models, to make the Tone. Each Part can have one Multi-effector (MFX), and settings for Pan and EQ. Of course, one Part can only include one type of synth model.

Scene
Scenes are made up of four synth models and one rhythm model. The four Parts can be split and/or layered. You can also set Arpeggiator and Rhythm Part data here in the Scene section.

Scene Effect + Master Effect
The last element of each Scene is the Scene Effect section, which includes DRIVE, CHORUS, DELAY, and REVERB. The signal is then passed through the System Effects, which include MASTER EQ/COMP, MIC NS/COMP.
Specs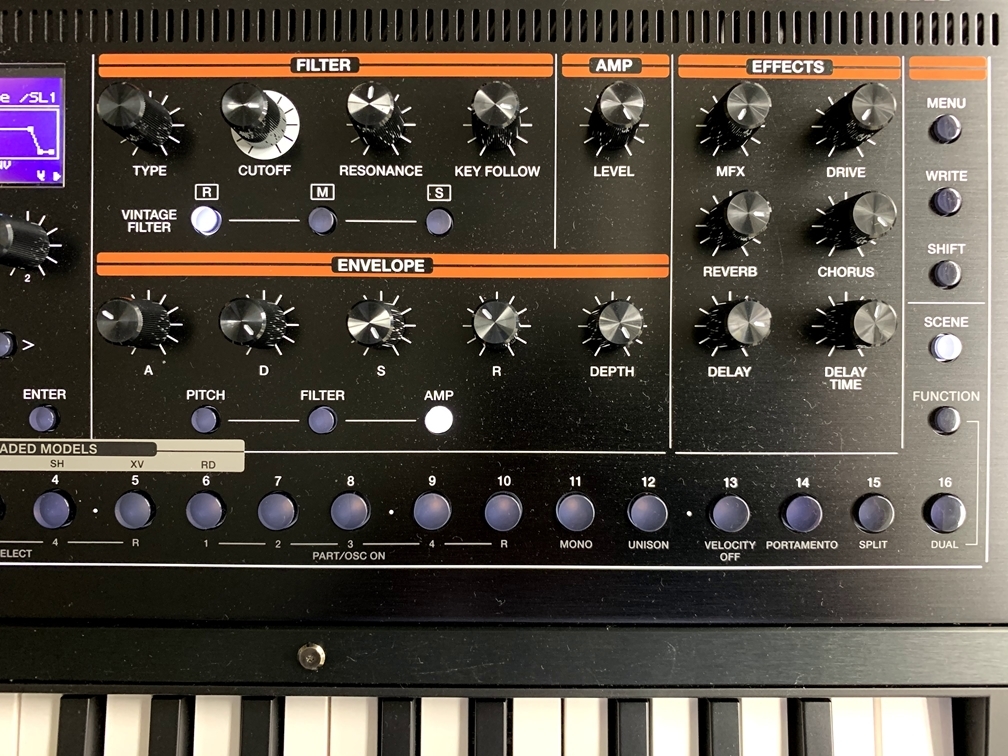 VCF(VINTAGE FILTER)
Each model has a filter specifically designed to emulate the filter from each modeled synth. However, other types are provided, which include R-Type (Roland), M-Type (Moog), and S-Type (Sequential). Each filter model has its own unique characteristics.
R-Type(Roland)

M-Type(Moog)

S-Type(Sequencial)

Sounds・Polyphony
Preset Tones:4,000+
User Tones:256
Drum Kits:90+
Scenes:256

Maximum Polyphony: 32 voices
Input・Interface
The JUPITER-X/Xm comes equipped with ample ins and outs. Of particular interest is that it can handle MIDI over Bluetooth so you can control the synth from a computer or tablet, or even play the synth over Bluetooth speakers, for a truly wireless experience. What's more, the JUPITER-Xm can be powered by batteries for unparalleled portability.
Standard L/R Outputs
XLR L/R Outputs
HEADPHONE Output
MIDI IN/OUT
SPEAKER
Stereo 4W,Two Full Range Speakers plus two Tweeters

USB Interface(MIDI/AUDIO)
USB MEMORY Interface
MIC XLR IN
AUX IN

Bluetooth Ver4.2

Battery Power
 JUPITER-Xm AAAx8
I-ARPEGGIO
The JUPITER-X/Xm is also equipped with a newly-developed AI Engine based arpeggiator, called the I-ARPEGGIO. Until now, most arpeggiators have been pattern-based, but this one differs in that the Ai Engine analyzes and reacts to keys played in real time, producing phrases on the fly.
Because of the new I-ARPEGGIO it is possible to employ patterns, phrases and sounds in ways never seen until now.
Demo & Review Movie
Be sure to check out our Demo & Review video to see just how fantastic the JUPITER-X/Xm sounds.
Sales info (Japan only)
Roland Products
JUPITER-Xm
https://www.roland.com/jp/prod...
JUPITER-X
https://www.roland.com/jp/prod...

Roland Blog
JUPITER-X Part-1
https://blog.roland.jp/artist/...
JUPITER-X Part-2
https://blog.roland.jp/artist/...
by musictrack