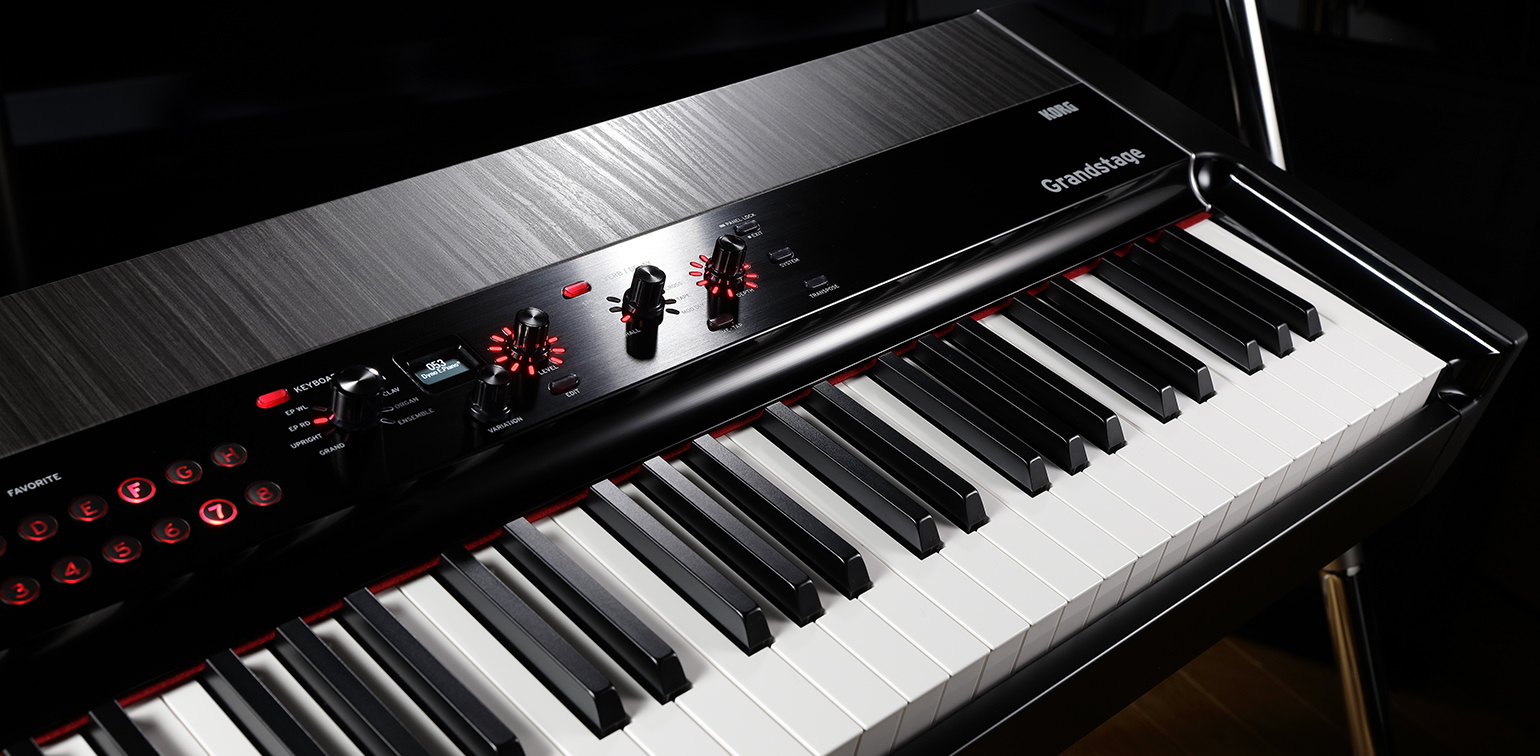 Features:
KORG's Top of the line Sound Engine
All bases covered for use as a stage piano
Sound Variations to cover virtually any genre
Things people consider when thinking about stage pianos, aside from high-quality sound obviously, are primarily based around the musicality and particular tastes of the player, and as such include a plentiful number of sounds based on the aforementioned things, as well as employing an easy-to-use interface which doesn't require mental gymnastics to put to use, either on stage or just playing real time. The Grandstage is all of this and more! And that's not an overstatement!
Simple but elegant design
The KORG Grandstage has a black aluminum front panel with a vast array of red LEDs and buttons. What's more, the side panels are made of WOOD! This gives it a neo-futuristic look, as well as a tangible amount of natural warmth, and adds to the overall elegant looks and physical presence the unit exudes. And that's not all. The key bed itself, arguably the most important part of a stage piano, is MADE IN JAPAN, so the quality is undeniable. The actual key beds used are the R3 73- and 88-key models.


High-quality sound engine

Acoustic Piano engine: SGX-2
In the Grandstage, we find not only a slew of newly added piano sounds, but also six types of high-quality piano sound generators, of which the SGX-2 is a member. A simply huge number of superb sounds can be found here, from grand to upright pianos, all non-looped stereo samples (of each individual key nonetheless), with a max of 12-level velocity switching, damping, and they even included the noise of the mechanism of the pianos! This is unquestionably a collection of stunning piano sounds.
From warm acoustic, bright pianos, to elegant uprights, there is no doubt any player will be able to find exactly the sound they're after. Also, since they've included monaural-sampled versions (everything is sampled in stereo), for those times when you want the sound to be super clear, or you want to emphasize the position of the piano within the recording field, or even when playing live so you don't get buried in the mix. We think that KORG has really taken into consideration the needs of the player with the monaural feature!
Electric Piano engine: EP-1
The EP-1 is the electric piano engine included in the Grandstage, which is basically a source of vintage electric piano sounds like Rhodes Wurlitzer. Different Rhodes models include the I, II, V, and DMP for a total of four variations. With Wurlitzer, you get two models, the 200 and 200A. In all, there are six electric pianos ready for you to enjoy playing.
With normal sampling, velocity-switching is utilized to switch between different samples, which does provide a credible level of realism with the sampled sounds. However, the EP-1 engine uses a different technological approach, which responds smoothly and seamlessly between any and all velocities. The result is surprisingly realistic, and naturally-sounding, whether you play with an extremely gentle touch or go all out and aim for a bit of distortion at max velocity levels. Furthermore, you can use insert effects such as the staple choruses and phasers, for that vintage electric piano sound, which you can put to use in a variety of ways, in any number of different scenes.
Transistor Organ engine: CX-3
Tonewheel Organ engine: VOX Organ
Tonewheel Organ engine: Compact Organ
The CX-3 engine models KORG's own CX-3 transistor organ, but you've also got two more engines to use: the VOX Organ and the Compact Organ, both tonewheel organ engines.
Organ sounds are useful in a wide variety of genres, from rock to pop, and if you put the rotary speaker simulator effect to good use, you can put on a very convincing organ performance.

Analog Modeling engine: AL-1
The synth sounds on the Grandstage do not utilize a PCM sound engine, rather, they've chosen to go with a full-fledged analog-modeling, virtual analog sound engine here.
Speaking of synth sounds in the stage pianos we've seen up until now, aside from a few units, all of the piano sounds utilized PCM engines, so it was a given that the synth sounds would also be PCM based. With the Grandstage though, we have been given a true analog modeling synthesizer engine with the AL-1.
Because this engine is fundamentally different from a sampling-based one, there is a huge number of very authentic sounding preset synth sounds, from fat pads and strings, to synth basses and unique lead sounds as well.
PCM engine: HD-1
The acoustic and electric piano engines in the Grandstage utilize their own independent sound engines, but for other, PCM-based sounds, the HD-1 PCM engine is included. The HD-1 is responsible for Clavinet, FM Electric Piano, Brass and Woodwind and other classic sounds which can not be produced using the other included sound engines, and its inclusion basically means that you've really got all your bases covered.
Functionality
FAVORITE

With stage pianos up to today, you've had preset buttons organized into categories such as Piano, EPiano, Organ, Strings and so on. So to select a sound, you'd first choose the category and then scroll through and choose a sound. With the Grandstage though, right in the center you see the FAVORITE buttons, where you can store and recall sounds you've tagged as favorites. This is extremely useful for having sounds you frequently use on standby, ready at the push of a button.

Selecting Presets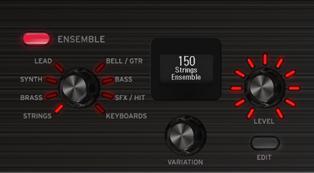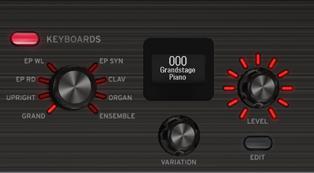 Selecting presets involves two sections. The first, to the left of the Favorites, uses a small but high-res display and the Ensemble category section. The other is at the right, and has its own similar display and Keyboards category section. Selecting sounds from within these two sections is as simple as giving the dial a turn and scrolling through the genres and presets and variations. It's quite logically organized, and very easy to get your head around, as well as being very easy to use in practice.
Splits and Layers
Splits and Layers are also very easy to put to use. First, select either Ensemble or Keyboards by pushing the relevant button and turning the section on or off for layering. For Splits, you can easily set the split point by holding the Splits button located to the side of the FAVORITE section, then pressing the key where you want the split to be. Also, you can switch between upper and lower sounds by pressing the Swap button. If you want to store the Split you've created, all you have to do is press Write. The design is very systematic, simple, and intuitive.
Panel Lock
The Grandstage also has a feature we've never seen before with the Panel Lock button. By using this, you can lock the keyboard so that you won't accidentally change any of the settings while playing or performing. This is a feature where again Korg has shown that they are truly paying attention to the needs of the player.
Smooth Sound Transition
On recent flagship models, a feature we've come to take for granted is that when changing from one sound to another, the currently playing sound will not suddenly get cut off (silenced) when changing to another sound. This is such a good feature! Especially in situations such as playing a pad sound with a very long release, and switching over to a piano sound without having the pad cut off.

Effects
Insert Effects
Four Separate Insert Effect Processors

Master Effect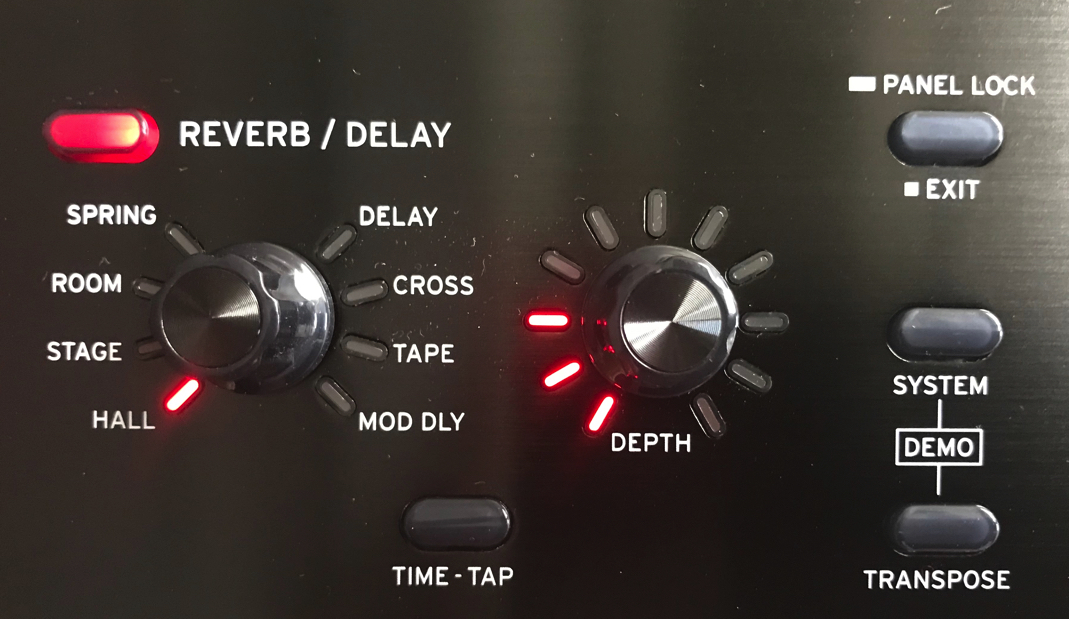 You can control the master effects directly from the front panel. It's easy to select just the Delay or Reverb you're after just by using the relevant dial, and also easy to set the Depth in the same way. There is a Tap function also, so you can adjust the delay times in real time by tapping the button. We get the impression that a lot of thought went into the design of the interface here.。

Independent 3-band EQ
Hi, Mid, Low (3-bands) are controllable via faders on the panel


Dynamics
We give the DYNAMICS button and knob a good explanation in our Demo & Review Video. Put simply, you can control how your playing style (heavy or light dynamics) affects how the keyboard itself responds. For example, for sounds that don't rely so much on whether you play heavy or light, like synth solos and such, you can set it to respond the same way to either a light or heavy touch. We think this is a really convenient feature.
Attention to Detail!
Headphone jack, accessories
Recent keyboards usually have the headphone output on the rear panel along with the rest of the usual array of inputs and outputs. The Grandstage, however, has them on the lower left of the front panel, which is super useful for checking sounds. We think this is fantastic.
Furthermore, things which are usually add-ons or sold separately, like damper pedals and keyboard stands, are included! This was a huge surprise!
The Grandstage is truly Korg's TOP OF THE LINE stage piano, and we can't stress enough how strongly we feel that you HAVE TO go check one out for yourself at a store near you!
To hear it in action, and to see an overview of the functions and features, be sure to watch our Demo & Review Video.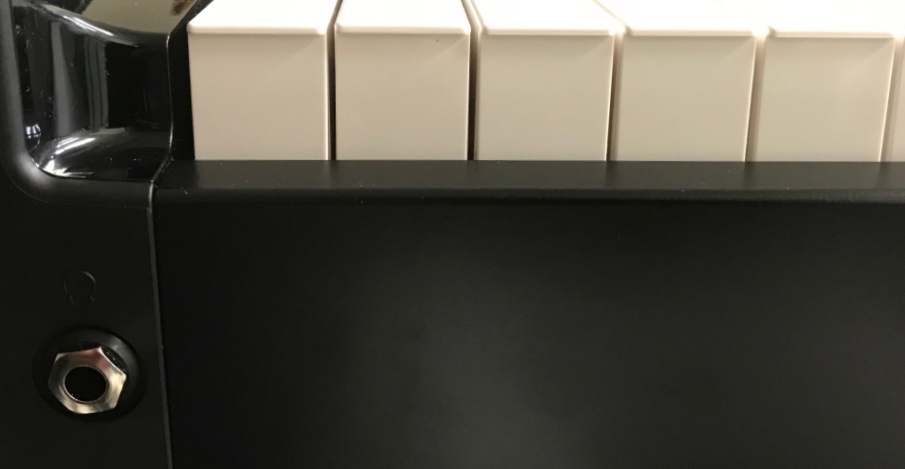 Damper pedal and special stand included!

Korg's top of the line stage piano, go check it out at a shop near you!
To hear it in action, and to see an overview of the functions and features, be sure to watch our Demo & Review Video.
Demo & Review Video
Sales Info (Japan only)
by musictrack