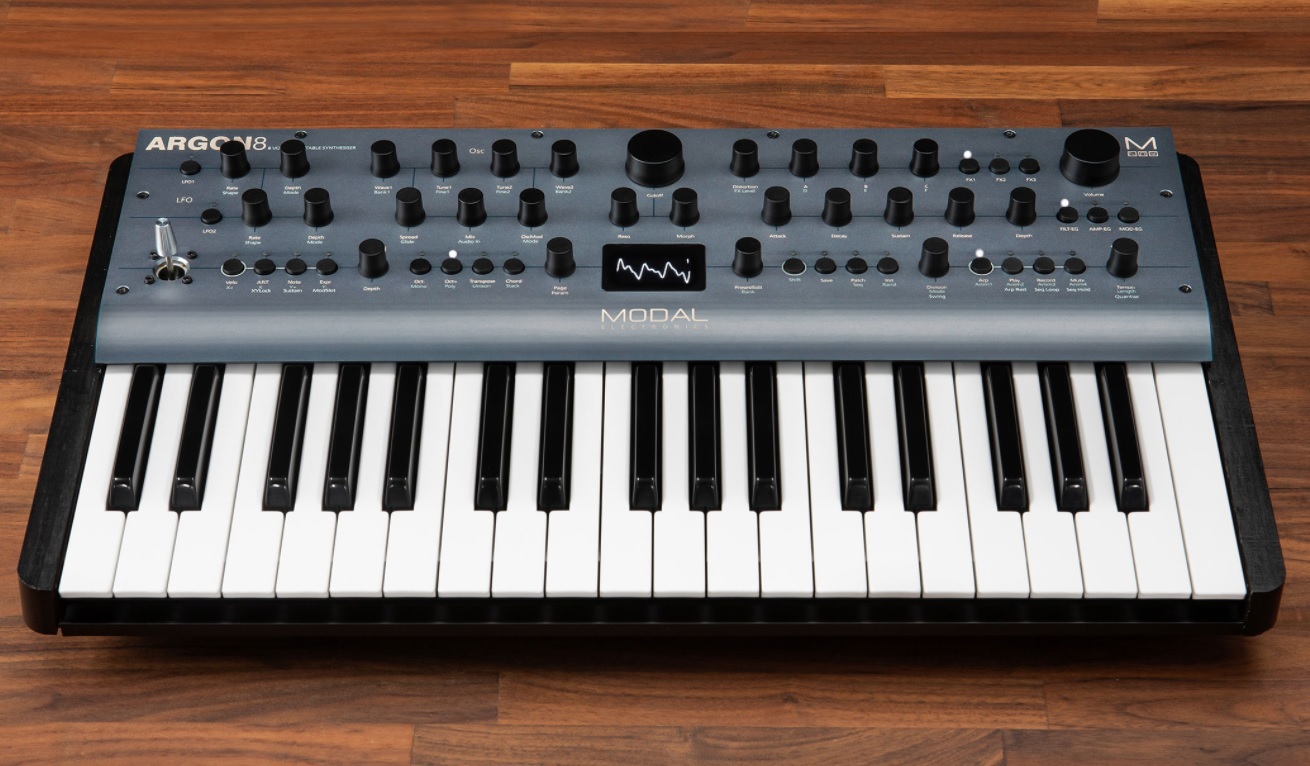 Features:
Latest Entry in the Currently Trendy Wavetable Synthesizers
Wavetable Morphing & Powerful Wavetable Modulation
Low Cost Rack Version, 37- and 61-key Versions for Three Variations
Perfect Integration with Exclusive App
From Modal Electronics we have the newly released ARGON 8 Wavetable Synthesis Engine-equipped synthesizer. The ARGON 8 is a 37-key, 8-voice polyphonic, compact wavetable synth that is also available in rack mount as the ARGON 8M, and as a 61-key ARGON 8X model as well. All of these three share the same exact engine specs, so it should be no problem for the user to find one that perfectly matches his/her production environment.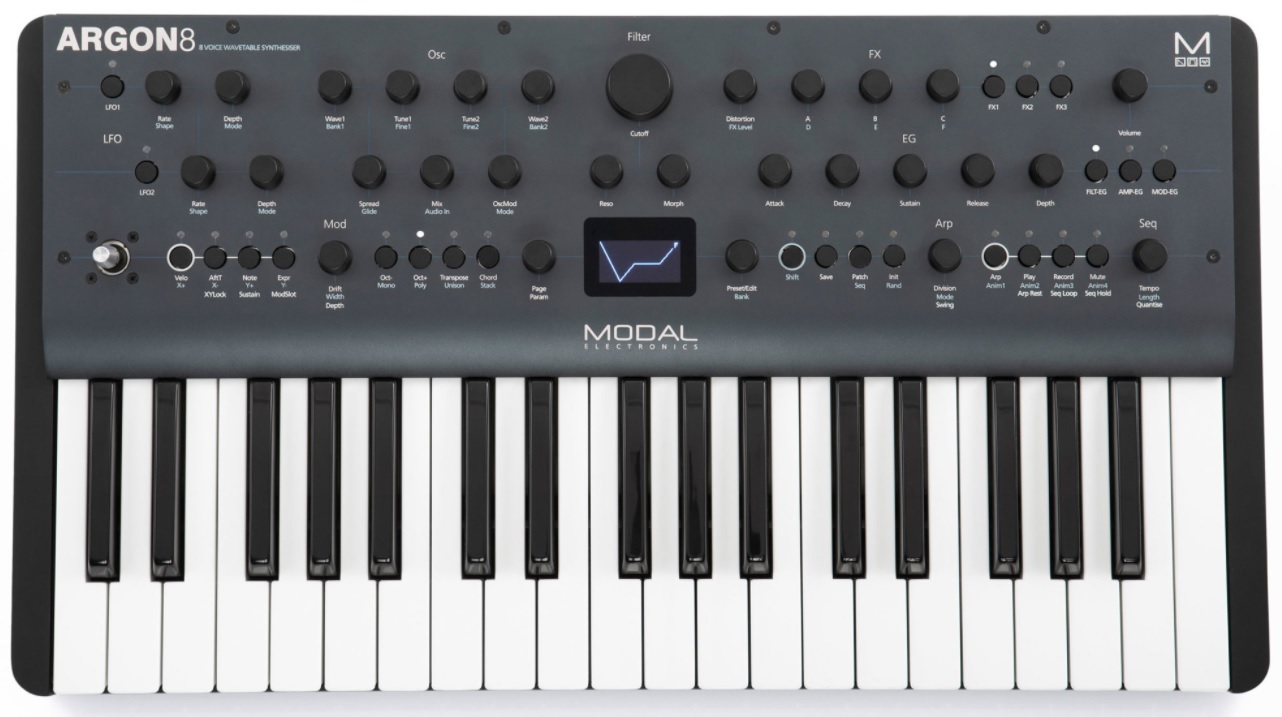 Leading-edge Wavetable Synthesis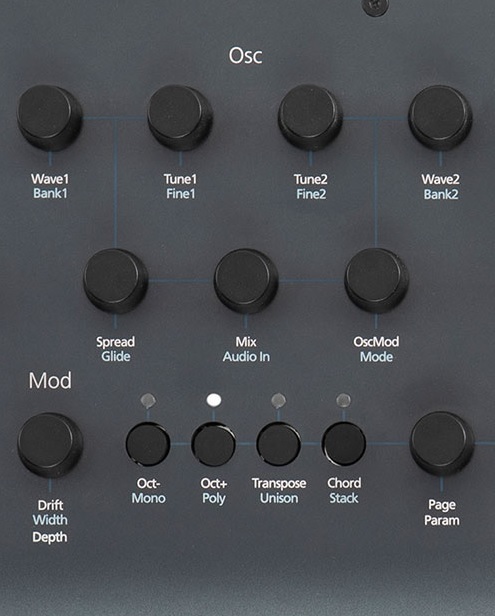 Recent Trends
Lately, whether it's hardware or software, wavetable synth engine-equipped synths are popping up all over the place.

As you'd expect, if you want more variety than what's available with your standard waveform oscillators (analog or VA) even with wave shaping and other variations, you have to either add wavetables to the waveforms of the oscillators, or just go all out and have analog waveforms readable by a wavetable engine (we realize we've left PCM out of the discussion here). In either case, the end result is nearly identical, so we get the impression that loads of synth manufacturers have gone with the option to put in a digital wavetable with tons of waveform variations in a wavetable synthesis engine from the get go.



ARGON'S Wavetables
There are two oscillators, called Wave 1 and Wave 2.
Each oscillator comes with 24 types of oscillator banks, with five morphable wavetables (total of 120 wavetables). Oscillator 2 has additional PWM and Noise banks too.


Oscillator Modifiers
With the ARGON, the wavetable oscillators can be modified dramatically by using the following eight selections:
Phase Modulation
Ring Modulation
Amp Modulation
Hard Sync
Wind Sync
Shaper
Inverter
Sync RM
Wavetable Modifiers

Much like the ARGON 8 oscillators, the wavetables can be modified as well. However, only this newest wavetable synthesis engine allows for the waveform being read from the wavetable to be morphed, and additionally modified in the following ways, with each oscillator acting independently from the other:
Resample:Reduce Sample Rate, Bit Depth
Crush
Fold
Shaper
Window Amp Sync
There are 32 additional wavetable modifiers to select from.

Using the complex modulation algorithms of these 32 types, it is possible to even re-draw the waveform, so even with any wavetable you happen to have selected, it's possible to get extremely varied results, even totally new waveforms!
The selected waveform and modified waveform are clearly displayed on the 1.54 inch OLED display, in realtime, for a very visual, easy to understand interface.
Filter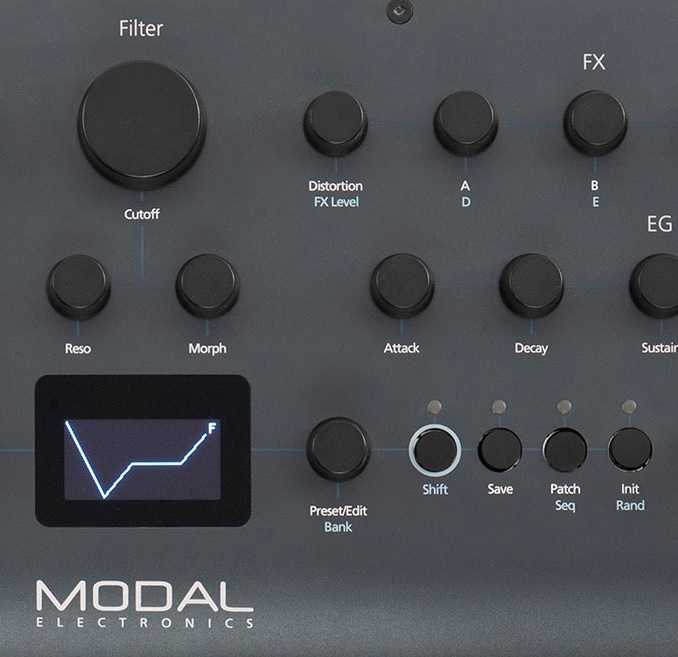 The ARGON has a filter designed originally by MODAL, which is a 2-pole variable state resonant filter.
Filter Type
- Standard
- Standard Notch
- Classic
- Classic Notch
By using the MORPH knob, you can sweep the filter type from low pass through band pass to high pass, morphing smoothly between the types. It is also possible to achieve the same results by assigning an LFO to do this via the Mod Matrix.
Envelopes & FX
Envelopes
There are three ADSR type envelopes:
Next to the envelope section you can find 3 select buttons to quickly go between the three different EGs. This makes for some very easy editing and sound creation.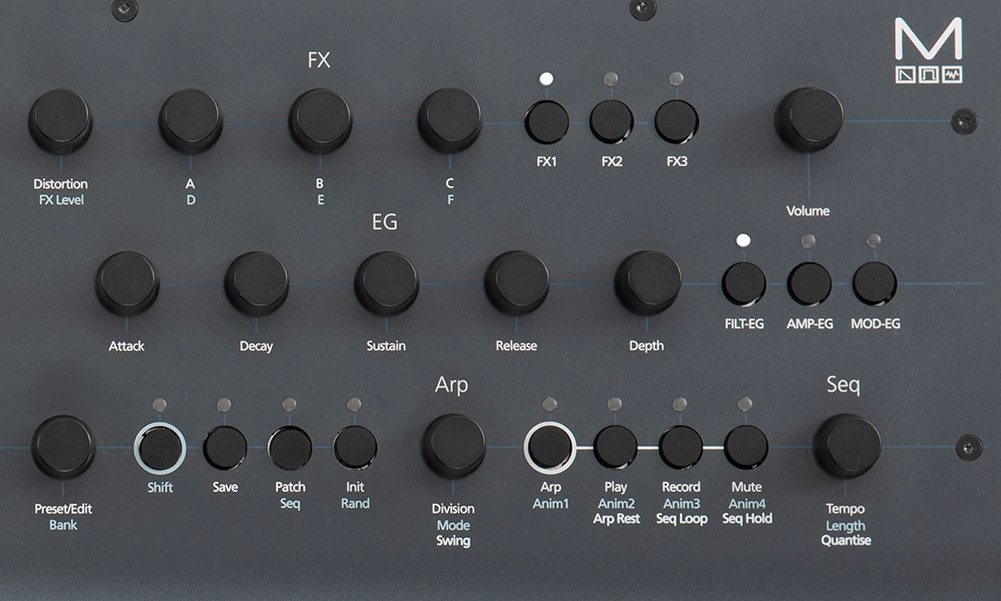 FX
For FX, the ARGON comes with a processor that has three effects slots, all usable simultaneously. There are 12 types of effects to select from, and all the various types, slots and settings have been provided as 100 FX Presets, which are user editable and can be overwritten. From the factory, there are 60 FX ready to go, so it's as easy as selecting a type, maybe editing a few things to your liking, and that's that.
Chorus
Phaser
Flanger (Pos)
Flanger (Neg)
Tremolo
LoFi
Rotary
Stereo Delay
Ping-Pong Delay
X-Over Delay
Reverb
Arpeggiator & Sequencer
Arpeggiator
The ARGON comes with what could be called a standard feature anymore, namely the arpeggiator. The arpeggiator is programmable, though, and can be synced to an external clock, as well as having variable swing and gate.
Sequencer
The sequencer is equipped with input quantize, so even if your relative recording timing isn't the best, you don't have to worry about a thing because the ARGON will take care of the timing for you.

There are four lanes that can be used for recording/editing parameter automation, which are called Anim1~Anim4. Each sequence can have a max of 512 notes, fully programmable, and very flexible as a learning tool.
LFO & JOYSTICK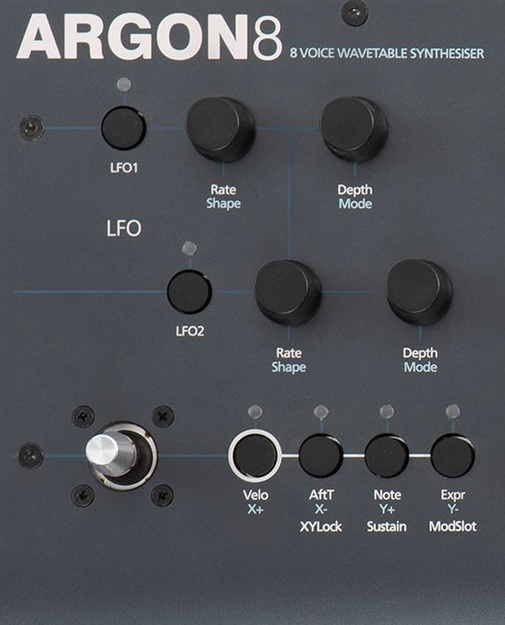 LFO
There are two LFOs, each independently controllable, so with just the push of a button you can turn them on/off and edit as you like.
Each LFO has controllable Rate, Depth, Shape, and Mode, and although they use the same set of knobs, the labeling in blue indicates the need to press the Shift knob, so programming is quite easy.
JOYSTICK & Modulation Matrix
JOYSTICK

The JOYSTICK is a 4-axis X・Y type affair, selectable and assignable via buttons. The Mod Matrix allows for complicated routings between mod sources and destinations, which you can further control via the joystick.
Modulation Matrix
The ARGON's Mod Matrix offers 11 sources and 52 destinations, available for assigning to eight slots.

Aside from the user-assignable 8 slots, there are 4 separate slots for commonly used modulation routings as well.
External Control Via the MODAL App & MODAL Plugin

The ARGON includes the MODALapp and MODALplugin, developed by MODAL for both PC and Mac platforms, so external control and editing via a DAW is possible and easy.
Additionally, almost all devices and OS versions are covered, so there should be no problems fitting these into your personal working environment.
This kind of convenience is something that we are seeing more and more with recent synthesizer manufacturers.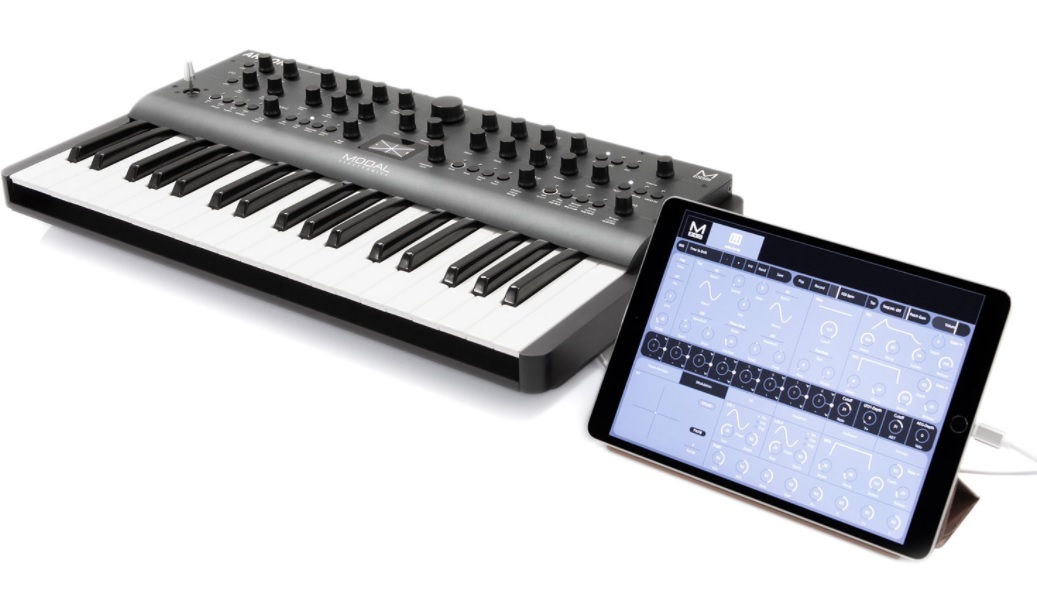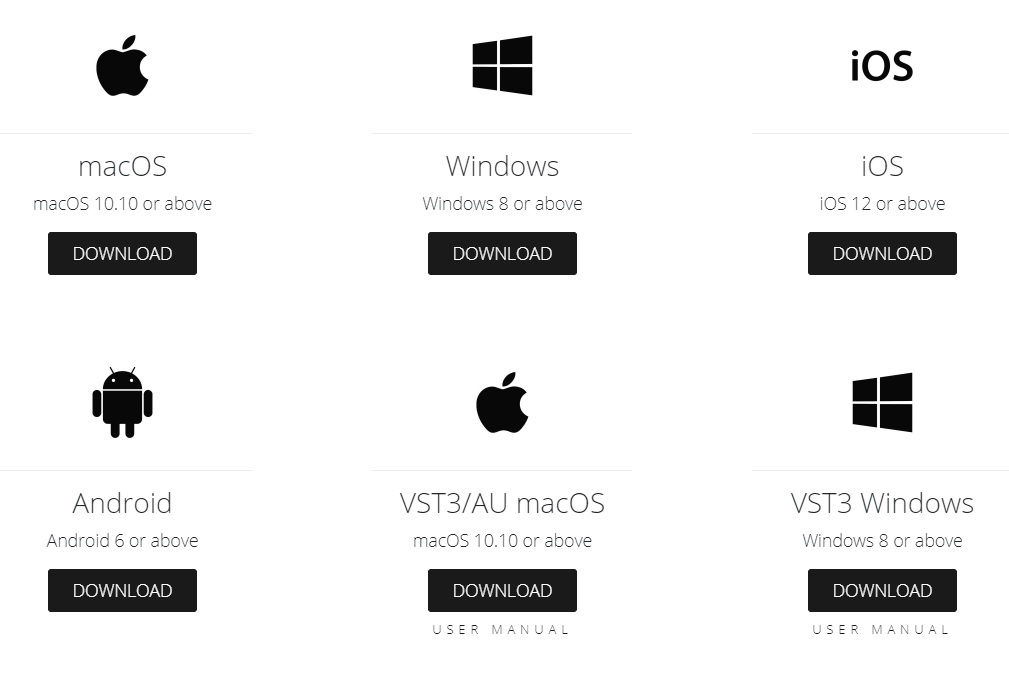 Other Specs
Other specs of the ARGON which we feel are very special will be covered here. Almost every one can be easily accessed and assigned by the push of a button, so this is a very easy to program synth indeed.
ARGON 8/ARGON 8X/ARGON 8M 3 Models, choose the one that's best for you
ARGON 8/ARGON 8X:FATAR TP9/S full-size keys (both 37- and 61-key models)
8-voice Polyphony
Polychain: by commenting another ARGOn via MIDI, polyphony increases to 16 voices.
1.54 inch large OLED display
Keyboard Mode
You can change the mode to suit your playing style by the push of a button
・Monophonic
・Polyphonic
・Unison Mode: max 8 voices, detonable, for a huge monophonic unison sound.
・Stack Mode: up to 4 voices can be stacked, and assigned to chords.
Key Control
Buttons for realtime control include:
・Oct-
・Oct+
・Transpose
・Chord
High Cost Performance
With as many features as it is packed with, not to mention the steel and aluminum high-quality finish of the synth itself, as well as a very logically laid out front panel as far as knobs and so on are concerned, for a synth in this price range it sure packs a huge punch.
Demo & Review Video
Feature-packed, High Cost Performance, this is the ARGON 8. Of course it sounds great too! Check out our Demo & Review video to hear it, and see how easy it is to edit sounds too.
Sales Info (Japan only)
by musictrack